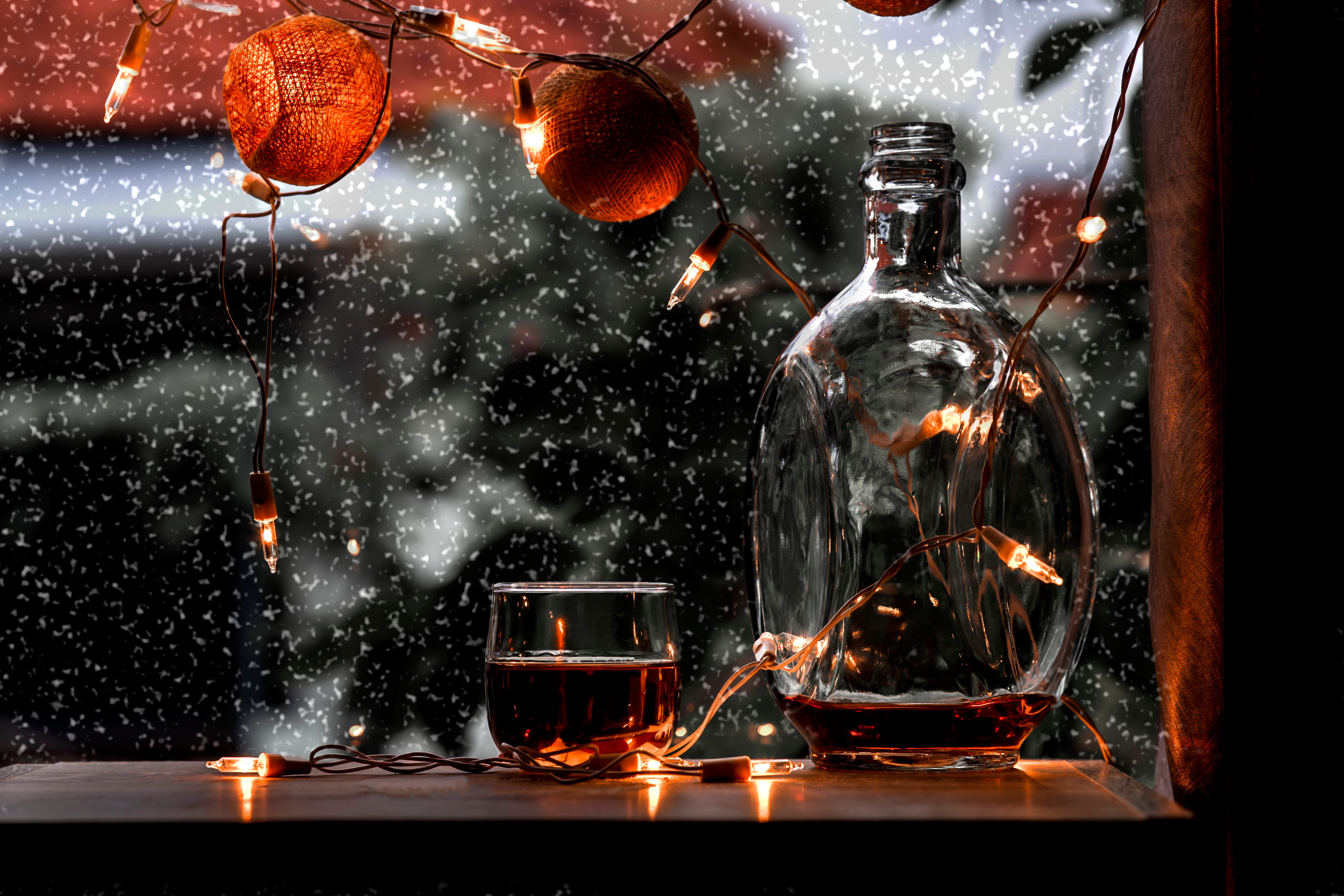 Top 30 Best whisky gift ideas under £30 for Christmas 2020 in the UK
With Christmas just around the corner, a few gift ideas might be helpful. If you're buying for a whisky lover then a bottle of whisky is, perhaps unsurprisingly, an easy option. And here at TopWhiskies.com we can certainly help you with that, as we have some of the best whiskies around, from unique independent bottlers. 
But what if you want to gift something that's whisky-themed, but isn't just the obvious bottle angle. In this article I'll share my top 30 gift ideas under £30 for whisky lovers. They all make excellent Christmas presents, either in their own right, or as 'stocking fillers'. 
Whisky samples
1: Whisky Samples from Cheaper By The Dram
Any whisky sample from Cheaper By The Dram would make a unique present. You can read our review here, but in summary Cheaper By The Dram bottle rare and premium whiskies into 30ml samples. You could give someone a rare, historic dram from their favourite distillery - which would be a lovely idea. You can find our full range of whisky samples here, but to give you three examples:
2: The Dram Team
The Dram Team will bring an out-of-the-ordinary whisky tastings straight to your gift receiver's door. We're big fans and have reviewed The Dram Team here, and one of their whisky tasting sets here. They have a special sherried whisky set for Christmas, which is perfect, and there are a couple of subscription models you can choose from. What's even better is that TopWhiskies readers get 20% off their first delivery, so visit The Dram Team here.
3: The Lakes Distillery Whisky Tasting Set
This is a great gift set of three English whiskies from The Lakes Distillery, in generous 50ml samples (so thats a double measure). Included in the set is The One Sherry Cask Finish, The One Port Cask Finish, and The One Orange Cask Finish. So it's a fascinating trio. You can find The Lakes Distillery Whisky Tasting Set here for £20.
4: Drams To Your Door
Brought to you by my favourite whisky bar, Milroy's of Soho, Drams To Your Door have great three dram (30ml) tasting sets. There are lots of different themes to choose from; here are three suggestions:
Japanese whisky tasting set for £25 which includes Hibiki Japanese Harmony, Hakushu 12 year old, and Nikka Miyagikyo

American whiskey tasting set for £25 which includes Evan Williams Single Barrel Bourbon 2011, Michter's Barrel Strength Rye, and Blantons Barrel Pick 2019

World Whiskies tasting set for £25 which includes Paul John Brilliance, Hakushu Distiller's Reserve, and a 10 year old Santis by That Boutique-y Whisky Company
5: Whisky Blending Kit
So the whisky lover in your life is always bragging about how knowledgeable they are when it comes to whisky? Why not put them to the test with this home blending kit by Chivas! The set gives you chance to experiment with unique flavours to personalise and create your very own blend. It includes: a pipette to measure out each whisky, a beaker to mix them, and a bottle for your final blend. Get the Chivas Regal home blending kit here for £16.00.
Whisky accessories
6: Uisge Source Regional Spring Water for Whisky
Uisge Source is a great gift for anyone who regularly drinks cask strength whisky. They bottle spring water from private sources in the three major scotch producing regions of Scotland: Highlands, Speyside, and Islay. These spring waters share the same makeup as the waters used to distill the regional whiskies. This makes the water perfect for reducing the ABV of cask strength whiskies. You can find a set of their regional water here for £16.00, there's a premium pack here for £35.00, and some stocking-filler pipettes here for £3.00.
7: Glencairn Whisky Glasses
A great gift if you're buying a Christmas gift for someone who is just getting into whisky and doesn't have any proper whisky glasses yet. Glencairn are the classic whisky glasses, designed to focus the whisky's aromas in the neck of the glass, which then makes it easier to nose (smell) the whisky. You can buy a set of two Glencairn whisky glasses for £12.00 here.
8: A notebook for keeping tasting notes
Many whisky lovers enjoy recording their tasting notes as they sample a whisky. It gives them a record for the future, and by committing notes to paper can be a way to train oneself in analytical tasting. There are a few options on the market, but I like the design of this tasting book here for £3.88 which includes a useful flavour wheel for fast note taking.
9: Whisky Aroma Game
For the whisky geeks, put them to the test by getting them to prove their nosing ability, one of the key senses when it comes to whisky. This gift set includes a variety of games (if you're being nice) or challenges (if you're testing them). Get the Whisky Aroma Game here for £29.95
10: Ice Sphere Mould
For whisky lovers who love their dram 'on the rocks'. The advantage of using large sphere's of ice, over multiple smaller ice cubes, is the rate at which the ice melts will be slower. That means it will keep their whisky cool for longer, and avoid over diluting their dram. You can find an ice sphere mould here for £8.21
11: Whisky Socks
Somehow it just didn't seem right to put together a Christmas gift idea list without including at least one pair of socks… But at least these socks are whisky themed. It's an interesting mismatched pair that includes whisky distillery equipment on one, and then glasses and bottles on the other. You can find these whisky socks here for £8.50
12: Glencairn Cufflinks / Pin
Glencairn's are instantly recognisable in the whisky world, they are the go-to classic whisky glass. I actually have one of their lapel pin badges (£2.40), which is rather fun when I go to whisky shows and the alike. Glencairn also make a pair of cufflinks and earrings (both £20.00) - perfect for any dapper whisky lover. Find out more over at Glencairn.
Whisky and food
13: Chocisky Chocolates To Pair With Whisky
Whisky and chocolate are a perfect pairing, and a treat any time of the year, but especially at Christmas. Chocisky have a range of special chocolates which pair perfectly with whiskies from the 6 Scottish whisky regions as well as Japanese & Welsh whiskies. The chocolates come in a nice presentation tin which contains around 50 to 60 tasting discs and costs £8.00 each. Visit Chocisky to find out more.
14: Whisky Chocolates Liqueurs
These dark chocolate bottles by Anthon Berg are filled with a syrup made from some of the most exclusive single malt Scotch whiskies. The box includes chocolates made with The Singleton, Dalwhinnie, Oban, Talisker and Lagavulin. The 50% dark chocolate ratio is designed to give the perfect taste experience, while striking the right balance between the flavours of the cacao and the flavours of the 5 single malts. Get this whisky chocolate set here for £9.99.
15: Whisky Cheese
Whisky and cheese is another of my favourite pairings. The rich fatty nature of cheese goes perfectly with the alcohol of the whisky, the latter cutting through the former. Naturally there are lots and lots of great cheese that can be paired with whisky - but how about gifting cheese made with whisky?! Here are three options
16: Whisky Fudge
This is a gift idea for a whisky lover with a sweet tooth! The Ochil Fudge Pantry have a gift box which includes four fudges made with single malt scotch whisky including: Deanston 12 year old; Bunnahabhain 12 year old; Tobermory 12 year old; and Ledaig 10 year old. You can find the whisky fudge gift set here for £12.00.
17: Beer Aged In Whisky Barrels
Beer and whisky, great independently, great side by side, and great combined. There are a number of beers available that have been aged in whisky barrels, developing their flavours and creating something unique. Here are three examples to choose from:
18: Whiskey Barrel Aged Coffee
Cooper's Cask Coffee have a superb barrel aged coffee range, perfect for someone who loves both whiskey and coffee! The premium beans are aged in recently emptied whiskey casks for months before roasting.  Unlike flavoured coffee from syrups and extracts, the barrel ageing process absorbs the natural flavours and aromas from the spirits and charred oak whiskey barrels. This creates a distinctively complex new style of coffee. Find a selection of whiskey barrel aged coffee here for $29.95 a pack.
19: Orange Marmalade with Whisky
You know what I'd like for breakfast after an evening enjoying some good drams? Cooper's Cask ffee and hot toast. You know what I'd like on my toast? That's right: lashings of butter and orange marmalade… made with whisky! Some good, tasty, breakfast fun. There are a few marmalades out there made with whisky; here are three examples:
Whisky books
20: Malt Whisky Yearbook 2021
The Malt Whisky Yearbook by whisky expert Ingvar Ronde is an annual tradition for whisky lovers. The 16th edition, launched this autumn, has up-to-date information on more than 400 whisky distilleries from all over the world. It includes articles written by whisky experts, details of great whisky shops, websites (including TopWhiskies.com!) and new whisky releases. There's also a chapter dedicated to Independent Bottlers and tasting notes on 250 whiskies. You can buy Malt Whisky Yearbook 2021 here for £12.00.
21: The Pocket Guide to Whisky
The Pocket Guide to Whisky is written by industry legend Blair Bowman. The book is an engaging and accessible way to learn more about whisky. I particularly like the way the WhiskyTubeMap helps you find new whiskies you may love, based on your favourites today. You can buy a copy of The Pocket Guide to Whisky here for £8.99, and there's even the option to ask Blair to sign the book - for that extra special touch.
22: 101 Whiskies to Try Before You Die
This was my very first whisky book and, somewhat appropriately for this article, it was gifted to me. Written by Ian Buxton, it's a great way to explore the world of whisky, introducing new whisky lovers to a wide ranging selection of whisky - from very affordable, to more premium. You can find 101 Whiskies To Try Before You Die here for £4.00; a perfect stocking filler.
23: The World Atlas of Whisky
Award-winning author and whisky guru Dave Broom explores over 200 whisky distilleries and examines over 400 whiskies. It is global in scope, covering everything from scotch, to Irish whiskey, to American bourbon, to world whiskies. It also covers six 'Flavour Camp Charts' which group whiskies by style helping whisky lovers to discover new whiskies from around the world to try. You can find The World Atlas of Whisky here for £23.00.
For the home
24: Whisky artwork prints
Messrs. Whisky & Co. have a great range of whisky artwork prints in bold, charismatic designs. The posters are made-to-order (you can even ask for bespoke commissions), and are printed on the finest authentic giclee paper in multiple sizes. Find the whisky artwork prints here, with the range starting from £30.00.
25: Christmas Tree Whisky Baubles
These are a lot of fun at Christmas time: whisky baubles for your tree. The 55m diameter baubles are hand blown, branded with the Distillery logo, and have a ribbon to hang them on the Christmas tree. and are filled with 50ml of either: Deanston 12 year old Single Malt; Glen Moray Classic Single Malt; or, Arran Single Malt Whisky. You can find Angels Share Christmas Tree Whisky Baubles here for £20.00 each.
26: Whisky Stave Flight/Candle Tray
A charming tray that is, very obviously, a reused barrel stave. If you know a whisky lover who often enjoys a few drams side by side, this is perfect: it can hold three glasses, and makes a lovely display of them while the whiskies are being enjoyed. It can also double up as a tea-light holder. You can find the whisky glass stave tray here for £25.00 without glasses, or you can pay a bit extra to include glasses.
27: Whisky Lover's Jigsaw Puzzle
Imagine: it's a cold winter's night, it's wet and windy outside but you're snug at home next to the fireplace; you're enjoying a dram of your favourite whisky, and quietly whiling away the evening completing a jigsaw puzzle. Sounds pretty perfect right? This jigsaw features hand illustrated artwork of whisky related ingredients, cocktails and tasting notes and shows the key whisky regions of Scotland. It comes packed in a whisky bottle style tube and includes a matching poster. Get the whisky lover's jigsaw puzzle here for £15.60.
28: The Whisky Galore! Film on DVD
This will be available to stream as well, but if you're giving it as a Christmas present then why not go for a DVD or BlueRay copy. Based on the infamous 1941 true story, Whisky Galore! is a charming story of a close-knit Scottish island community who relieve a sinking cargo ship of cases of whisky during wartime scarcity. You can buy Whisky Galore! on DVD here for £5.73, making it a great stocking filler.
29: Honey Whiskey Soap Bar
This artisan soap bar brings a whole new meaning to 'smelling like a distillery', but in a good way. This is a real touch of luxury, an organic handmade soap reminiscent of the finest oak-aged single malt with notes of heather honey, warming orange essential oil with spicy cinnamon and cloves. Further enriched with gentle exfoliating organic Scottish oats and skin-conditioning malted barley extract. You can find this whisky soap bar here for £3.95.
30: Whisky and Water Handwash
I first had this in a rather expensive central London hotel bar, and it is a real treat. You could describe it as if you were writing tasting notes for a whisky: aromatic and rich with undertones of wood, spice, malted barley, vanilla and cedarwood. Delicious. Just don't drink it. You can find Whisky and Water Handwash here for £19.00.
Need more whisky gift ideas? If you need even more ideas, you may like our Top 10 Whisky Gifts for £50 list, which has a couple of other ideas. And, if you're really looking to spoil someone special, why not consider a personalised bottle of Imperial Tribute or a 25 dram whisky adventure? Whatever you choose, Evan and I hope you and your loved ones have a wonderful Christmas. Stay well, and here's to 2021.
Slainte, Ed