The Best Whisky Gift is Personal
Imperial Tribute
"Highly sophisticated, venerably aged, as smooth and rounded as a Henry Moore sculpture... Delectable! A truly distinguished gift!" - Charles MacLean, Whisky Writer
"Wonderful gift, elegantly personalised and beautifully presented." - Lady Mavis Dunrossil
"Here's a malt whisky to make wine lovers swoon; aromatic complexity reminiscent of a top drawer Burgundy." - Michael Palij, Master of Wine
"The attention to detail is renowned and this is reflected in every aspect of Imperial Tribute." - John Glaser, Whisky Innovator of The Year
"Skilfully compiled, reflecting terroir, epochs masterfully, finished with a personal and elegant touch." - Ulf Buxrud, renowned whisky writer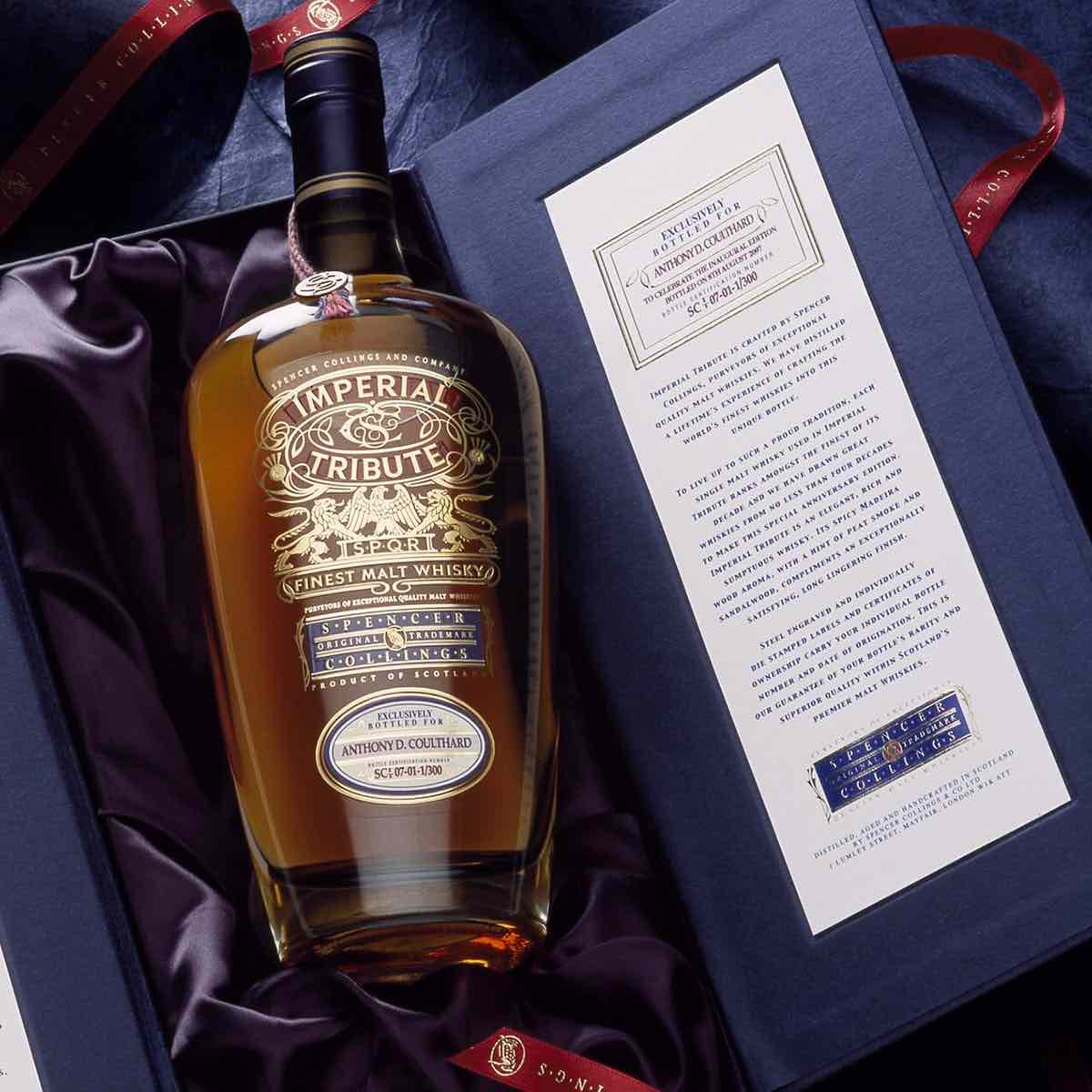 The Best Whisky Gift You Can Give is Personalised
Mike Collings created Blue Label, Green Label, Classic Malts, Rare Malts amongst others. Imperial Tribute reflects Mike's quest to create the ultimate whisky gift.
Imperial Tribute is a truly voluptuous malt whisky. It is a marriage of richness, subtle spice and elegant complexity.
The bottle is wrapped in handmade paper from Nepal and tied with an Italian silk ribbon.
Each bottles comes with a personalised vellum certificates that are embossed with gold foil.
Each bottle is individually numbered & personalised. Only 300 bottles released worldwide.
Personalise your gift here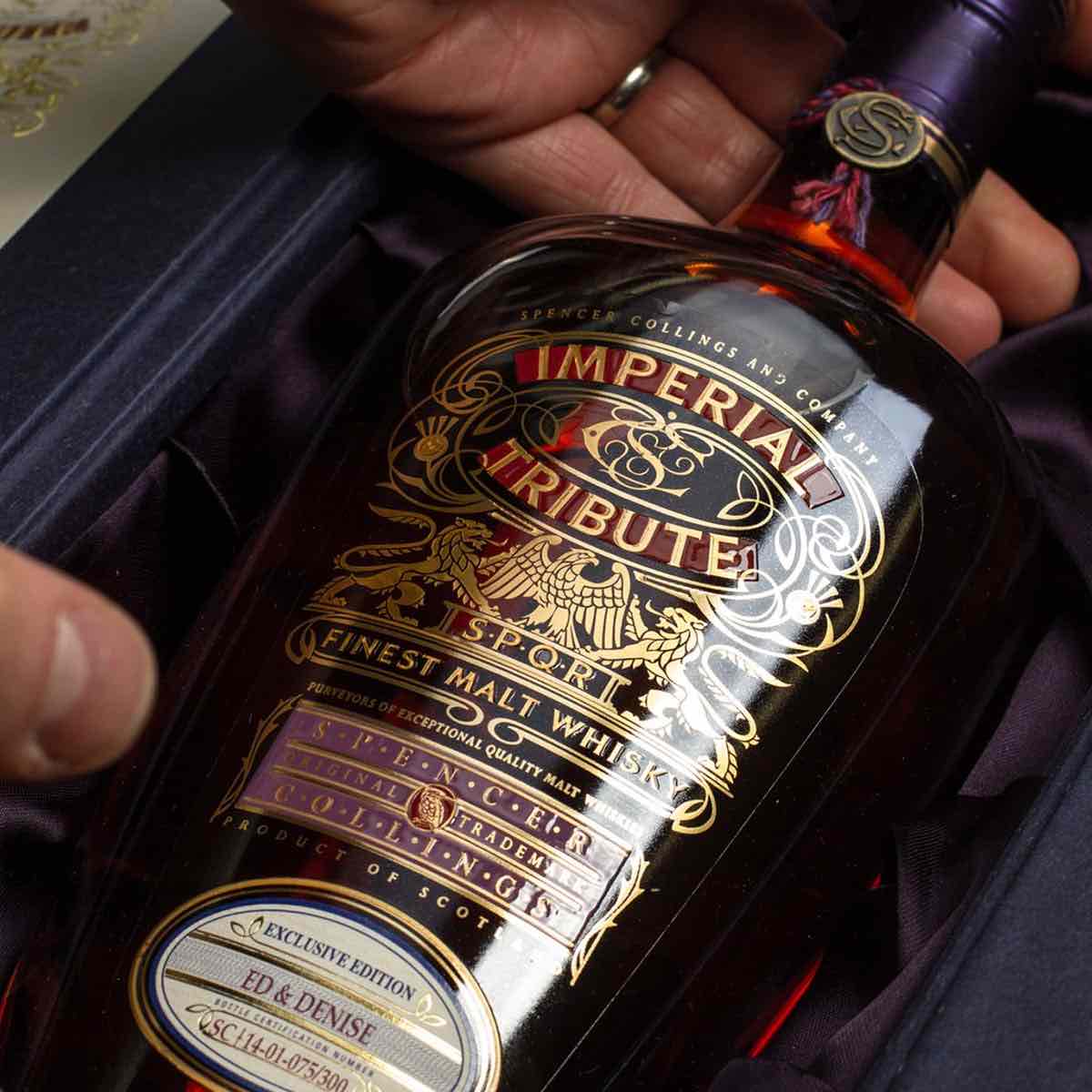 From the man behind Johnnie Walker Blue
A luxury malt scotch whisky
Richly wooded, dark Madeira spice which melts into a sumptuous middle, finishes with a hint of peat smoke, honeycombed creamy vanilla and sweet oak.
An exquisite blend of richness, subtle spice and elegant complexity. Imperial Tribute is wonderfully balanced and an amazing depth of flavour.
Our exquisite whisky is a blend of single malt whiskies spanning four decades. The 10-year-old whiskies provide fruit. The older 20, 30 & 40-year-old whiskies add complexity.
Imperial Tribute whisky has a second maturation in custom-made Madeira barriques. The Madeira imbues the whisky with rich, sumptuous smoothness and an intriguing hint of honeycomb sweetness.
It's an astonishing whisky for extraordinary people.
Read more about this luxury whisky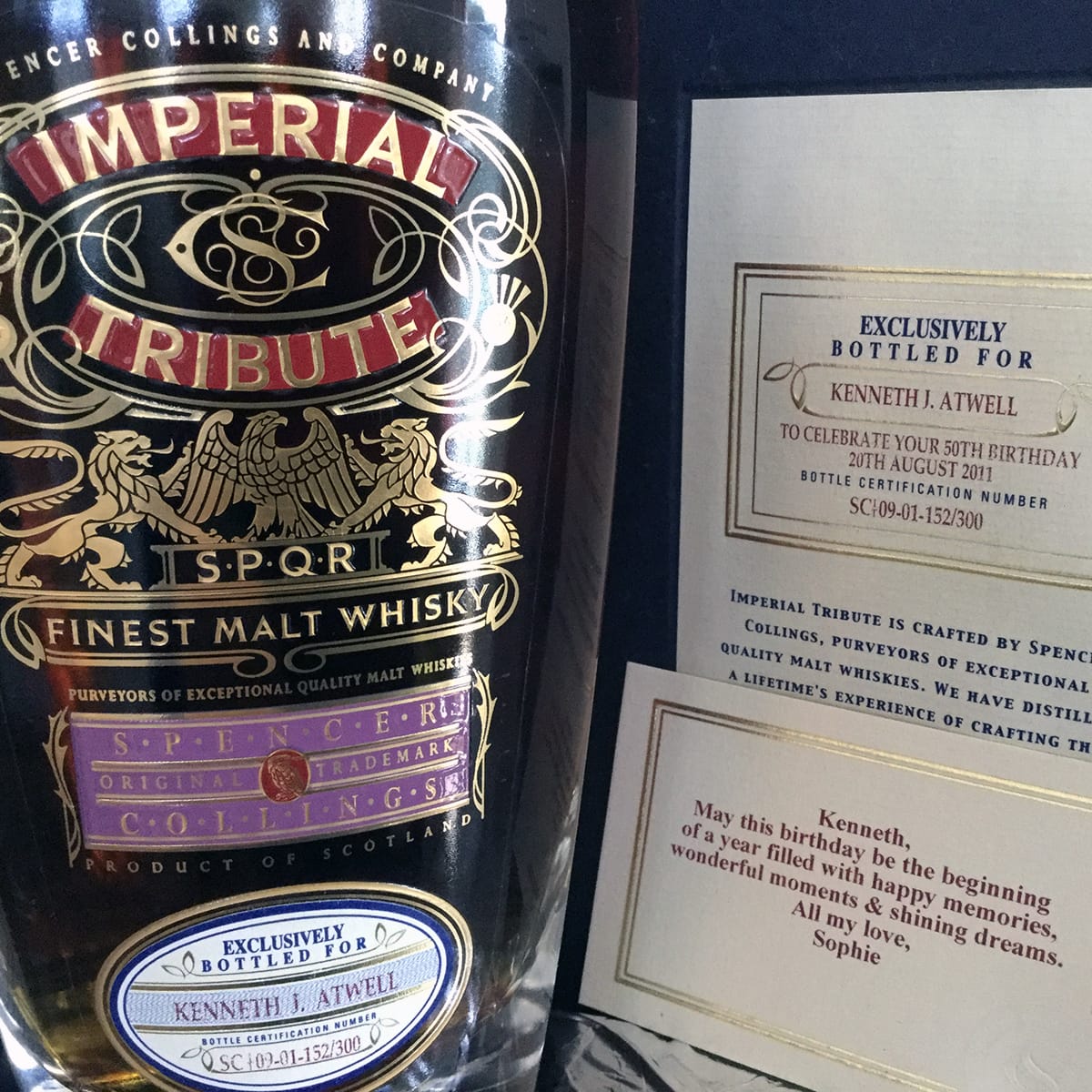 For the whisky lover in your life
Imperial Tribute Whisky, perfect scotch gift
Each bottle is personalised by hand. The receiver's name is included on the label, and you can include personal messages on both the certificate and the gift card. It's the ultimate whisky gift.
On receipt of your order, craftsmen inscribe your message on the bottle and the certificate of ownership. Then, the limited-edition bottle is gift wrapped by hand using the finest Nepalese paper. After wrapping the boxes in ribbon, it's dispatched with a personalised gift card.
This is the perfect whisky gift to mark any occasion.
Or you could buy it for yourself. We all deserve something really special sometimes.
Get your Imperial Tribute whisky
"We opened the wrapping together last night and we were astonished, delighted, impressed and smiling broadly." - John MacPherson, Inverness, Scotland
"Just thought I would let you know what a huge success the whisky was at Christmas for my dad.  He was over the moon with it." - Mathew Webb, Devon, England
"It's gorgeous, everything in perfect symmetry. I have never seen anything like it before." - Bob Sabel, St Petersburg, Florida, USA
"On my 60th birthday, I received a beautiful gift of Imperial Tribute. Great tasting whisky, absolute nectar." - Frans-Jan Mulschlegel, Zutphen, The Netherlands
"Chris was totally blown away by it.  It's absolutely amazing, each layer is more spectacular than the first." - Zoe Bishop, London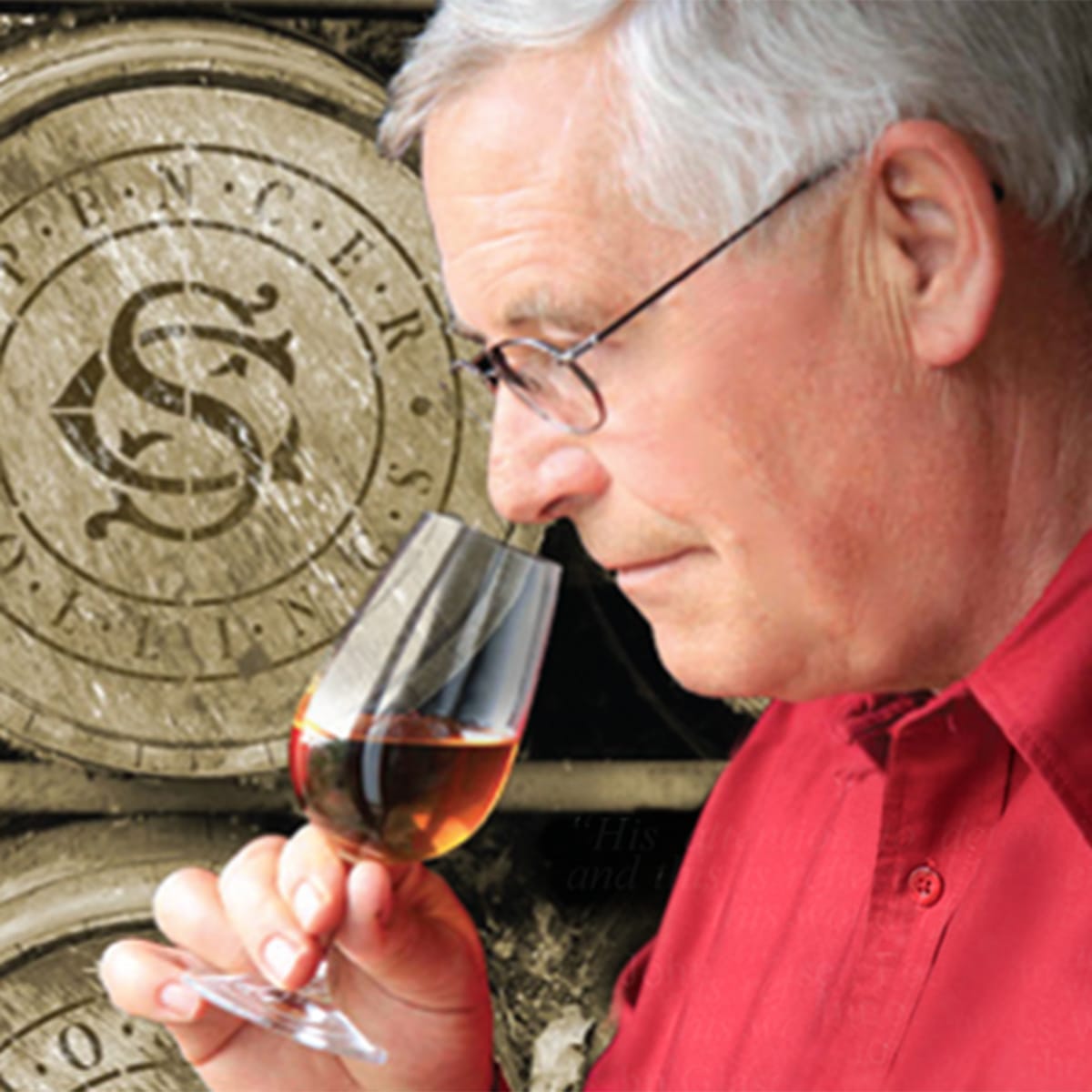 Created by master whisky maker
Mike Collings
Whisky veteran Mike Collings created Imperial Tribute because he wanted the best premium whisky gift. It wasn't the first time Mike created a premium whisky. He was the man behind Johnnie Walker Blue Label, Johnnie Walker Green Label, The Classic Malts, Royal Lochnagar and, most recently, The Firkin Whisky Co.
Mike wanted Imperial Tribute to be a new genre of luxury malt whisky. Three principles guided him:
1. Use the finest ingredients
2. Select whiskies at the peak of perfection
3. Never compromise on quality
The result is a sumptuous whisky gift, and you can buy Imperial Tribute here.
Buy Imperial Tribute here