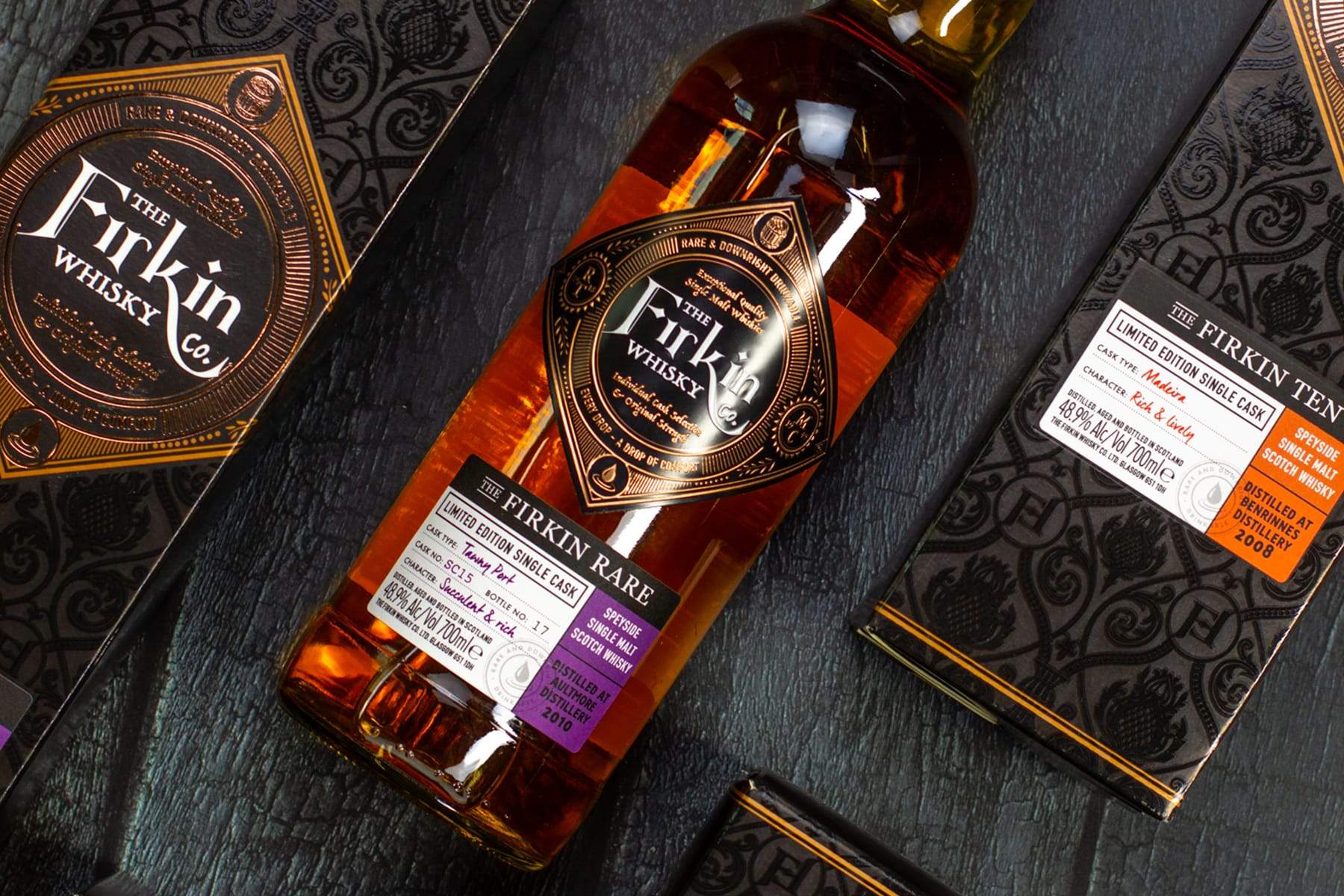 Interview with Mike Collings, Founder of Firkin Whisky
One of my favourite independent whisky bottlers on TopWhiskies is Firkin Whisky Company. They have four cracking whiskies, with buckets of character. So I wanted to get to know the man behind the brand a little better. In this interview I sit down with Mike Collings, Founder of Firkin Whisky Co. Pour yourself a dram, settle in, and enjoy the read. 
Mike Collings, Founder of Firkin Whisky Co
Ed: How did you first get into whisky, Mike? And did you also dabble in the wine industry?
Mike: Way back when (was it in black & white?) I learnt to sup whisky at the Union Bar at Sussex University in 1970 - a seat of learning, loving and imbibing! So it seemed a natural evolution to join a wine and spirit company which was part of Courage Brewing when I graduated, or as my dad pithily put it "educated beyond the level of common sense". 
My wine and spirit career was great fun and a stupendous, if at times bit hazy, journey though pubs, liquor stores, selling and promoting. I ended up in something we called "marketing": learning by doing, making mistakes, having a ball. I discovered I had a flair for building or creating stuff and ended up building brands such as Dry Cane, Black Tower, Southern Comfort, Jack Daniels, and Glenfarclas. 
Ed: "Marketing: the art and science of learning by doing, making mistakes, and having a ball". That has to be the best definition of marketing I've ever come across! Talking of brands, you've worked with a list of brands throughout your career that reads like an encyclopedia of the industry; what are some of the highlights?
Mike: Guess it falls into two broad groups of brands: firstly, seeding and building American brands in the UK; then, creating and developing Malt & Super Premium Whisky internationally.
Initially, I started working with the "good old folk" from Southern Comfort in St Louis, then with Brown-Forman in Louisville & Nashville on Jack Daniels to build those brands from virtually nothing to international players.
Then I created the malt portfolio at United Distillers which eventually morphed into Diageo. It included the Classic Malts, Classic Malts Distillers Edition, Rare Malts, Cardhu, Royal Lochnagar and the Flora & Fauna series… it was amazing working with a bevvy of really talented people.
Then I went on to develop the Super Premium market, using Duty Free and Japan to develop and launch Johnnie Walker Green, Gold and Blue labels as well as market specific icons like Old Parr Superior, Elizabethan in Asia and Buchanan's Reserve / Dimple Royal Sovereign in Latin America. It was a fantastic privilege to work with most of the top echelon designers, some seriously gifted whisky distillers and blenders as well as an amazing cross section of people from many cultures and countries.
Ed: And your career has been pretty global, right? You've just mentioned Latin America; I enjoyed reading about your Concorde adventure; Firkin Whisky Co was founded in Japan; and, you now live in Australia. I'll avoid asking whether a whisky career is in fact a cover story for a lifetime in foreign intelligence (I wager you'd have to kill me if I did ask); so instead I'll ask what it was like travelling around the world talking about whisky?
Mike: Shaken not stirred, then? Far too glamorous, while it did have its classic black tie moments there were no 007 adventures with gorgeous women… what a pity. Guess it was in my genes to travel, as I was born in Southern Rhodesia (Zimbabwe), and the boy was raised in Malaya, Devon and Cornwall, and the Middle East. So international travel was second nature.
Opening up markets and getting brands launched was old fashioned, face to face, back then. So to get things going across 30+ countries meant travel. There were no mobile phones or laptops in those early days, which meant a 747 became a second home. But what great fun, meeting and working with some wonderful people whilst sharing a passion for whisky and creating and building some great brands. Brilliant.
Ed: Zimbabwe, Malaya, and... Devon; that's quite the variety! Talking of variety, which of the whiskies you developed during your career, prior to Firkin, are you most proud of, and why?
Mike: Difficult question. Based on revenue earned it would probably be Johnnie Walker Blue Label. On overcoming all the odds and pioneering a blended malt, it would be Johnnie Walker Pure Malt / Green Label. But for passion, and so my choice, it would have to be Classic Malts & Classic Malts Distillers Edition.
The Classic Malts Range
Within a short time of joining United Distillers in 1987 I became Director for Malt Whisky. That meant some 27+ distilleries to choose from, and therefore the perfect opportunity to go and create a malt portfolio! At the time these distilleries accounted for 40% of malt capacity, but less than 2% of the single malt market. A bit like my old school reports: room for improvement! 
It was a time to experiment, take a new look at what could be done, and then do it. Take 6 relatively unknown malt whiskies and create a new approach… Classic Malts was the first of a number of initiatives which changed the malt whisky landscape and pioneered the single malt market we know today.
Ed: From creating a new normal in the whisky industry, to now revisiting your, perhaps mischievous, inner nature to mix things up: there's something a bit different about Firkin Whisky Co. It's cheeky, bold, and to the point. It's a very different stance to many of the brands you spent your career developing. Why is that?
Mike: Looking at malt whisky, I thought everything was starting to get far too serious, and at times somewhat pretentious. Malt whisky is all about enjoyment, having fun and enjoying drams. 
So, I thought there's life in the old dog still - why not combine some flavour innovation with a new approach. Something that makes folk smile and is a tad mischievous. I wanted to deliver a  sense of humour along with some great new flavours. Think: "enjoy new malt whisky without being too serious… life is too short… make it zany and fun…" Hence, the Firkin approach!
Firkin Whisky Bottle Label
Ed: Tell me about the design of Firkin's logo and label, what inspired them? And your creative style also includes lots of cartoons, what's the thought process behind these?
Mike: First up wanted the label to reflect the time, care and craftsmanship that has gone into this range of single cask single malts. The main label is very tactile and reflects the care and attention to detail. "Rare and Downright Drinkable" embossed on the label is exactly what it is. The second label with distillery, cask style, number of bottles and taste descriptor is much more straightforward; the facts that go with the whisky.
When we get to telling people about Firkin we want to convey our wry sense of humour, zany style and our mischievous character. Our cartoon characters allow us to do this and reflect some of the more lighthearted moments that arise in real life. So that is reflected in everything we do, right down to our shipper case which shows a couple of our characters in a bar: "my round I think" says one… "about Firkin time" says the other!
An example of Firkin Whisky Co's cartoons
Ed: A wry sense of humour, zany style, and a mischievous character; yup, that sounds very 'you'! How did you come up with the whiskies themselves, the 'Firkin Four'? What drew you to those four styles?
Mike: Famous 4's dominate our super groups, so why not emulate that?! Only kidding… it was a happy accident with two or three styles initially, and then I thought I could do more under four headings or groups (no pun intended) of expressions.
All of the expressions use our double oak custom casks, and each style is matched with a fortified wine that in conjunction with our wood, creates a new depth of flavour for that particular distillery or style of whisky. 
It's a very individual maturation, and that's why we release our whiskies as single casks - to capture that individual profile. Or, more simply put, to offer: Firkin Awesome Single Cask Single Malts!
The Firkin Four!
Ed: And from the famous four, do you have a favourite expression, or is that a bit like asking about favourite children?!
Mike: There's a time and a place for each of the "offspring", reflecting their individual flavours and characters:
Ed: Four great drams. When it comes to making them, I've come across a lot of whiskies that use multiple casks. I've come across whiskies that describe themselves as 'double wood', aged for an initial period in one cask, and then for a second maturation in a different cask. But I don't think I've ever come across a single cask whisky where the cask itself is made from staves from two different casks! Where did this 'Modern Prometheus' of an idea come from?
Mike: Had to google Modern Prometheus! Mix of a lifetime of wood experimentation, discussing with artisan whisky makers and coopers, and then having the Eureka moment (it was in the shower, but close enough). Then when trying it for real I thought "now what would put the icing on the cake?". That's where I thought of using the double-wood casks in combination with selected fortified wines.
Firkin Unique Single Malt Scotch Whisky
Ed: I thought "Modern Prometheus" sounded better than "Frankenstein"! Yes, you have a really interesting approach to selecting your cask finishes; you describe the fortified wines as 'soulmate pairings'. How important is the choice of fortified wine, and how do you go about choosing what finish will work best for a given whisky?
Mike: It's sort of a romantic description "soulmate pairing", as it describes exactly what we do. Matching the whisky to a style of fortified wine. Peaty, salty, Islay ideally matched with Marsala spice and sweetness... Simply Bellissimo!
And this isn't just a finish… this is about accentuating and enhancing the original to create a new depth of flavour. Quite a lot of 'finishes' simply swamp the original whisky. Whereas what we're doing is developing it, evolving it, building on the original carefully and thoughtfully to help it reach new levels… of deliciousness.
Ed: I like that stance, and I like the whiskies! Can you give us any hints as to what we can expect from Firkin Whisky Co in the future?
Mike: Some lovely whiskies coming down the track which we want to dance across the taste buds… a combo of our classics, as well as some left field stuff. It's all about making folk smile and sharing some great drams… simply Firkin awesome.
If you'd like to hear more stories from Mike then check out Firkin's blog here. And, if you'd like to try any of the Firkin Four you can find them here. You might also like to check out one of Mike's other creations, Imperial Tribute here.
Written by Ed Leigh, Co-founder of TopWhiskies, and Mike Collings, Founder of Firkin Whisky Co.