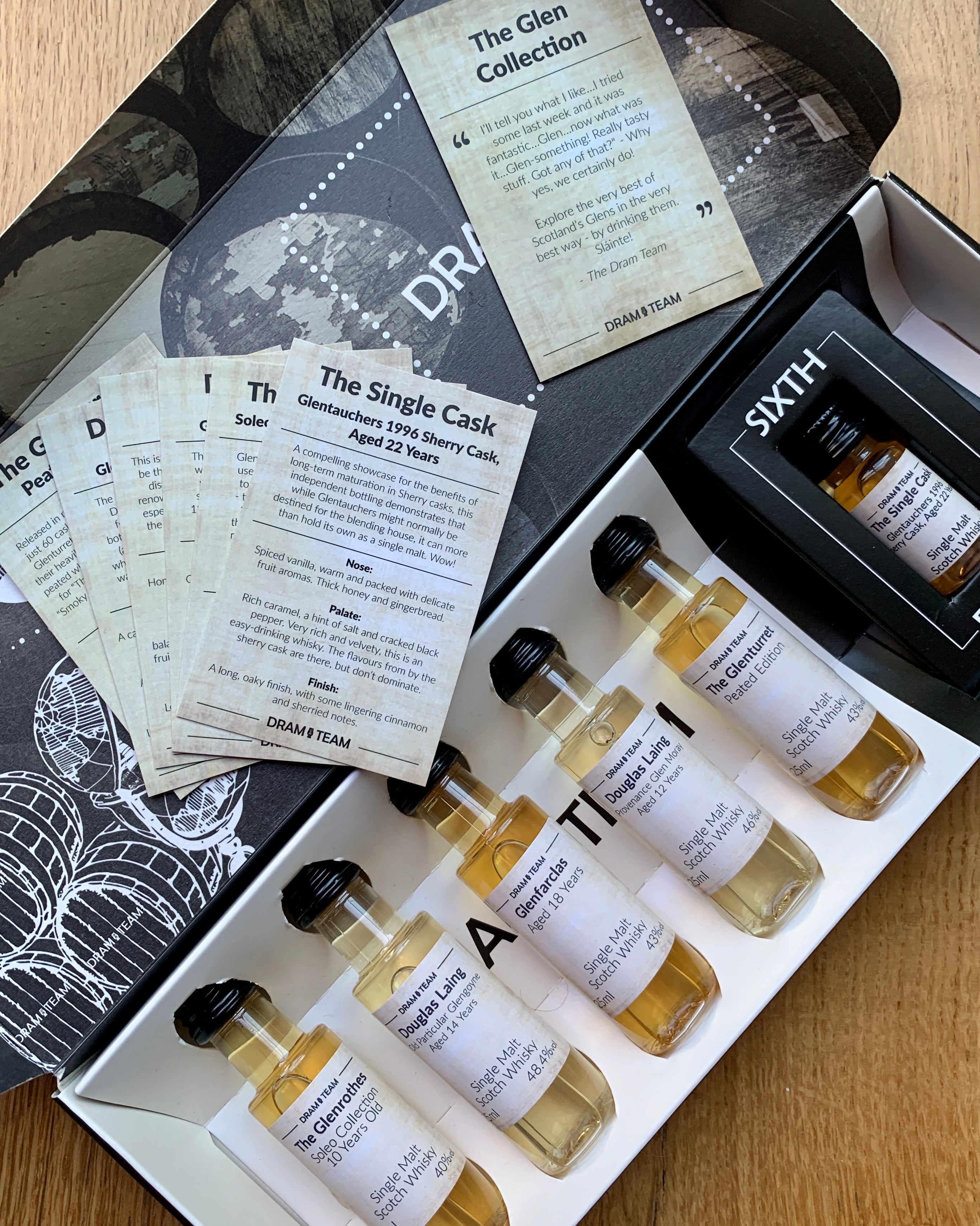 The Dram Team review, the Glen Collection
The Dram Team whisky club
The Dram Team are a monthly subscription club that post a whisky tasting set direct to your door.  At the best of times, getting six delicious whiskies delivered to your home is always good.  During lockdown, its epic; we're big fans and have previously reviewed The Dram Team here. They have a variety of different subscription options, including monthly, every-other-month, and quarterly. The boxes are normally £29.99 each, but read until the end to get 20% off your first tasting set!
The Dram Team: The Glen Collection
This month's whisky delivery is called The Glen Collection.  Have you ever been talking with someone and one of you have muttered "oh, oh, it was a whisky from Glen… Glen… erm… Glen-something!".  Well, this is 'that' set. Five 25ml samples from 'Glen' distilleries, plus a sixth 10ml measure of an extra special whisky. Its a strong representation of great Scotch, with a good mix of big names together with unusual distilleries and bottles.
This month's whisky samples
The Glenrothes 10 year old
This is part of Glenrothes' Soleo Collection this is an easy, approachable whisky.  Delicate notes of lemon and malt with a little sweetness.  Good at 40% ABV, but would benefit from an extra few percent to take the ABV (and with it the flavour) up a notch to, say, 44ish%.
The Glenturret Peated Edition
Bottled at 43% this non-age statement whisky is an unusual combination of unpeated and heavily peated spirit, which Glenturret bottle and release in small batches (about 60 casks a time). This dram balances sweet and smokey, with a salty note underneath.
Glen Moray 12 year old, bottled by Douglas Laing
This is a limited edition whisky from a single hogshead that yielded 360 bottles at 46%, by independent bottler Douglas Laing - part of their Provenance range. Plenty of malt notes together with classic vanilla from the wood and citrus elements, followed by a warming finish.
Glengoyne 14 year old, bottled by Douglas Laing
This is another limited edition single malt from Douglas Laing, this time their Old Particular range - which is the level above Provenance.  It is also a single cask, which yielded 337 bottles, and has been bottled at a pleasing 48.4% ABV.  Notes of creamy toffee seasoned with spicy black pepper heat, alongside caramelised fruits.
Glenfarclas 18 year old
Glenfarclas is one of the big Speyside names, with its red door synonymous with a quintessential Scottish distillery.  But this particular bottling (43% ABV) is made more unusual by the fact it is a travel retail exclusive. With a great mouthfeel this whisky has sweet notes of honey and caramel, balanced by a range of fruit including plums, citrus, and apple. A lovely, classic, Glenfarclas.
Glentauchers 22 year old, bottled by The Single Cask
This Speyside whisky was distilled in 1996, sherry matured, and bottled at cask strength of 54% ABV by independent bottler The Single Cask. With most of Glentauchers liquid being used in blends, an age statement single cask is unusual and welcomed. This was a wonderful, rich, whisky with a great mouth feel and notes of caramel seasoned with salt and pepper, complimented by the clear sherry influence which added delicate fruit to the underlying vanilla. 
Join The Dram Team's whisky club
As you can probably tell, we love what The Dram Team do.  Fair value, great service, and fascinating drams - delivered to your door.  What could be better.  In fact, they're one of our favourite whisky clubs. If you're interested you can find out more about their subscription whisky club here; and, TopWhiskies readers get 20% off their first box.  
Let us know what boxes you enjoy - do tag us on Instagram, Twitter or Facebook!
Slainte mhath, Ed