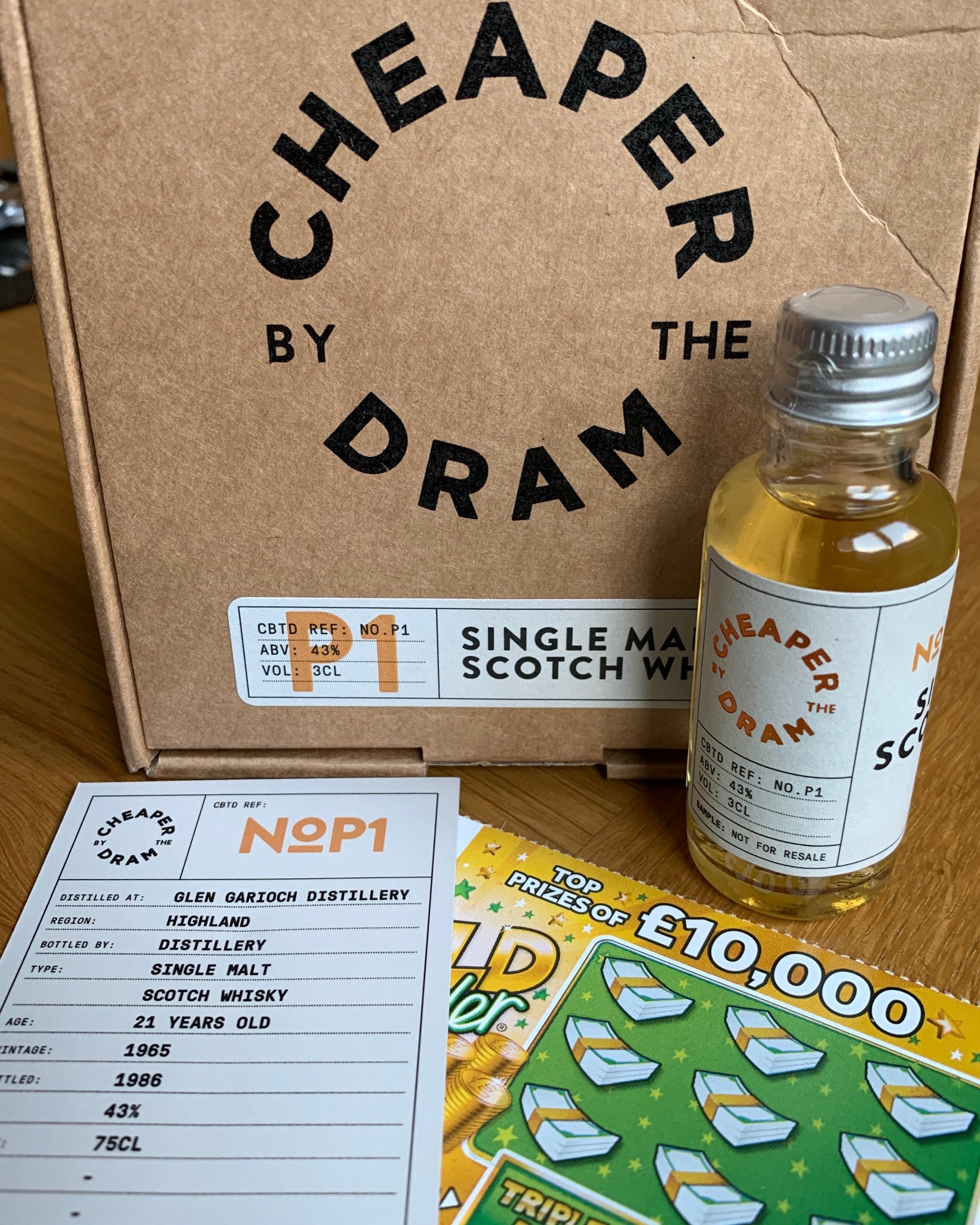 Whisky samples from Cheaper By The Dram
Realising the value of a whisky
What's the link between whisky and a scratch card?  A scratch card's value is theoretical.  If you scratch it and reveal a winning streak, it is suddenly of considerable value.  But if you scratch it and its dud, it is worthless.  Cheaper By The Dram argue whisky is the same; an unopened bottle has the promise of being of value.  If you open it, pour it, and love it - its value is considerable.  But pop the cork only to find the liquid is disappointing and its value is at best low, at worst zero.
This challenge is heighten by the world of reselling.  Now, limited edition whiskies can be launched by a distillery and pass continually through collectors' hands ever-increasing in price.  But unless bottles are opened and, one hopes, enjoyed, how can one know whether the liquid is worth the prices being charged?  And even if the liquid is great, with soaring prices whisky kept on dusty shelves is not being enjoyed by whisky lovers and therefore one could argue its value is unrealised.
Cheaper By The Dram
The team at CBTD reached out to us, to talk about these problems, and explain their solution.  Their mission is to help whisky lovers, connoisseurs and newcomers alike to explore and discover drams of fine and rare whisky that would otherwise be inaccessible to the average drinker.
Talking with founder Mark Littler, he recounts stories of when he can remember the Macallan Private Eye being released for £36, and Black Bowmore launching for £80. Before the advent of auction sites, he says this was a time when 'flipping' a bottle was unheard of and access to quality single malt whisky was available to everyone.  But, he points out, the current trend for collecting and investing in whisky as well as rising interest from overseas buyers has caused the price of whisky to climb by over 500% in the last 10 years. This increase means that the average whisky drinker cannot afford to enjoy whisky as they once did. In turn, someone new to the world of whisky now finds themselves facing a hefty price tag to try these interesting single malts.
Cheaper By The Dram believe that whisky is for drinking and their intention is to bring whisky back to the drinkers.
Every fortnight they will choose a pair of interesting bottles of whisky. These will typically be bottles which are great for drinking but are now out of the price range of many drinkers.  They send the bottles to be separated into samples. Each bottle makes around 23 drams of whisky (30ml each), which are individually packaged along with a short information card about that bottle.  The drams are then made available for whisky lovers to buy, and are packed, checked and posted to them.  And, in a counter to the auction sites, every bottle has a unique code and is marked 'not for resale'; if they see a bottle on an auction they intend to do their upmost to prevent those responsible from buying more drams.
By splitting otherwise inaccessibly expensive bottles of whisky into drams, Cheaper By The Dram hope to share the cost of a bottle between their customers, allowing people to enjoy the very best whiskey at an accessible price.  I think many of you, as we do, will recognise the problems this brand are looking to solve, and will nod at the idea of opening and enjoying bottles.  We enjoyed talking with Mark and, we're delighted to stock a range of unique, rare, and excellent whisky samples by Cheaper By The dram which you can find here.