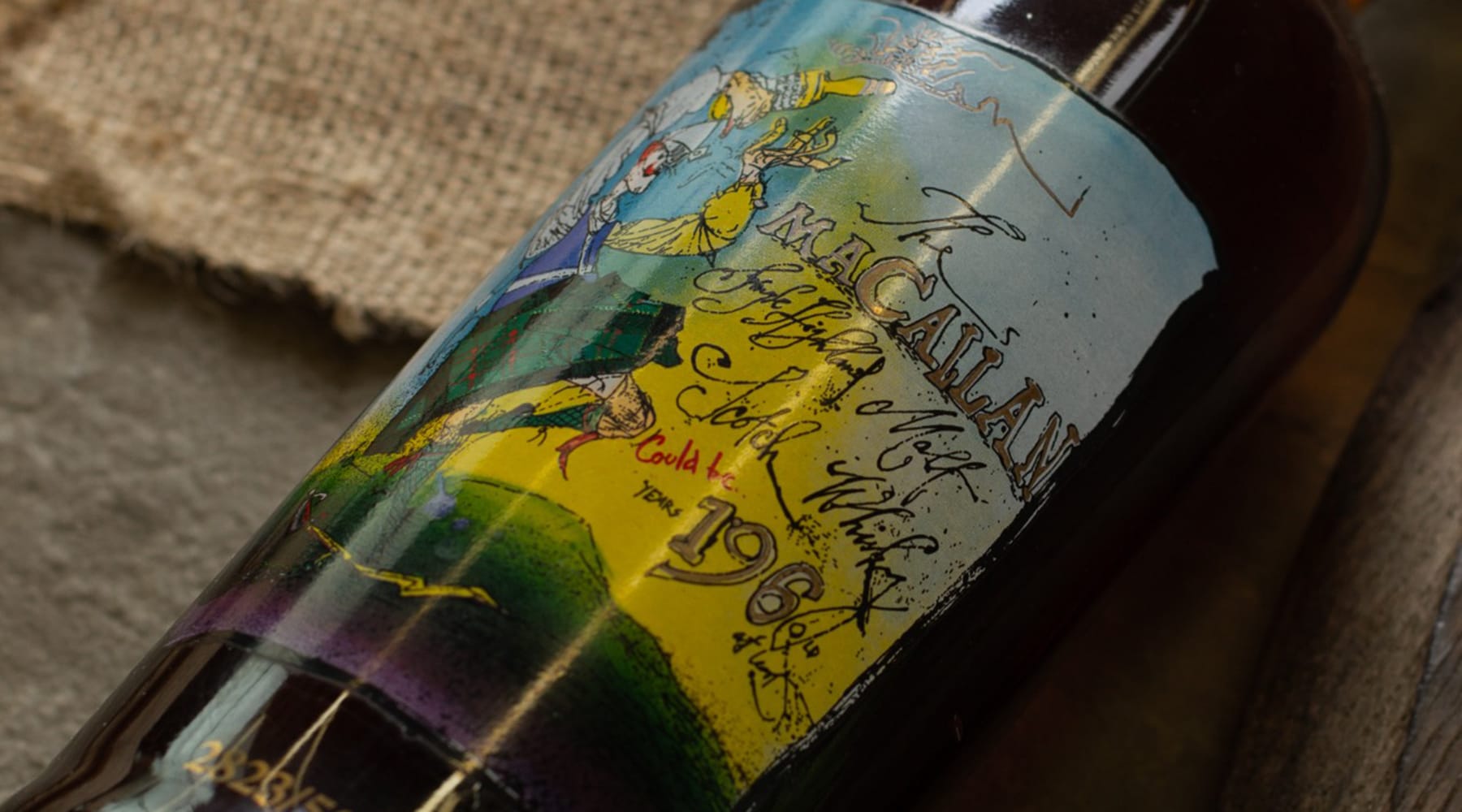 Everything you need to know about Macallan Private Eye Whisky
Macallan Private Eye is arguably one of the most iconic and collectable bottles of Macallan whisky. This is a pretty impressive feat considering it was only released in 1996, has no age statement and was released as a limited edition run of five thousand bottles.
We cannot think of any other bottle with these types of credentials that have seen the astronomical rise in fame and value that Private Eye has. But that's the power of the Macallan brand over the last 20 years.
In this article, we'll outline everything you need to know about Macallan Private Eye from the history of the bottle to historical and current prices.
The bottle design
Macallan Private Eye was released in 1996, to celebrate 35 years of Private Eye magazine. It cost £36 plus an additional £6.95 for postage and packaging. Which while not hugely expensive by today's standards, even then was still a fair sum for a bottle of whisky with no age statement. 
Adverts ran far and wide promoting the bottle, including a very successful campaign in the Daily Telegraph.
The iconic illustrated label was designed by the famous illustrator (and whisky lover!) Ralph Steadman. Steadman's art style is unmistakable, and although he is best known for his political caricatures. He has also illustrated and written many children's books as well as countless other award-winning projects.
Steadman first approached Private Eye magazine when it launched in 1961 and has also written and illustrated a book on whisky. Hence, it is appropriate that his illustration adorns the iconic Private Eye bottle.
The whisky itself is somewhat ambiguously described on the back of the bottle on a transparent plastic label with the black writing barely legible against the dark whisky.
The colour of the whisky is incredible and points to it, containing a LOT of fresh sherry influence. The rear label doesn't give too much away sadly.  All it tells us is that the whisky was bottled at 40% and that there is at least one 1961 cask in the mix:
"This whisky commemorating the 35th anniversary of PRIVATE EYE has been selected by whisky maker F.A. Newlands at the Macallan Distillery and includes Cask No.:—1580 Bonded:—1961 40% Vol. 70cl, restricted to 5000 Bottles".
Other than that 1961 cask, there is no further indication of the whisky's age. A fact Steadman amusingly references that on the label, which states it could be "1.96 years old at least", although presumably this is meant to be a jest as we know single malt scotch must be at least three years old to be labelled as such. 
I wonder how this label got past the Scotch Whisky Association.
A quick calculation tells us that 5000 bottles would require 3500 litres of whisky, meaning that 10-20 hogsheads or 5-10 butts (or some combination of the two) have likely been vatted together to produce the series. Taking into account some evaporation from the casks over the years prior to bottling.  
One notable variation between bottles (other than the bottle number of course) is the capsule. Mostly these are matt black with a narrow gold rim at the bottom with no Macallan branding. There also exists a small run of bottles with gold capsules which were sold exclusively at Fortnum & Mason, London.
Tasting Notes
Private Eye does epitomise the difference between the wine and whisky market. In the wine market value accrues when a respected critic appraises the wine and rates it highly. Critics such as Robert Parker and the Wine Advocate have a massive influence on the value of wine and can make the value of a wine skyrocket (or plummet) based on their reviews.
The whisky market is different. Nobody cares what the whisky tastes like; it is all about how rare and desirable the bottle is.
Take Private Eye, for instance. There are no critic reviews of this bottle which would justify the price it currently commands. 
Even the master of whisky appreciation Serge Valentin has no tasting notes on this bottle.
Does anyone care to open their bottle in the interests of whisky history?
The value of Macallan Private Eye
Following its release in 1996, the value of these bottles rose steadily over the following 20 years, reaching an average of £1,000 in 2016. In 2017 we began to see the beginning of the single malt whisky boom as auction prices and demand begin to climb steeply. Toward the end of 2018, we saw a first peak in auction prices around £4,000, followed by a dip in 2019 and a subsequent rise to its record auction high of £4,550 in 2020.
This pattern reflects the general fluctuation in value seen in bottles and Macallan in particular over the last few years. In our opinion, it is likely a result of the market being flooded with bottles following the headline-grabbing and record-breaking £1.2 million then £1.5 million auction sale of two separate 1926 60-year-old Macallan bottles. This drop-in achieved prices then causes a drop in the number of bottles being sent to auction, which results in prices beginning to climb again as we can see in the last 12 months. Although of course, there are other political and economic factors at play as well.
The specific complexities of retail versus auction prices in the whisky market is a topic for another day, but in general Macallan Private Eye retails for between £10,000 (you can find a bottle of Macallan Private Eye here).
The future of Macallan Private Eye
We appear to be seeing fewer bottles appearing on the secondary market, and this has resulted in auction prices stabilising around £5,000 mark for the time being. This variation largely depends on the auction house where it is sold, with some auctions achieving consistently higher prices; something to consider when you are buying and selling bottles. 
It is undeniable that Macallan Private Eye is one of the core cult bottles for whisky collectors. As there is a limited number of these bottles available and Macallan has firmly positioned itself as a super-premium brand, you can expect demand and therefore prices to remain high. If you can get your hands on a bottle, then we see no reason why this shouldn't make for a substantial addition to a collector's or investors portfolio of Macallan.
The Best Whiskies are Cheaper By The Dram
The trend for collecting and investing in whisky has increased its price. That's a fact.
The average whisky lover can't afford rare or premium malts as casual drinks. We face hefty price tags to try the most exciting malts.
That's a problem. We wanted to do something about it.
I started Cheaper by the Dram to bring whisky back to the drinkers. Not the collectors.
We source the finest rare and collectable whiskies from around the world. Then, we split the otherwise expensive bottles of whisky into drams. Our customers share the bottle price between them and enjoy the very best whisky at accessible prices.
It's simple. It's Cheaper by the Dram. You can see all the whiskies here. 
Written by Mark Littler. Mark is the director of Mark Littler, Ltd. They are one of the largest independent antiques consultants and whisky brokers in the UK. Mark values, provides advice and arranges the sale of antiques and whisky through both auctions and private sales.