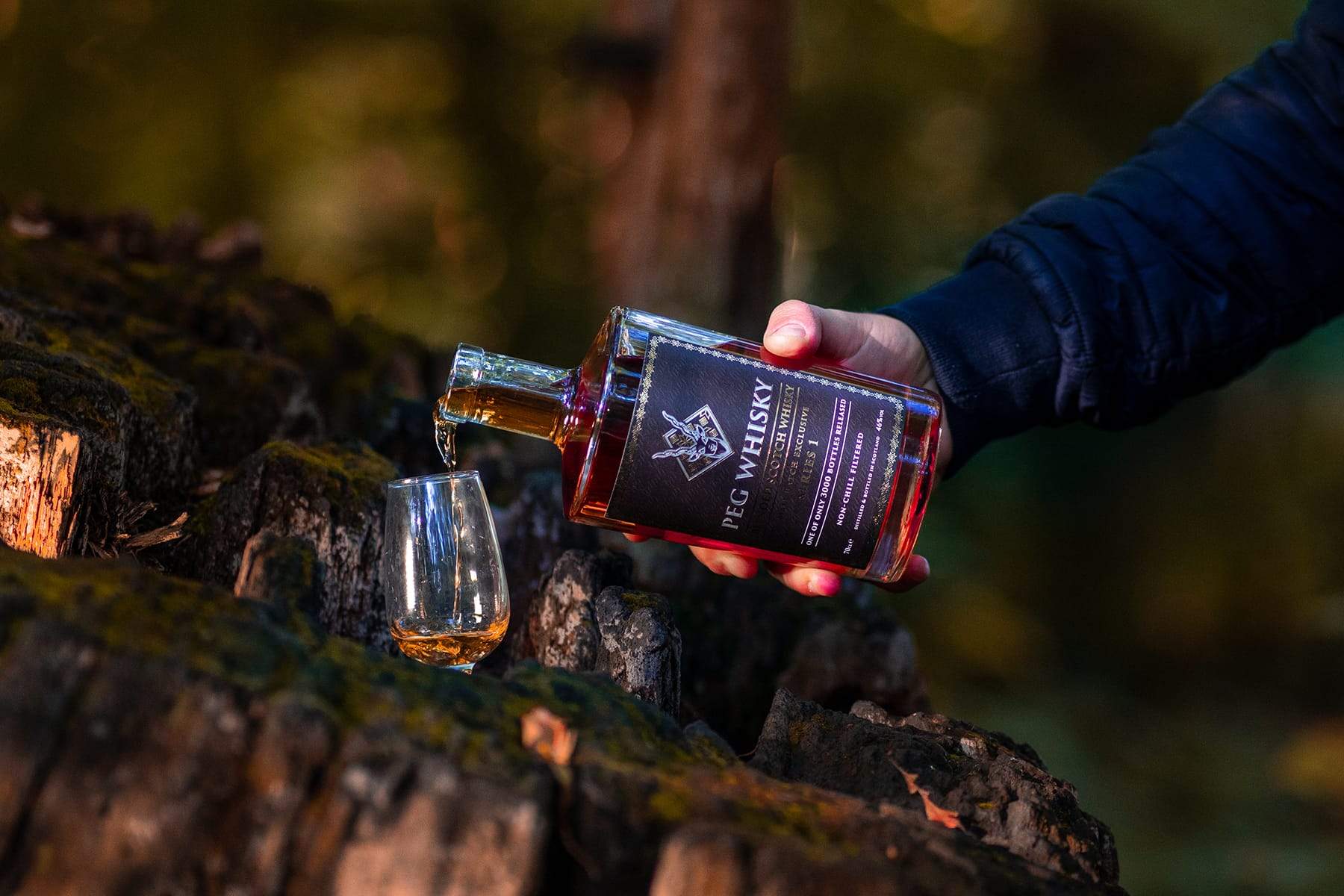 An interview with independent bottlers Peg Whisky
WHEN TOPWHISKIES MET PEG WHISKY
One of the things we love most at TopWhiskies.com is a unique whisky from a passionate independent bottler. A whisky that is individual, and which tells a story. So when we came across Peg Whisky we were intrigued. A new independent bottler, with new whiskies, and a distinctive take. 
Unfortunately we couldn't sit down over a dram with Mandeep and Kully, given the lockdown; but, we did the 'new norm': a virtual dram over zoom. Sorted. Here's what Mandeep and Kully had to say.
HOW DO YOU KNOW ONE ANOTHER, AND HOW DID YOU GET INTO WHISKY?
Mandeep: First of all, thank you for taking the time to interview us, it is great to be interviewed by recognised peers within the whisky industry. So how do we know each other, we're basically family, cousins but brothers at heart. Personally how I got into whisky was over a prolonged period of time. 
At the beginning, as with any individual who starts to dip into drinking alcohol, it was just a broad experimentation of what alcoholic drinks I enjoyed and did not enjoy and fortunately whisky was one of those drinks that I did enjoy drinking. From there I guess the love affair expanded with whisky and there is more to it than just drinking it!
I was intrigued about the history, understanding the unique characteristics as every whisky has its own tastes down to the ingredients (malts and grains), equipment, casks, and varying years of maturation and so on, which has led me here today.
And because of this I also get the credit for getting Kully interested in whisky! 
Kully: As Mandeep said we're related, he's a little older than me but from when I can remember we have always been close, and he's kept me under his wing ever since! He's probably the one who got me into drinking all them years ago, so every time I get a hangover, I can blame him. I didn't always drink whisky, at Uni I drank almost all spirits whether vodka, Bacardi, or whisky. 
I got into whisky properly when I was in my early twenties and I began to appreciate the taste a lot more. Like most I used to drink it with a mixer mainly coke. Mandeep would always say you don't mix single malts and coke, but I didn't care. When I started drinking whisky with a few drops of water I started to appreciate it a lot more and now I enjoy it neat most of the time. We go all around the country doing taste testing and expanding our whisky knowledge. So much so, we decided to bring out our own whisky! 
WHAT MADE YOU WANT TO START YOUR OWN INDEPENDENT WHISKY BOTTLER?
Kully: It's just been a passion of ours for a good few years now. We started collecting whiskies then got into blending different types and now we're here. A few weeks away from releasing our own blend and single malt scotch whisky from scratch, that includes a completely new brand and concept, it's quite exciting to be honest and we cannot wait for everyone to try it!
Mandeep: Well, we both love whisky and thought how cool it would be to have our own whisky brand, where anyone and everyone can enjoy our drinks. Having this approach and identifying that a niche market was missing to the Indian market, led us to the idea to start our own whisky label.
WHAT IS 'HAVING A PEG' ALL ABOUT?
Kully: As the story goes, it's about drinking and socialising with friends and family. A 'Peg' is famously known as a very reasonable measure but that doesn't mean you 'down it'. You should still be able to sip it, enjoy it and really appreciate the different flavours and tastes you get from it. 
Mandeep: You can check out the story on the website and on the back of our limited edition bottles for the narrative behind Peg.
WHAT DO YOU LOOK FOR IN A GOOD WHISKY?
Mandeep: For me it's all about personal taste and generally for me a good whisky is one that catches me by surprise in terms of something that I have not had the nose for or taste before. My personal tastes are always on the sweeter side and fruitful flavours, whereas anything with strong peaty flavour is not my favourite taste but Kully here loves it! 
Kully: Me personally, I look for the initial taste on my palate and what the finish is like. I don't have a great nose for a good whisky, but I make sure I keep the whisky on my palate for a good few seconds instead of just drinking it in one, to get the flavours from it in order to understand the whiskies character. A 3 year old could have just as much punch as a 12 year old, it all depends on how it's been matured and in what casks etc. if I had to pick a particular region of what I tend to drink, I would say a something from Speyside or a nice Islay. I don't mind peated whiskies at all plus Mandeep really doesn't like them, so why not!
YOU'VE GOT AN INTERESTING MIX OF WHISKIES: SINGLE CASK, SMALL BATCH, AND BLEND; WHAT'S BEHIND THIS APPROACH?
Mandeep: The approach we are providing is that we have got varying products, for everyone to enjoy and with much more in the pipeline – so watch this space! The single cask whiskies are for your whisky connoisseurs who are potential collectors, interested in where the cask has originated from i.e. the distillery, the region, age. An important feature of a single cask is making sure the whisky is original and pure when extracted from the cask so our limited edition range is non chill filtered and natural colour. There might be individuals who are not collectors but would like to try something different and think you know what I would like to try the limited edition. 
Our small batch exclusive range is providing something different where we can experiment and bring out exclusive releases ranging from different single casks, blends, grains and single malts, where our customers can enjoy these unique tastes and then we have our main blend where we believe this is a good introduction for people to enjoy, something that is easy to drink but still have a kick to it. 
We have options for everyone at all different levels of their individual whisky journey.
WHAT IS YOUR APPROACH TO BLENDING?
Kully: Getting the right malt to grain ratio and making sure the flavour marries well of course. We have blended our own for a long time trying to keep them as similar as possible. For example, we made a highland blend of more than 7 different whiskies from the highland regions all were aged 12 years or more and it was beautiful! We blended these ourselves and still drink from the decanter every now and then. The best thing is every time we ask friends or family to have a taste, they love it too! So, who knows, maybe we'll release it sometime in the future or something similar at least! 
Mandeep: I think blends are another great aspect towards whiskies, some of the bestselling whiskies in the world are blends. Having different variations to create a unique flavour profile makes it so interesting and exciting that you can generate an idea with all these grains and malts matured with different types of wood, you can genuinely sit down and say that this blend of whisky that we have created is of our own ideas based on characteristics and experiences of tasting whiskies of what we liked and didn't like and that gives me great satisfaction.
WHAT CAN WE EXPECT FROM PEG WHISKY IN THE FUTURE?
Mandeep: A lot! We hope to establish our brand and customer loyalty where people will continue to enjoy and appreciate our products. This will give us a great foundation to come up with new and creative ideas for the Peg brand and you never know, Peg could start to branch outside into the other areas of alcoholic drinks. 
Kully: As Mandeep said we have a lot of great ideas that have not been done before and a lot of backing behind us. We can't wait to keep sharing new blends and malts with people, hopefully everyone who tries it will find their own personal favourite and if you don't like what we have in our current range, let us know and we will try to develop it in the near future, until then, pour yourself a peg, but please drink responsibly. 
SO, POUR YOURSELF A PEG
We really enjoyed getting to know Mandeep and Kully.  They are passionate about what they're doing. They love it. And that's important. You can find out more about Peg Whisky here, and we have three of their expressions which you can find here:
Join us in raising a peg, Evan and Ed
Photo: @worthington.photos on Instagram or worthingtonphotos.co.uk