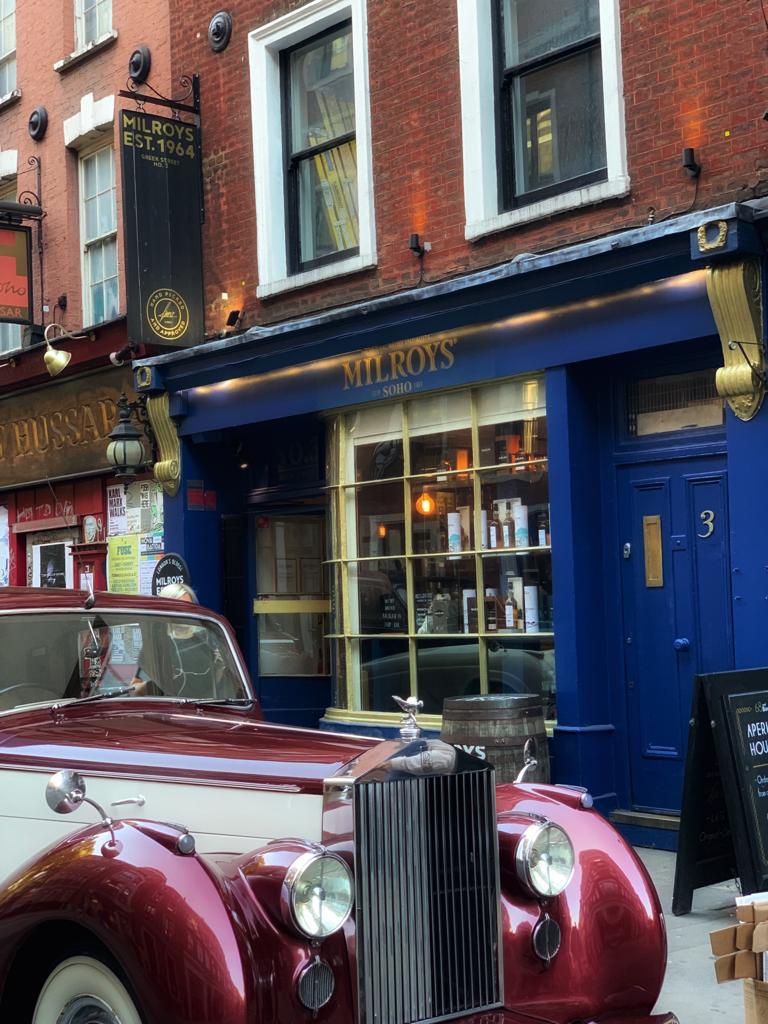 Milroy's of Soho and Spitalfields
Milroy's of Soho
Milroy's is a wonderful oasis of whisky in Soho.  When we first moved to London three odd years ago, we would talk with whisky friends who would ask us in almost-mesmerised tones whether we'd visited Milroy's whisky bar yet - assuring us emphatically that it was one of London's best whisky bars. 
Behind its charismatic royal blue facade 100s of whiskies await - and we mean 100s.  Legend's such as Eddie are on hand to guide you through the range, finding the right dram to suit your mood, tastes, experiences.  Together with the impressive bar selection, you can buy bottles to take home and enjoy with friends - including Milroy's own exclusive bottlings.  We've had many happy evenings there with Eddie, team, and a multitude of friends - old and new.
Simo, Milroy's lead
Milroy's is run by Simo: the motorbike-riding, whisky-loving, rockstar of Soho.  Over the past couple of years Simo has been working hard to turn his dream into reality: expanding Milroy's and helping more whisky lovers, and the whisky-curious, find their new favourite drams.  The result of Simo's hard work is soon to launch: a new venue in Spitalfields, London.
Launch of Milory's Spitalfields
Simo invited us to have a sneak preview of his labour of love - a semi surreal evening hanging out with him, Colin Dunn, Eddie and team.  Choreographed with Simo's trademark style and character, we started in Soho with champagne and drams.  We were then ushered through London in a Rolls Royce to the new venue, where the Milroy's team excitedly showed us around the near-finished Spitalfields branch before we enjoyed some of Milroy's exclusive whisky bottlings.
Located on 76 Commercial Street, Milroy's Spitalfields is a modern interpretation of the original Soho branch.  Set across four floors, the new venue will (naturally!) have a whiskey bar, and like its elder sibling, it will also have cocktail bar; but the new venue also adds a tasting room and an exclusive private members club with a cigar terrace. 
The Proofing Room, Milroy's cocktail bar
The basement cocktail bar is called The Proofing Room, and is created by the team behind the ever-popular bar The Vault Soho, below Milroy's Greek Street. Relaunched in 2016 by Chris, and accessed through a secret bookcase door, The Vault offers modern twists on old favourites and expertly selected seasonal mixes from the incredible Vault team. Its name references the room's pre-war status as a proofing room for a bakery which it was once used for, and will build on the experience, and delicious drinks, of The Vault. 
On the ground floor of the Spitalfields venue there will be a 1,000 strong whisky bar with space for 40 people, showcasing a carefully curated whisky selection from around the globe with scotch from the Highlands, Lowlands, Speyside, Islay, Islands and Campbeltown; American whisky from all over the United States; Asian whiskies, European whiskies, as well as whiskies flown in from Australia and South Africa. Trust us, its quite the range!  But don't worry, Eddie and team will be on hand to help guide you through the whiskey range to find something you're bound to love.
The Dram House private members club
The first floor houses The Dram House: a private members' club with a bar. Named after the pop-up bars set up in Japan by the Milroys brothers, original founders of the brand, the club bar will offer an exclusive selection of whiskies. Membership of The Dram House will be available to loyal customers and whisky aficionados. 
The third floor tasting room will offer a range of whisky tasting events, both with the Milroy's team and with industry experts like Colin Dunn.  The outdoor area transforms into a cigar terrace, offering specialist products from Hunters & Frankau, the UK's exclusive Cuban cigar importers. 
Talking about the imminent launch of his new pride and joy, Simo said: 
"I am extremely excited to be launching this new site and introduce new people to Milroy's and what we stand for in the world of whisky. We believe whisky is for everyone, taking away the pretension and stigma, as the Milroys brothers did when they first brought single malt to London." 
See you for a dram at Milroy's soon
Thats something we can raise a dram to.  We're really delighted for the team, they're always warm and welcoming and deserve every success in this new venture.  We hope to see you there for a dram soon.  Slainte mhath.