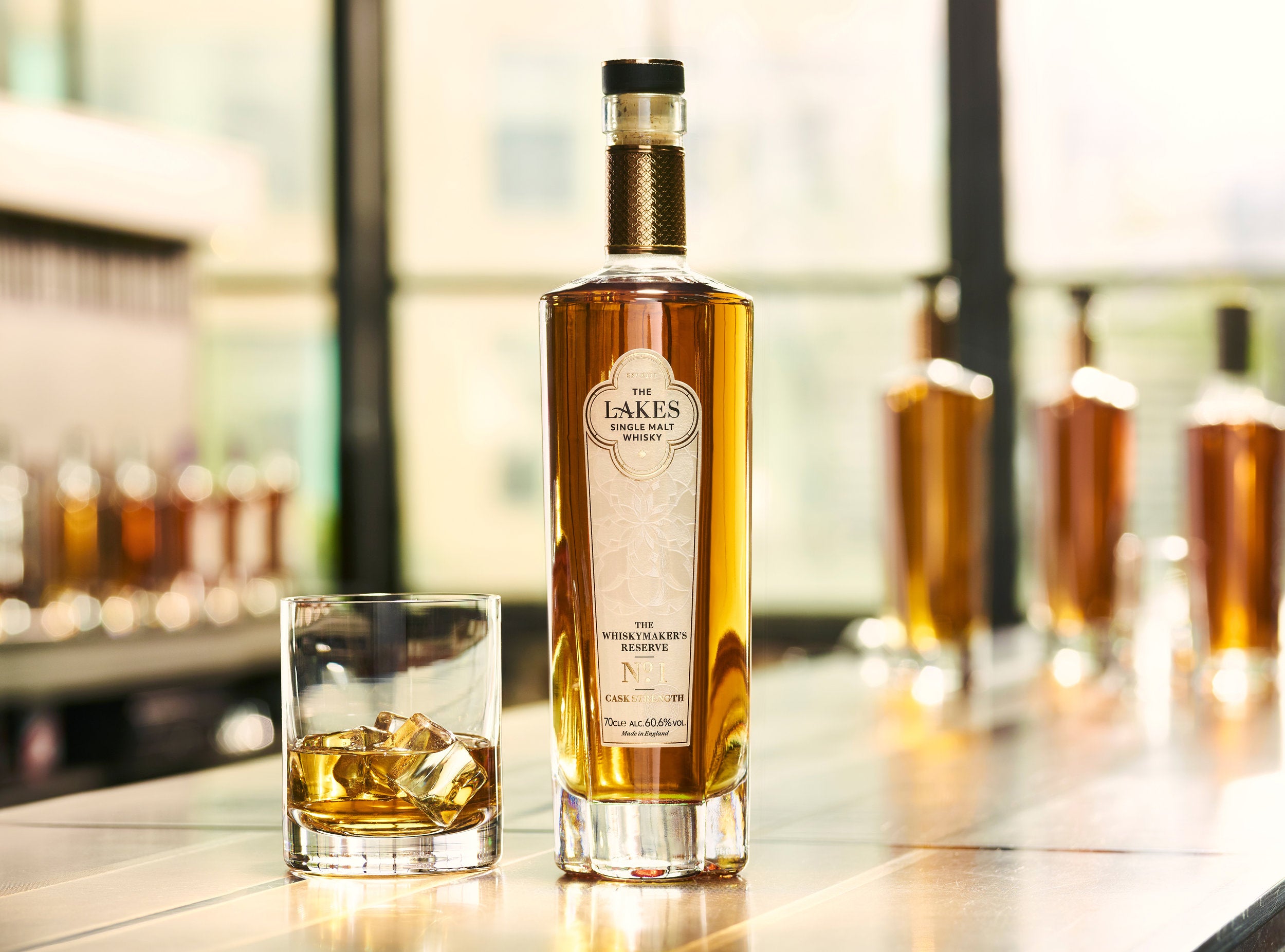 The Whiskymaker's Reserve by Lakes Distillery
The Whiskymaker series by The Lakes Distillery
The Lakes Distillery has unveiled the first in a series of widely available single malt whisky releases that will showcase the house style defined by their whiskymaker, Dhavall Gandhi. Inspired by nature, The Whiskymaker's Reserve No.1 is an artistic exploration of maturation and blending; of flavour evolution and defining a sherry-led house style. This range becomes one of the core collections for The Lakes Distillery.
The Whiskymaker's Reserve No.1
With 5,922 individually numbered bottles at cask strength, 60.6% ABV, it is a full-bodied expression, matured in the finest, meticulously sourced PX and red wine casks, comprising American, Spanish and French oak. Read more about where whisky casks come from here. Non-chill filtered and bottled at the natural colour, the nose is described as rich and vibrant with vanilla, chocolate and wood spice, layers of dry fruits, ginger and orange on the palate and a long, warming finish.
Whiskymaker Dhavall Gandhi
Joining The Lakes Distillery for the opportunity to define the house style of the new distillery, whiskymaker Dhavall Gandhi is an expert in flavour creation, maturation - particularly in sherry casks - and blending.  He said, "Creating a new whisky requires a framework of sorts, but there must be room within it to play, to follow gut feeling and instinct.  At The Lakes, we respect the conventions of Scotch whisky heritage but are open to a world of other influences, interpreting what we believe is right to make The Lakes Single Malt one of the finest whiskies in the world.  We don't believe in taking the easy option if there's another way to add a new dimension of flavour. For The Lakes, that means not only creating flavour in the new-make-spirit but also opening up more flavour possibilities throughout the journey through the entire whisky-making process."
The standard type of ex-sherry cask used in the whisky industry is a 500-litre 'butt' made from European oak, seasoned with Oloroso. This large size makes it ideal for longer-term maturation and gives the spirit notes of dried fruit, clove and a firm tannic grip. The Lakes, on the other hand, has widened the net.  As well as this type of sherry cask, they are also maturing their single malt in PX, Cream and the drier Fino. Furthermore, these casks are made from Spanish, American and French oak in 500-litre 'butts' and 205-litre 'hogsheads'. Find out more about whisky cask sizes and types here.
A series of bottlings will follow, with the architecture of each release evolving in keeping with The Lakes increasing sherry-cask influence. You can find out more about The Lakes Distillery here, and if you'd like to try this great series for yourself then you can find The Lakes Whiskymaker's Reserve No.3 here, and The Lakes Whiskymaker's Reserve No.4 here.