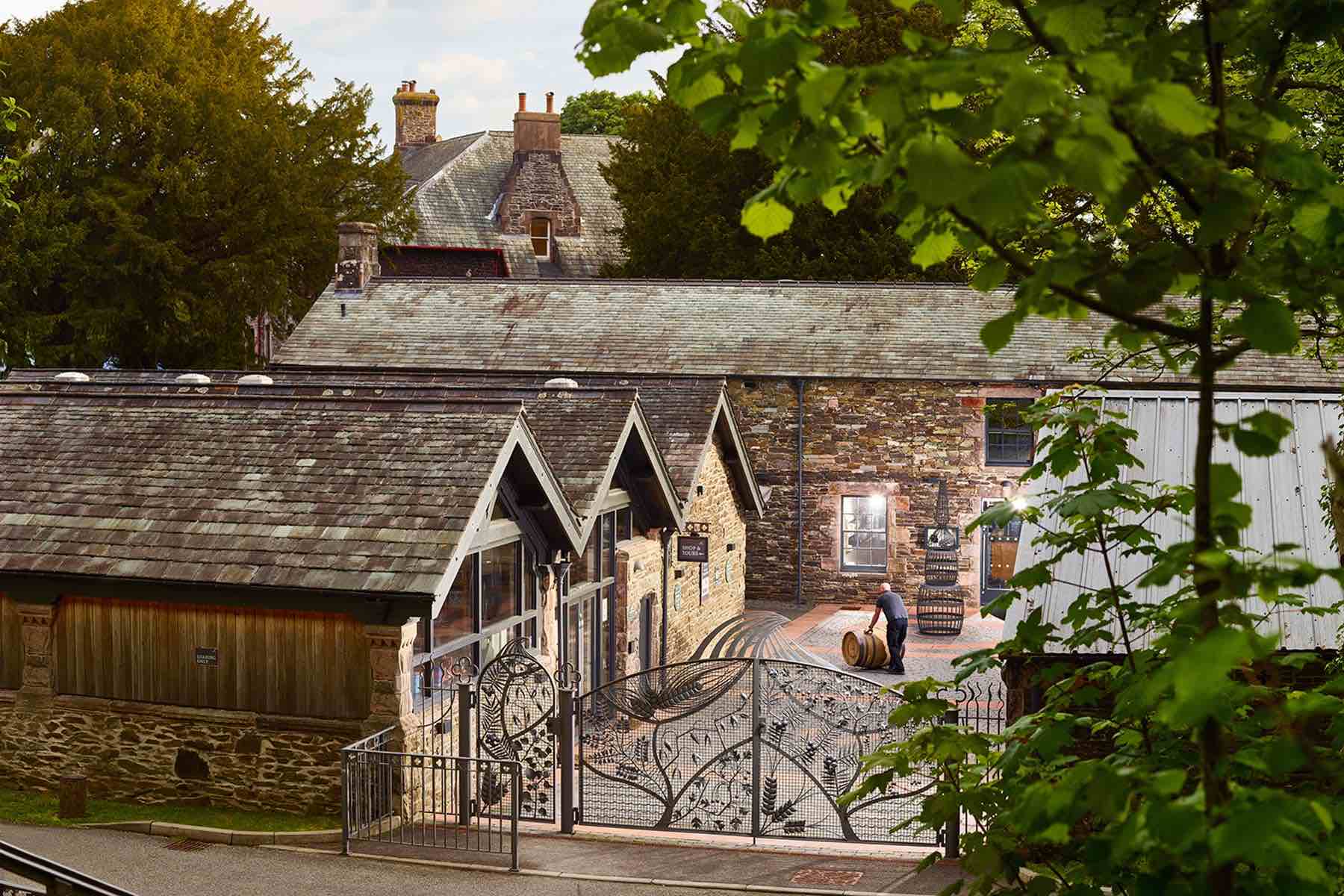 An Introduction To Whiskies From The Lakes Distillery
The Lakes Distillery
Nestled in the rolling hills of The Lakes District, after which it takes its name, The Lakes Distillery is one of my favourites. One of my favourites, period; not just one of my favourite, say, English distilleries.
One of the most beautiful parts of England, or dare I say it the world, The Lakes District is a UNESCO World Heritage Site. The Lakes Distillery was founded in a restored 160-year-old Victorian farmstead on the banks of the River Derwent.
Here, Whiskymaker Dhavall Gandhi has made impressive progress over the past few years. His approach to making whisky is considered, methodical, and thorough. It combines science with art, plans with creativity. Dhavall talks of layering, or building, flavour throughout the whisky making process. He'll do this right from the start by layering together a couple of styles of new make. And he continues this approach right through to the end, layering flavour throughout maturation.
The Lakes Distillery have a few collections of whisky. All good quality, and pitched at different prices points. In this introductory guide, I'm going to summarise the whisky ranges by The Lakes.
The One Collection
The One Collection has The Lakes Single Malt at its heart. Their single malt is blended with select Scotch grain and malt whiskies from the Highlands, Speyside and Islay. The Collection showcases Dhavall Gandhi's maturation expertise. Each of the release has been finished in the finest oak casks, adding a new dimension to the flavour profile. This demonstrates the influence oak and cask seasoning has on whisky's flavour.
At the moment there are six whiskies in the One Collection. They are all 46.6% ABV, natural colour and non-chill filtered. The releases are:

Whiskymaker's Reserve
The Whiskymaker's Reserve explores the role oak casks, and careful blending, plays in making whisky. In this range, Dhavall has set himself a framework: all the Whiskymaker's Reserves will be sherry cask releases. This means they will all align to The Lake's house style. But Dhavall explores and plays with that sherry framework; each release will evolve. They'll be different. Almost like embarking on adventure, as The Lakes refines their house style.
So far there have been four Editions in the Whiskymaker's Reserve series. These are bottled at higher strength, natural colour and without chill filtration. So far, there has been:
Whiskymaker's Reserve No.1, aged in PX and red wine casks and bottled at 60.6%

Whiskymaker's Reserve No.2, aged in PX, red wine and bourbon casks and bottled at 60.9%

Whiskymaker's Reserve No.3, aged in PX, Oloroso, Cream Sherry and red wine casks and bottled at 54.0%
Whiskymaker's Reserve No.4, aged in PX, Oloroso, and red wine casks and bottled at 52.0%
Whiskymaker's Editions
If Whiskymaker's Reserve is about The Lakes Distillery's house style, then the Editions are the exceptions that break the rules. They showcase Dhavall's sense of adventure in cask selection, maturation, and blending. Each Edition is an expression of creative freedom, where Dhavall gives his imagination free reign. He remember a fond memory, picture something in his mind, or want to conjure the sense of a particular feeling. He then looks to create a whisky that embodies that inspiration.
Colheita, 52% ABV
The release is all about Port. In Portuguese, Colheita (Col-yate-a) means "harvest". Colheita is aged Tawny Port made exclusively of grapes from a single vintage. And, these are the casks used to age the first release in the Whiskymaker's Editions series. Read my review of Colheita here.
Le Goûter, 49.5% ABV
Le Goûter (Lay-Goo-Tay) is inspired by memories of the excitement of going to a cake shop as a child. Taking you to the Parisian streets in spring, Le Goûter was limited to 306 bottles. It aimed to take you to a heady patisserie, full of the scent of fragrant jasmine and crème anglaise mixed with freshly baked madeleines. 
Miramar, 54% ABV
This release was limited to 600 bottles, and remembers an evening with friends in Portugal. Miramar is Portuguese for 'sea-view', where the sun sets slowly as day drifts into dusk. It's stone fruit character contrasts with vanilla and hints of gentle spice, dried Morello cherries and Santa Rosa plums. Fresh apricot perfumed elegance fills the warm sea air, with cinnamon, honey and toasted malt on the ocean breeze.
Bal Masque, 54%
Complex and aromatic, Bal Masque is all about the mystery and seduction of a masquerade ball. Bal Masque used only French oak to mature the whisky. The tannins and wood extractives create that mysterious character of a masquerade ball. Orchard fruits with sweet spices, raisins, vanilla and nutmeg, and background notes of toasted almonds and incense. Read my review of Bal Masque here.
Recuerdo, 57%
Spanish for a 'treasured memento', Recuerdo is inspired by the comforting character and texture of Cognac to soothe both body and mind. It was created using unique, rare and bespoke ex-sherry casks, and Dhavall's art of blending. It's a smooth and complex whisky, full of fruits, nuts and spices.
Sequoia, 53%
The iconic landscape in North California's wine country is the inspiration for Sequoia. Diverse cask types carefully blended together paint a very different picture to most ex red wine whiskies. Redcurrants, spiced chocolate, red grapes and dried fruits, with butterscotch, fig and cinnamon.
Liberty, 56%
Liberty is an expression of artistic freedom, of freedom of expression. Free from the influence of tasting notes and cask specifications it is a blank canvas for you, the drinker. The Lakes Distillery want you to interpret this whisky any way you please.
Mosaic, 46.6%
Mosaic is inspired by the Silk Road, the ancient avenue of east west trade and cultural exchange. It unites eclectic influences and flavours in a singular, sophisticated expression. From cold autumn days in the west, where sharp air surrenders to the aromas of campfires and spent leaves. To the exotic spice of Moorish bazaars. And onwards into delicate oriental wood nuances evoking the wisdom of Japanese temples.
The Quatrefoil Collection
The quatrefoil represents The Lakes Distillery's core beliefs. Faith, hope, luck and love are their compass points. And these work together with the distillery's state-of-the-art technology and Dhavall's boundless creativity.
This collection focuses on individual flavours gained from specific oak species and sherry varieties. Each bottle highlights the individual flavours which, when blended together, reflect The Lakes' house style.  The collection showcases their sherry-led maturation philosophy. And, it demonstrates the wide range of flavour American or Spanish oak can offer.
Faith, 2018, 56.5% ABV
Faith is for those who conquer their challenges. It's a complex single malt, matured initially in American & Spanish oak casks seasoned with Bourbon and Oloroso. This was followed by a second maturation in PX hogsheads made up of American and Spanish oak. This whisky has comforting notes of vanilla, dried fruits and hints of cinnamon. Read more about Faith here.
Hope, 2019, 59% ABV
Hope is for those who embark on new adventures. It's an intense single malt whisky matured in first-fill Spanish oak Oloroso and PX hogsheads. The result is a fragrant whisky with distinctive spiciness and stone-fruit character. Read more about Hope here.
Luck, 2020, 57.4% ABV
Luck is for those prepared to challenge themselves. It's a rich and bold whisky, matured in Spanish oak PX hogsheads. It has bold layers of sun-dried sultanas, brown sugar, wood spice, stewed pears, cinnamon and toffee.
Love, 2021, 57.4%
Love is for those who care passionately. It was matured in Oloroso and PX casks made of American oak. The whisky has taken on their character of sun-dried raisins, dates and wood spice with swirls of vanilla cream.
Which is your favourite Lakes' whisky?
These whiskies are all great quality. They are pitched at different price points, and there's something for everyone. I'd thoroughly recommend trying a few whiskies from The Lakes Distillery. And, if you've already tried a few, let me know what you think of The Lakes' whisky.