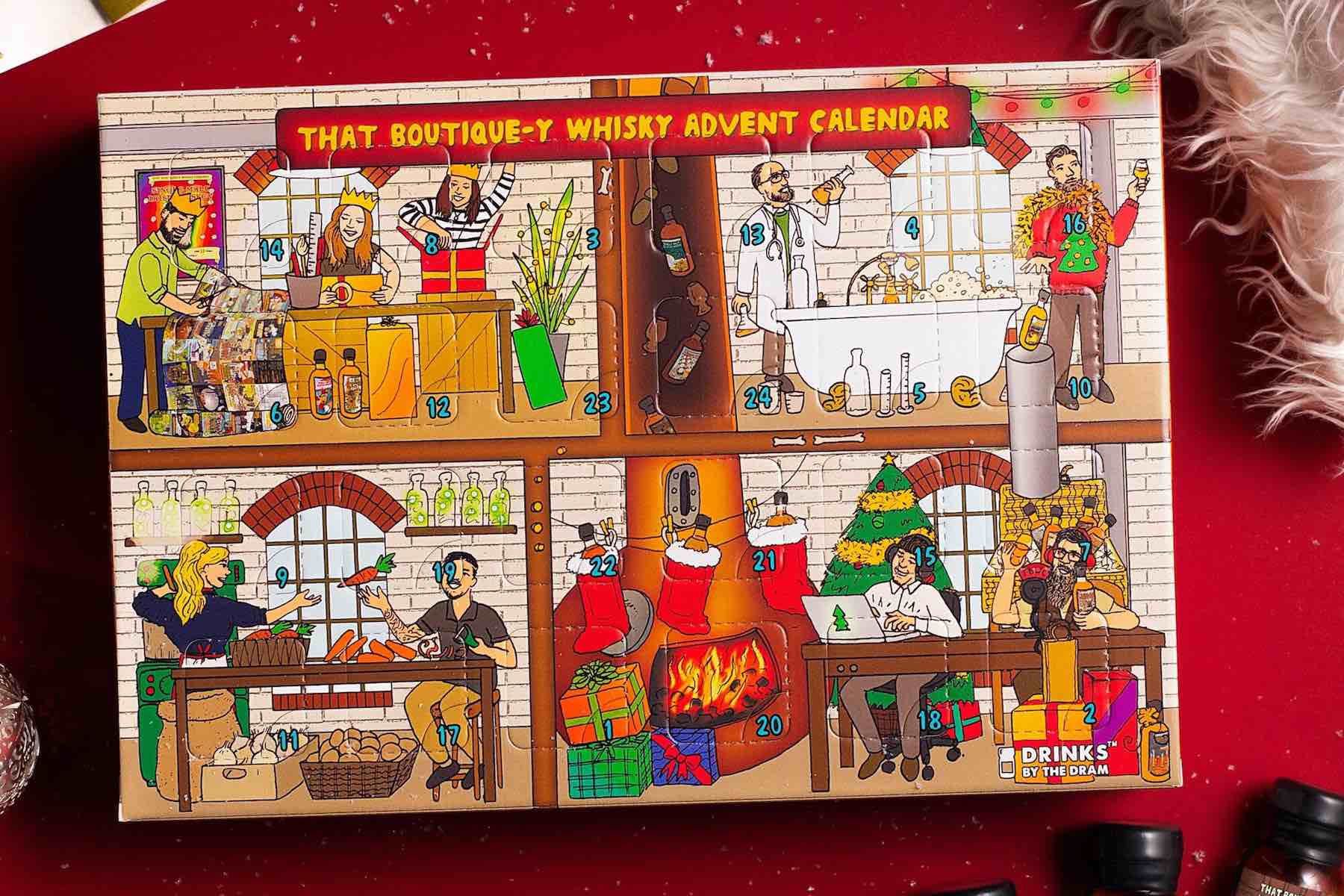 That Boutique-y Whisky Advent Calendar Christmas 2021
It's been a busy year. But now we're in early November, I'm just starting to let myself look forward to Christmas. Yes, still a fair few weeks away. But, there is a treat that will start in a matter of weeks. And, it's something I look forward to every year. A reward for all that hard work. A whisky advent calendar.
Advent calendars were always special as a kid. I think it was the combination of three factors. Chocolate, which lets face it is always a winner. The 'surprise' of opening each door, to see exactly what character, or chocolate, lay behind. And the fact that as each door opened, Christmas Day itself got a step closer.
A chocolate advent calendar doesn't hold quite the same appeal, now. But, I'll tell you what does: a whisky advent calendar. Oh yes! You heard me right, a whisky advent calendar. It's exactly what you think it sounds like: a Christmas box of delight, with 24 doors each hiding a mystery dram.
I've written about advent calendars in the past. Today I'm looking at a calendar one of my favourite indie bottlers sent, as an early Christmas present. Yes, lucky me, I know!
That Boutique-y Whisky Company
That Boutique-y Whisky Company are an excellent independent bottler. They are, to some degree, a bit of a maverick in the world of bottlers. They don't have a set script, per se. They'll bottle anything and everything. Plenty of Scotch, yes. But beyond that, English whiskies, Japanese, American whiskey and bourbon. Everything. They'll bottle single casks, and blends. They're comfortable releasing cask strength drams, or ideal strength whiskies. You can find some of Boutique-y's whiskies here.
But all their releases do have three things in common. First, they are all excellent quality. Above everything, Boutique-y places the greatest emphasis on the quality of the liquid. And they really do search out some superb drams. Second, their releases have real character. Each of bottle has charming artwork, representing the whisky in a fun cartoon manner. And third, they don't take themselves too seriously. They have fun, they have a laugh, and they share great whiskies.
They I've enjoyed a great number of their whiskies in the past; here are some reviews you may find interesting:
Boutique-y's Drinks By The Dram Advent Calendar
Boutique-y's Christmas advent calendar is released together with Drinks By The Dram. Drinks By The Dram is a sister company to Boutique-y. You may well have come across their recognisable wax-sealed minis before.
The calendar's cover is the same, cheerful style as their bottles. It has members of Boutique-y's team stepping in for the Christmas elves. Look more closely and you'll see some of their releases represented. And, you can even spot Dave Worthington in the bottom right hand corner.
The calendar contains 24 drams. Each of the drams is 30ml, in a little glass bottle sealed with wax. 30ml is a good pour, a proper dram. The samples are taken from their recent releases. You'll get to try whiskies from 24 different distilleries, from six different countries. It's a real tour of everything Boutique-y do so well. Indeed, it's a real tour of the whole whiskey world! And, if you've had one of their calendars in past years, then it's worth noting all the whiskies are different to past calendars. So, lots of new expressions to try!
I know some people like to keep each day's dram a surprise. So I wont go into detail about the specific whiskies here. What I will do is include a list at the bottom of this page. If you want to see that full list, keep scrolling down. If you want to keep it a surprise, read to the end of the main body of this blog, and then stop. 
But what I do want to do is give you a sense of the kind of drams you'll find in the calendar. So let me pick just one to talk about. One of the days is a 24 year old Bourbon Whiskey. 24 years is a great age statement for Scotch, but for Bourbon that is very impressive. And impressive is the right word for this whiskey. It's won a clutch of awards, including:
Silver medal in the Straight Bourbon category of the 2019 International Spirits Competition.

Gold medal, Ultra Premium Bourbon category of the 2019 American Whiskey Masters.

Gold medal, Bourbon Whiskey category of the 2019 International Wine and Spirits Competition
I can't wait to try this whiskey in December. It sounds as good as the awards suggest it should be:
Nose: Rich, earthy vanilla pod and coffee bean notes arrive first. Supported by vibrant notes of orange oil, brandy-soaked raisins and dark chocolate.

Palate: The vanilla notes continue on the palate. Now, with jammy red berries, maple syrup and freshly made pancakes.

Finish: A good kick of baking spices appear on the finish. Still enjoyably buttery.
Get your Whisky Advent Calendar for Christmas 2021
I'm certainly looking forward to popping the first door come December. This calendar will be a real treat. And, if you'd like to get yourself a treat for Christmas 2021, then you can find this whisky advent calendar here. They cost £124.99, which feels very reasonable for the quality of whiskies you're getting.
And, if you're looking for a bottle of Boutique-y Whisky, then why not check out our range here.
Whatever you choose, and wherever you are: sending best wishes this festive season. I hope you enjoy some well earned rest and relaxation over December. And here's to a happy, healthy, and dare I say easier, 2022.
Slainte, Ed
Thank you to Boutique-y Whisky for gifting the calendar for independent review.
SPOILER ALERT
Here's the full dram list of whiskies included in Boutique-y's 2021 advent calendar:
TBWC Irish Single Malt #1 13 Year Old 

TBWC Säntis 10 Year Old 

TBWC James E. Pepper 4 Year Old - Ale Cask Finish 

TBWC Islay #1 10 Year Old - Batch 3

TBWC Glendullan 16 Year Old 

TBWC Glengoyne 17 Year Old 

TBWC Balblair 7 Year Old 

TBWC Bourbon Whiskey #1 24 Year Old

TBWC Glen Elgin 12 Year Old 

TBWC Islay #3 13 Year Old 

TBWC Longmorn 10 Year Old

TBWC Teaninich 10 Year Old 

TBWC Macduff 10 Year Old 

TBWC Irish Single Malt #2 15 Year Old 

TBWC Cambus 28 Year Old

TBWC Millstone 4 Year Old

TBWC Speyburn 10 Year Old

TBWC Croftengea 14 Year Old

TBWC Miltonduff 10 Year Old

TBWC Tomatin 36 Year Old 

TBWC Penderyn 6 Year Old - Batch 1

TBWC Aberlour 9 Year Old 

TBWC Jura 20 Year Old

TBWC Whitlaw 15 year Old