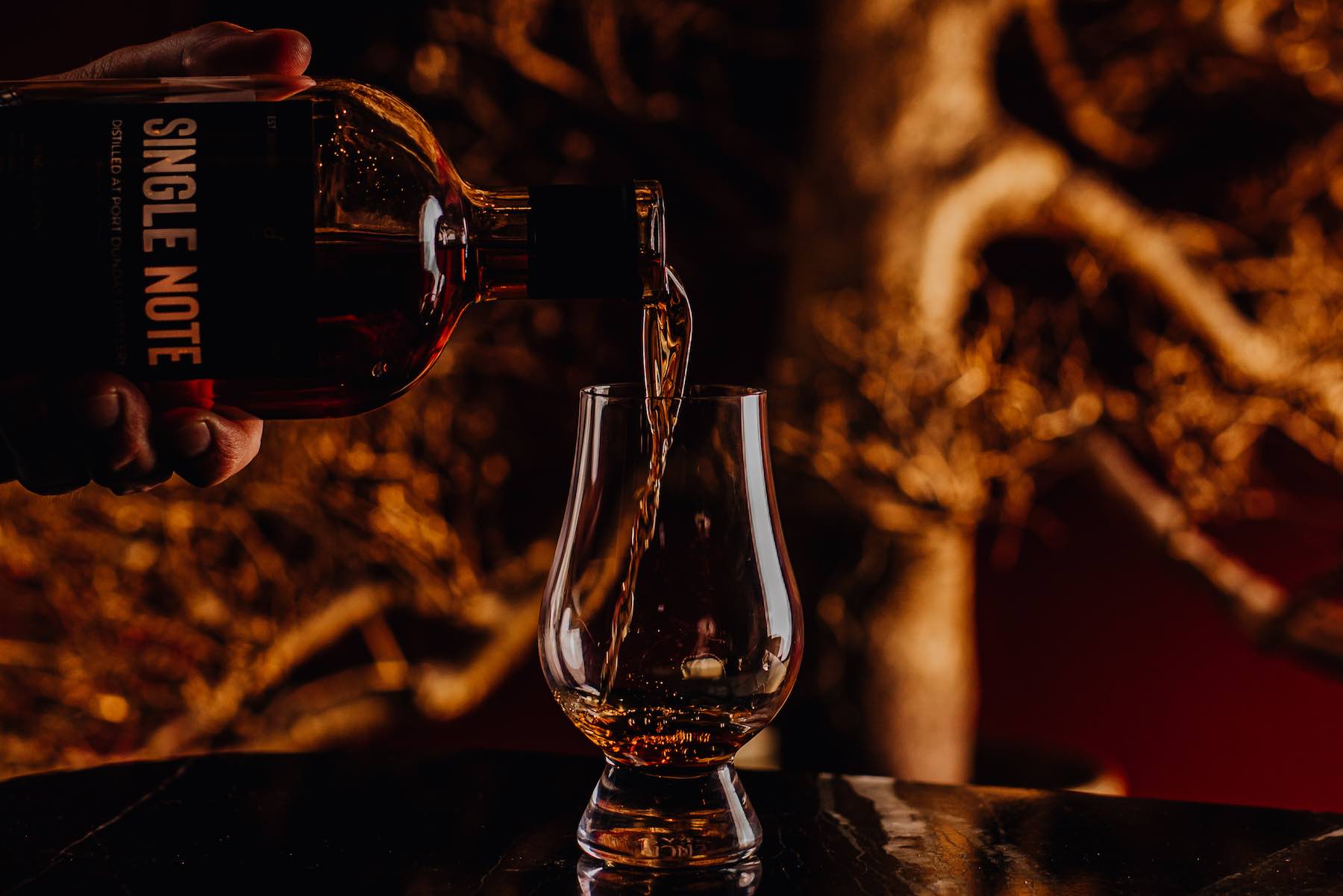 Single Note Port Dundas 11 Year Old, Review and Tasting Notes
Today I'm reviewing the third release from indie bottler Single Note. I've enjoyed two of their past whiskies, both of which were Caol Ilas. There was a 5 year old Caol Ila ex oloroso octave and a 12 year old Caol Ila ex bourbon.
This time, we have a Port Dundas 11 year old distilled in October 2009. This single grain scotch was matured in an ex-bourbon cask. It was then finished in a first fill PX quarter cask. Finally, it was bottled at cask strength of 60.4%, natural colour and without chill filtration.
The colour on this is great, but as ever its the taste that matters. Let's give it a try.
Port Dundas 11 tasting notes
Colour: Natural colour, deep bronze, almost like loose-leaf tea. It leaves a pronounced tide mark in my glass, dotted with lots of little tears. They develop slowly, as they sink down the side of my glass. It looks oily and viscous.
Nose: Freshly ground coffee next to soft muscovado sugar. A leather tobacco pouch. Buttery oat and treacle flapjack, washed down with real ale. Star anise, cinnamon, pepper. There is a touch of heat, but it isn't overpowering. Considering the ABV is over 60, the alcohol seems well integrated.
Palate: Medium to full mouthfeel, velvety. Plums and blackberries macerated in soft brown sugar. Pears soaked in red wine spiced with cloves and star anise. A nutty back note. The alcohol adds body and viscosity, and again is well integrated.
Finish: Long finish. Coffee, with orange and almond chocolate on the side. Cinnamon and a little chilli warmth.
Review of this Single Note whisky
If this whisky was a character in a jazz bar, it would be the confident alpha sat in a dimly lit corner. Sharply dressed, brim of their hat pulled over their eyes, smoking a cigar. A glass of this in their hand, as they survey the room from their vantage point.
It's a bold, charismatic, whisky. I feel it's worked well with the PX quarter cask; it's not shy and retiring, its flavour packed and confident. I enjoyed this at cask strength, and feel the ABV works well despite being so high. But, a few drops of water will tame this dram for those looking to dial down a little of the spice.
You can read more about Single Note here. If you'd like to try this whisky for yourself, you can find Single Note Port Dundas 11 here. You may also be interested in Single Note Caol Ila 12, here.