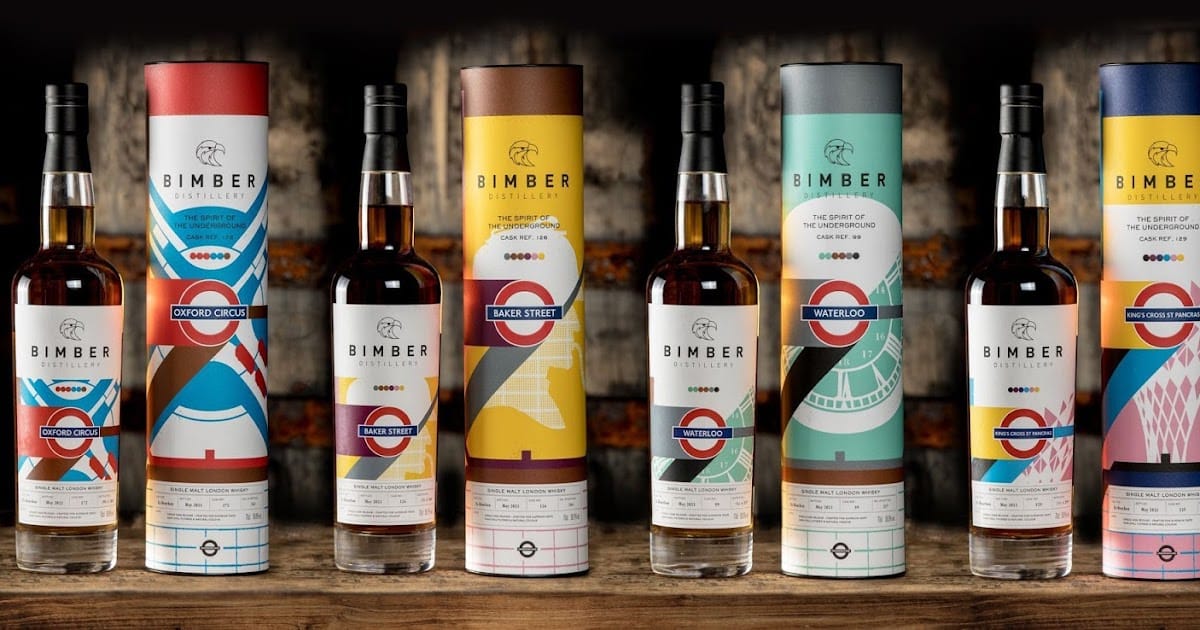 Bimber Underground London King's Cross St Pancras, Review and Tasting Notes
Bimber Distillery have created quite the splash over the past couple of years. They're single cask releases are highly sought after. And, very difficult to get one's hands on.
Spirit of the Underground Collection is an ongoing range of single malts from Bimber. The whiskies celebrate the heritage and diversity of the distillery's home city. Each bottle features a different station on the London Underground network.
The bottles all features eye-catching graphic designs. The style is very much keeping with that of the underground itself. Each design reflects the significance of each station's location.
Further releases are being added to the collection over time. With 270 Underground stations, Bimber have plenty more releases they can choose to do. New whiskies will be released in batches, four single casks at a time. The first two batches include:
Batch 1: Waterloo, ex-bourbon, 58.3% ABV

Batch 1: Baker Street, ex-bourbon, 58.1% ABV

Batch 1: King's Cross St Pancras, ex-bourbon, 58.5% ABV

Batch 1: Oxford Circus, ex-bourbon, 58.8% ABV

Batch 2: Chancery Lane, ex-Madeira, 57.8% ABV

Batch 2: London Bridge, ex-Port, 58.7% ABV

Batch 2: Victoria, ex-rye whiskey, 58.2% ABV

Batch 2: Paddington, ex-Pedro Ximenez Sherry, 58.9% ABV
You can find out more about Bimber's Spirit of the Underground Collection in this video here:
As with any popular range, the challenge with Bimber's Underground collection is getting an opportunity to try them! It's difficult to get your hands on a bottle. And, I fear many bottles remain sealed, hidden in people's collections. So, when Mark Littler asked whether I'd be interested in trying one of the releases, it was an easy yes!
Mark Littler is an expert whisky broker, specialising in high end whisky releases. So he knows a thing or two about collectable whisky. But, he is first and foremost a whisky lover. And, he loves to see whisky enjoy.
So today, I'm reviewing the London King's Cross St Pancras release. To recap, this is a single ex bourbon cask. It's bottled at 58.5%, natural colour and without chill filtration.
Bimber King's Cross St Pancras Tasting Notes
Colour: Natural colour, light gold. Lots of little tear develop tightly together, and slowly fall down the glass.
Nose: Oak from a good cask, with fruity spirit. Red apple tart, sprinkled with brown sugar and baked. Vanilla pods, light nutmeg and star anise.
Palate: Medium mouthfeel. Mixed orchard, red fruit, and oranges. A slight buttery pastry note alongside. Again, quality oak, wood spice and vanilla. Pepper, and some chilli heat.
Finish: Medium to long finish. Milk chocolate with chilli. Warming, with further spice.
Review of this Underground whisky
I think this release showcases two things Bimber are, rightly, becoming known for. Great quality spirit, and excellent wood policy. The fruitiness and sheer quality of the spirit comes through. And this classic bourbon maturation adds enjoyable oak character. I enjoyed the cask strength spice, but for those that want to tame it a little a few drops of water will go a long way.
A big thank you to Mark for the opportunity to try this dram. You can find out more about this whisky on Mark's YouTube channel here:

Have you tried any of the whiskies from the Underground collection? I'd love to hear what you though, let me know in the comments below.