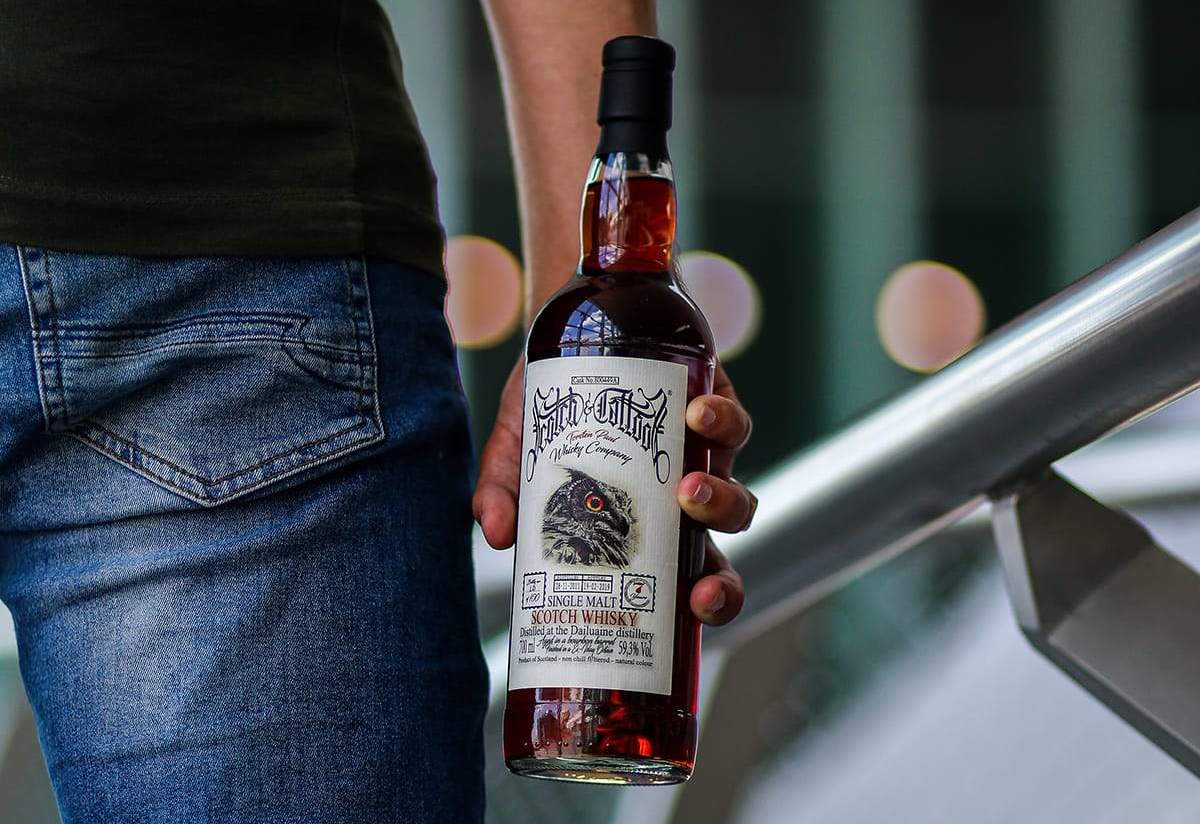 Review Of Scotch & Tattoos Dailuaine 7 Year Old By Torsten Paul Whisky Co
Scotch & Tattoos Dailuaine 7 year old by Torsten Paul Whisky Co
In this article I'm going to review a 7 year old single cask Dailuaine, distilled in November 2011 and bottled in February 2019. This expression is actually one of a pair of whiskies (the other is a Dalmore) that mark the first releases from independent bottler Torsten Paul Whisky Co under his Scotch & Tattoos label. This single malt scotch was matured in an ex-bourbon barrel before being finished in an Islay octave. 100 bottles of this whisky have been produced at cask strength of 59.3% ABV, natural colour and without chill filtration. 
Torsten Paul Whisky Co is artisan independent bottler recently started by a whisky-lover who has realised his dreams. Torsten Zimmerman, known to many on Instagram as @TheWhiskyOwl, long dreamed of bottling his own whisky. So, he went out there and made it happen; this is the result, beautifully shot by @WhiskyConsultants.nl on Instagram. 
I've enjoyed watching Torsten's journey on Instagram, and having heard a lot about this whisky I'm more than curious to try it. In part, because I'm confident Torsten will have picked a great cask. And in part as I'm rather interested in what he's chosen. Dailuaine is not a common whisky to find as a single malt, as a lot is used in blending. And the octave finish is also unusual. This small cask will likely have had a significant impact on the whisky, and could mean that it seems older and bolder than its relatively young age statement might suggest.
But, that's enough of an intro, let's get stuck into this single malt scotch whisky.
Tasting notes for Scotch & Tattoos Dailuaine 7 year old whisky
Colour: Natural colour; dark, almost toffee. Coats my glencairn nicely.
Nose: There's sweetness and lots of fruit. Almost like a fruit bowl left in the sun, with oranges, apples, and bananas at their ripest. There's also oak and vanilla, which is the ex-bourbon barrel coming through. And I get smoke, like I'm sat nosing this next to a bonfire.
Palate: Big and bold! A lot going on. More fruit, oranges and apples. Sweetness, and dark chocolate. More of that bonfire smoke. Plenty of wood spice and pepper, perhaps a sign of both casks used in the maturation of this whisky - particularly that smaller octave. A drop or two of water helps, it's worth remembering this is 59.3% and as a youthful dram there is a touch of alcohol prickle.
Finish: A medium finish, with dark chocolate, dried fruits, and oranges.
Review of Scotch & Tattoos Dailuaine 7 year old single malt
This is an exciting start from a fresh, young, and passionate independent bottler. This single cask whisky is big and bold, as I guessed the octave has indeed had a significant impact. It is still youthful and vigorous in places, and that's fine; I think the flavour profile controls it. I'm really looking forward to seeing what Torsten does next.
If you enjoyed this review, then you can find out more about Scotch & Tattoos here. You may also like to read my review of Torsten's third release, Scotch & Tattoos Caol Ila 13 year old Islay single malt whisky.
What do you think of octave finishing? I'd be fascinated to hear your thoughts so leave me a comment below.