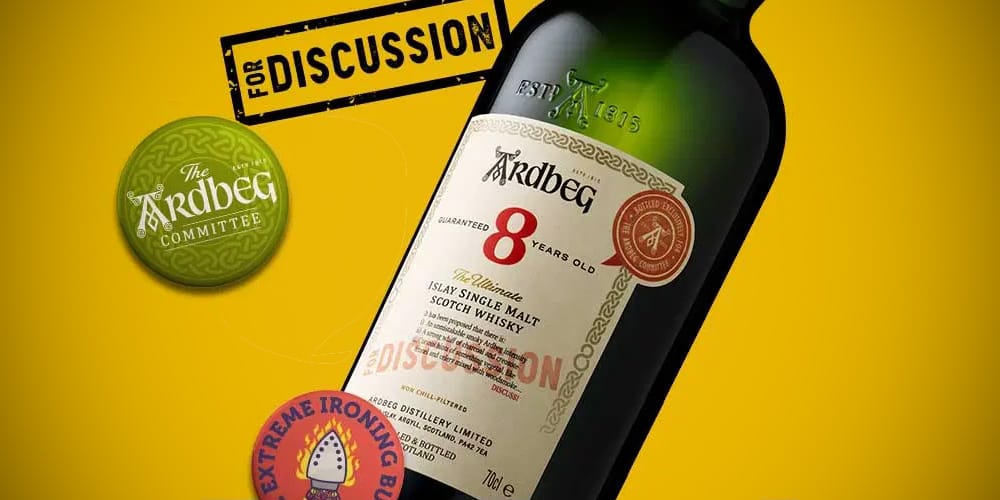 Ardbeg 8 Years Old For Discussion
Ardbeg Distillery have announced a new Committee only whisky: Ardbeg 8 Years Old. This club exclusive is a big, youthful whisky that will excite lovers of smokey whisky, bottled at 50.8% ABV.
This 'For Discussion' whisky is an experiment by Master Distiller Dr Bill Lumsden. As he sampled Ardbeg casks at different ages, he found new smoky flavours in the whiskies. So he found himself reflecting. What if, in an alternative universe, Ardbeg 10 was not the Distillery's flagship whisky? Could a new whisky be a worthy centrepiece to the Ardbeg core range? For example, a smokier whisky balanced by ex sherry casks.
This thought is what gave birth to Ardbeg 8 Years Old For Discussion. So now the time has now come for Ardbeg Distillery to ask a question of their Committee Members… How does it taste? Ardbeg wants to hear what their fans have to say. They're inviting Members old and new to buy, try, then debate their new malt.
Ardbeg 8 Year Old For Discussion Tasting Notes
Colour: Pale Straw

Nose: Intense. Charcoal, creosote, tar and treacle toffee. Curious hints of something vegetal, like fennel, celery and green peppers. Once these subside, there are hints of milk chocolate, aniseed and wood smoke. With a little water, more herbal notes appear, like fennel, coriander and lavender. There are some characteristic Ardbeg aromatic wood smoke and a hint of fresh, salty sea spray.

Palate: A peppery mouthfeel eases into a complex symphony of flavours. Treacle toffee, aniseed, and salted caramel chocolate. Eucalyptus, menthol and briar wood. The 'tingling', peppery sensation on the palate continues. Sweeter flavours give way to savoury notes. Charcoal, smoked bacon, burnt toast and tar.

Finish: Long and lingering, with a suggestion of peppermint and clove.
Dr Bill Lumsden said: "Ardbeg 8 Years Old is a delectable, young and curious whisky. I like to think of it as the 'alternative universe' version of Ardbeg Ten Years Old. An aged ex-Sherry whisky is new territory for us, so we want some thoughts! We're sharing this with the Committee's experienced palates to help us find that smoky sweet spot. It has notes of bold peat smoke, creosote, charcoal and salted caramel. It's guaranteed to provoke discussion among those privileged enough to taste it."
Colin Gordon is Ardbeg's Distillery Manager. He said: "If there's one thing we know about Ardbeggians, it's that they're an eclectic mix of people. They're whisky-mad and up for anything. But they're all bonded by one shared passion – smoky Ardbeg malt. We look forward to hearing their thoughts on our latest expression. And, to anybody not already part of the family, we invite you to join the Ardbeg Committee. Then you can join in the conversation!"
To celebrate the launch, Colin will host an online tasting for Committee Members on 30th July. The Ardbeg Committee is free to join at Ardbeg.com/committee. And, if you'd like to try this whisky for yourself, you can pick up a bottle for around £57. Just remember to become a member of Ardbeg's Committee.
If you found this article interesting, you'll enjoy reading about Ardbeg Scorch here.