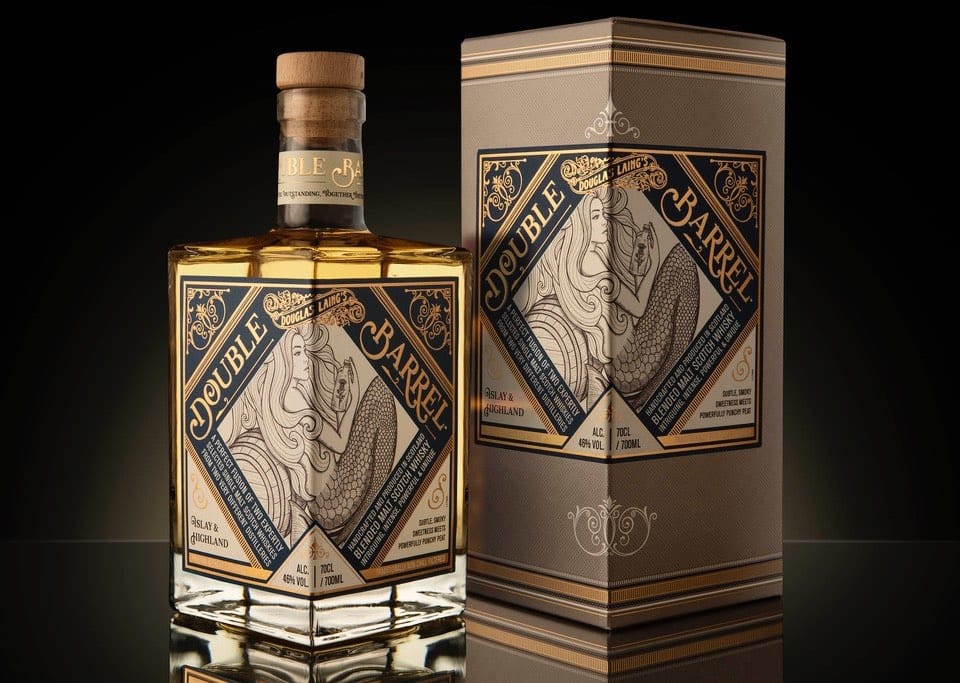 Douglas Laing's "Double Barrel" Rebrand
Douglas Laing have rebranded their Double Barrel scotch whisky. To make this whisky their Master Blender combines two very different single malts. The range has two core whiskies: Islay / Highland; and, Speyside / Lowland. Both are 46% ABV, natural colour, and non chill filtered.
Douglas Laing decided to do this rebrand following the success of the whisky since 2013. They feel there are real opportunities with Double Barrel, due to its unique approach.
The new bottle is a decanter style heavy square bottle. It has intricate hand drawn illustrations bringing to life Scotland's whisky regions. The Islay / Highland illustration shows an Islay mermaid holding a single Highland thistle. The Speyside / Lowland bottle shows a griffin, which is a symbol of power.
Double Barrel Islay / Highland tasting notes
Nose: A sweet, smoked character, developing to well-fired toast and honey.

Palate: Smoke and ashes, balanced with a sweet Malt character.

Finish: Long, carrying charred nuts with a marzipan sweetness.
Double Barrel Speyside / Lowland tasting notes
Nose: Fragrant and fresh, carrying a fruity quality plus a sweet grist character.

Palate: Sweet and fruity with both honey and vanilla.

Finish: Soft and spiced with an orange zest kick.
Cara Laing, Marketing Director at Douglas Laing, led the work. She said: "Our investment in this brand refresh takes Double Barrel to the next level. We believe in the spirit quality and its unique positioning. Opposites attract – sweetness and smoke, honey and heat, citrus and spice. We hope enthusiasts will enjoy the fusion of single malts from two Regions."
If you'd like to try either of the Double Barrel whiskies then you can find them for around £45.00 a bottle.