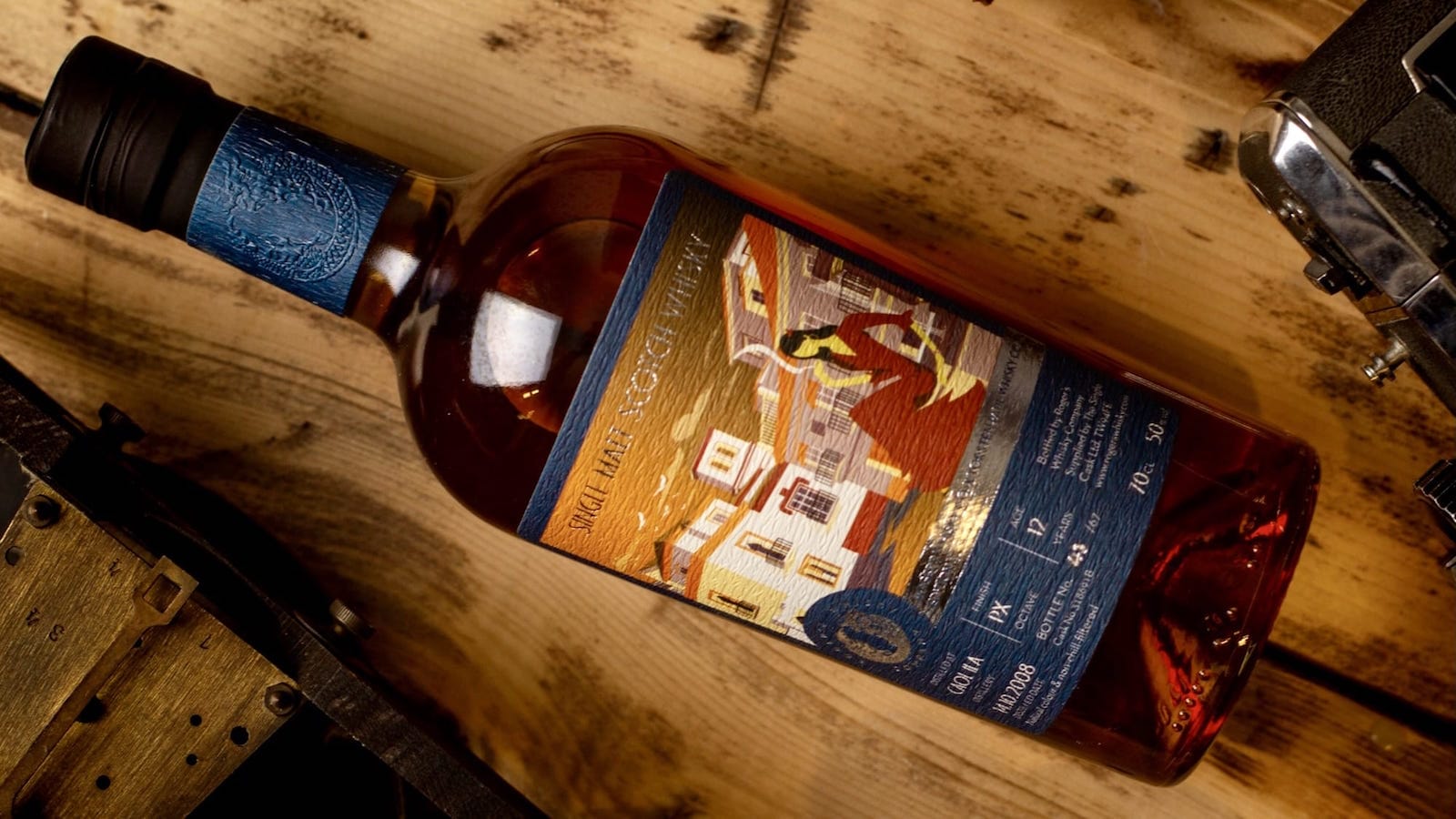 Interview with Roger's Whisky Company founder, Roger Tan
One of our favourite new independent bottlers of 2020 was Roger's Whisky Company. We loved both the design of his bottle, and the whisky itself; you can read our review of Roger Whisky Company's 12 year old Coal Ila here. So, we got together, virtually, with founder Roger Tan to get to know him, and his whiskies, a bit better.
TopWhiskies: Roger, thanks for joining us; it's a shame we can't do this interview over a dram together, but it's good to speak virtually.
Roger Tan: Thanks so much for having me! I'm really proud to have my new whisky brand already listed on your website.
What was your 'gateway' whisky? The first whisky that you felt really opened your eyes?
I've been enjoying the more common single malts like Glenlivet, Glenfiddich and occasionally Macallan since my university years in the nineties. But I started taking a renewed and more deep interest in whisky when I tried my first cask strength whisky, Aberlour A'bunadh, about 6 years ago. I was really amazed that a whisky of that alcohol percentage could still be so smooth and drinkable, and full of flavour. That whisky led the way to a whole new world of cask strength whiskies, peated whiskies and eventually independent bottled single cask whiskies. Visiting different whisky fairs, meeting up with new whisky friends and creating and maintaining my whisky feed on Instagram has exposed me to lots and lots of different whiskies since then, and I'm still learning every day.
What do you personally look for in a 'good whisky'?
I like a lot of different styles, both peated, sherried, and also fruity whiskies. I always look for a balance in the nose, the taste and the finish, they should enhance each other instead of promising something in the nose and then not delivering in the taste. And I like my whiskies to be quite full bodied, with a certain specific edge to it, like the Springbanks or the Ben Nevis are famous for. This often leads me to higher strength whiskies with more flavour, but I like the alcohol to not be overwhelming, so it should be well integrated for me or I add some water. I'm not hung up on the age of the whisky, there are some great NAS or younger whiskies out there, although I have tried some amazing very old whiskies.
What principles did you take into the set up of Roger's Whisky Company? How do you go about choosing a whisky to bottle?
Since diving deeper into the world of whisky, through my whisky Instagram feed (@rogerswhisky) and through tasting a lot more different whiskies than before, slowly the idea formed of being more professionally involved in this wonderful world. I find the people I meet online and live at tastings and gatherings always very friendly and festive, so I thought my brand should convey that for sure.  
One of the fun things in this line of work is looking for different casks and imagining how it would be to bottle these. Of course every whisky should fall into my "good whisky" description above! So currently I'm building my portfolio of whisky casks, some of them are younger and need some more maturing while others are ready for bottling this or next year.
I try samples of each cask, hoping to pinpoint the right time to bottle it, and I also try different strengths to find the right bottling strength that I think suits best with the whisky.
While I have just released one bottle, I have a "masterplan" for different product lines; Roger's Vintage Selection for casks like the Caol Ila 12 that I just released. Roger's Cuvee Selection for wine cask finished whiskies. And Roger's Hidden Treasures for when I encounter some great casks of "secret" origin that I think are worthwhile to bottle. I hope to release several bottles in each product line per year, in different price categories.
You recently launched your first release as a new independent bottler; how did that moment feel?
Fantastic of course, I was very proud of it all coming together and also really awesome to see the photographs and reactions and reviews of people getting their hands on my bottle. This first bottle has for me been a great opportunity to learn lots about this part of the whisky industry, and I'm already working hard on my second and third release to make them even better! A big thanks here go to Torsten Zimmermann, he helped me on my way and we regularly chat about new ideas for bottlings and cask maturation.
While this release sold out quickly, you can read the original listing for Roger's Whisky Company's 12 Year Old Caol Ila here.
One of the aspects that set your inaugural release apart was your choice of cask finishing, what was the thought process behind this?
Me and my buddy Torsten of independent bottler Scotch and Tattoos were able to get our hands on a Caol Ila barrel, which we split into a PX octave and an Oloroso octave for a nice finish. We both are firm believers in the positive impact that a finish in an octave can have on a whisky, due to the very high wood / whisky contact ratio. We thought it would be fun to work together on this and show the difference the two different finishing casks make from the same base whisky.
You have an interesting perspective when it comes to bottling strength, could you explain further?
I see a lot of independent bottlers bringing out their whisky at cask strength. For me, adding a touch of water brings out flavours and takes off the sometimes too overpowering alcoholic edge. I think determining the exact strength at which I want to bottle my whisky is part of the fun and a way to (very modestly) steer the taste of the whisky in a direction that I like. It can bring out subtle nuances in the nose, make the mouthfeel more round and show different layers in the whisky, change the finish from drying to fruity. And so I find myself tasting different glasses with different ABV strengths of the whisky at 10AM on a Monday morning… And sometimes the result is the cask strength, when for that specific whisky it all comes together at that strength.
The label design is both distinctive and beautiful. Can you tell us a bit more about your approach to design?
I think the design of the label and the brand is a super important part of how an independent bottler can distinguish from the regular distillery brands and from other independents. In my view, each cask develops in its own way, and a bottling based on a single cask should reflect this as a small work of art with the label telling something about the whisky inside. I'm extremely lucky to have met a very talented designer, Andrew Soetiono (known as @whiskyhobo on Instagram) and together we worked on the brand design and the specific label for my first bottling. 
I'm personally a great fan of the 1920s era, that was a time with a certain exuberance and optimism fuelled by new technologies being developed, not unlike the current age we are in. So if you look at my label, the artwork and the font, they draw on that era in a kind of retro-modern style. The label tells a story about the whisky; for my first release it's a stylish smoking Spanish lady referring to the subtle peat smoke of Caol Ila and the Pedro Ximenez cask of course. Andrew gets all the credit for making this idea into a beautiful and outstanding label.
Without giving away any secrets, what can we look forward to in the future from Roger's Whisky Company?
My next bottling will be out very soon, and I can give you the scoop that it's a Heavily Peated and full Sherry matured single cask Ben Nevis! I have tasted it and at 6 years it already smells and tastes very balanced and exceptional, well beyond its years and so good that I just had to bottle it!
And I will be bottling my first "Roger's Hidden Treasures" shortly after that with a totally different label style, relating to ancient cultures (another of my personal interests) and with a totally different, bourbon cask profile. That label is also so nice, can't wait to share it with you and your readers!
For later this year and next I have some great casks lined up already, but they must remain a secret for now… I hope to get to at least 4 bottlings this year, and increase that number each year!
Where do you hope to be in three years time? What would 'success' for Roger's Whisky Company look like?
I would hope to be known in the market for qualitative, beautiful whiskies, with numerous bottlings coming out each year. I also would like to have built up a portfolio of casks that are maturing nicely and gives me plenty of options to bottle each year. And I really look forward to my whiskies being distributed into different markets all over the world, and seeing them popping up in different countries photographed on Instagram by whisky geeks - just as I do myself right now!
Roger, thanks for joining us, it's been great to hear more about your ethos and approach.