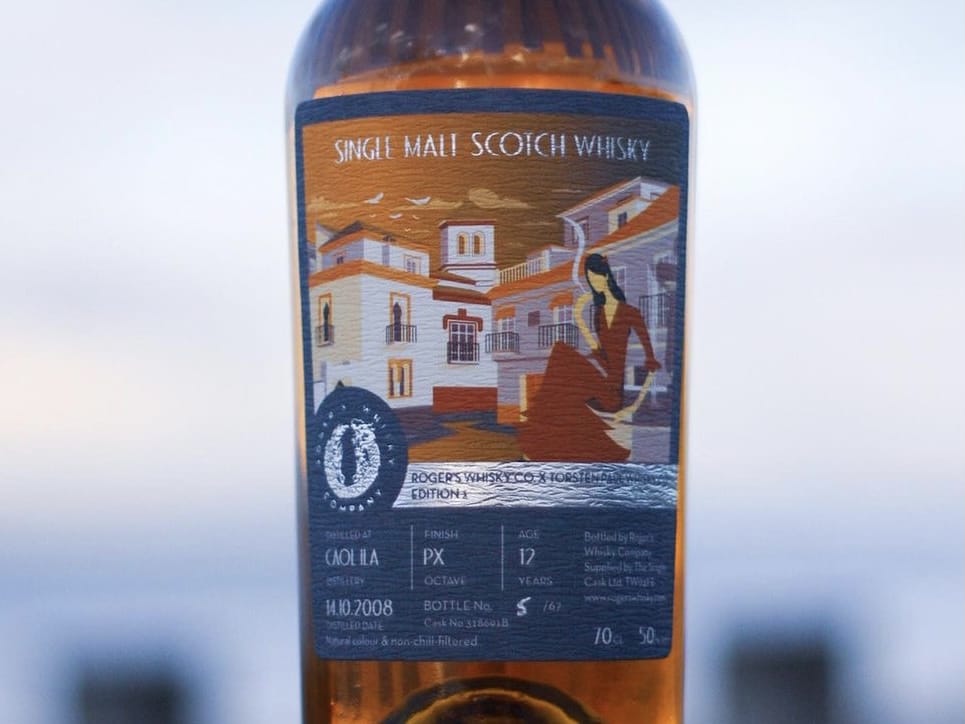 Review of Roger's Whisky Company 12 year old single cask Caol Ila
Today we're going to take a look at a brand new whisky, by a brand new independent bottler: a 12 year old single cask Caol Ila released by Roger's Whisky Company.
First, let's start by talking about the whisky itself. This Islay single malt scotch whisky was distilled at Caol Ila distillery on 14th October 2008. It was first matured in an ex-bourbon cask before being transferred to a smaller Pedro Ximenez octave for an additional finishing period. It was finally bottled on 20th October 2020, with the cak (reference 318691B) producing 67 bottles at 50% ABV.
Now, let's talk about the brand, and the man, behind this whisky. Roger's Whisky Company is a new independent bottler founded by Roger Tan. Roger entered the world of whisky back in 1995, as many of us did: casually enjoying and exploring single malts. In 2019 his passion evolved into a hobby, as he started taking beautiful photographs of whiskies for his Instagram account (which you can now find at @rogerswhisky). In 2020 his passion evolved again, as he decided to embark on the adventure of bottling and releasing his own whiskies - of which this Caol Ila is the very first.
Finally, let's review the whisky!
Whisky Tasting Notes
Colour: Natural; burnished antique copper. The whisky coats my glencairn nicely, with legs slowly developing and then sinking down the glass.
Nose: A big, complex nose. Dark, red berries macerated in muscovado sugar. That classic Islay peat adds gentle smoke, while ocean spray brings salinity. The PX cask adds a vintage leather note, which I like.
Palate: A satisfying, creamy mouthfeel with a good body. Initial notes of the Islay peat smoke are followed by more of those red berries I found on the nose. Barbequed meat brings a savoury note. Some wood spice in the form of cinnamon and pepper. The alcohol is well integrated providing body and structure, without any burn.
Finish: A medium to long finish with peat smoke and fruit-and-nut chocolate.
Review
A superb whisky, and a really exciting starting point for Roger's Whisky Company. I love Caol Ila whiskies, and I'm also a fan of sherried finishes; so, this is a real treat. I'm looking forward to seeing what Roger releases next! This whisky sold out fast, but if you'd like to learn more then you can find the original listing here.
This particular release is one half of a pair of sister casks released in collaboration with Roger's good friend Torsten Zimmerman, founder of Scotch & Tattoos. It's great to see two pillars of the whisky community on social media come together in this joint project. You can see the original listing for the Scotch & Tattoos 12 year old Caol Ila here, and read my review of this whisky here.