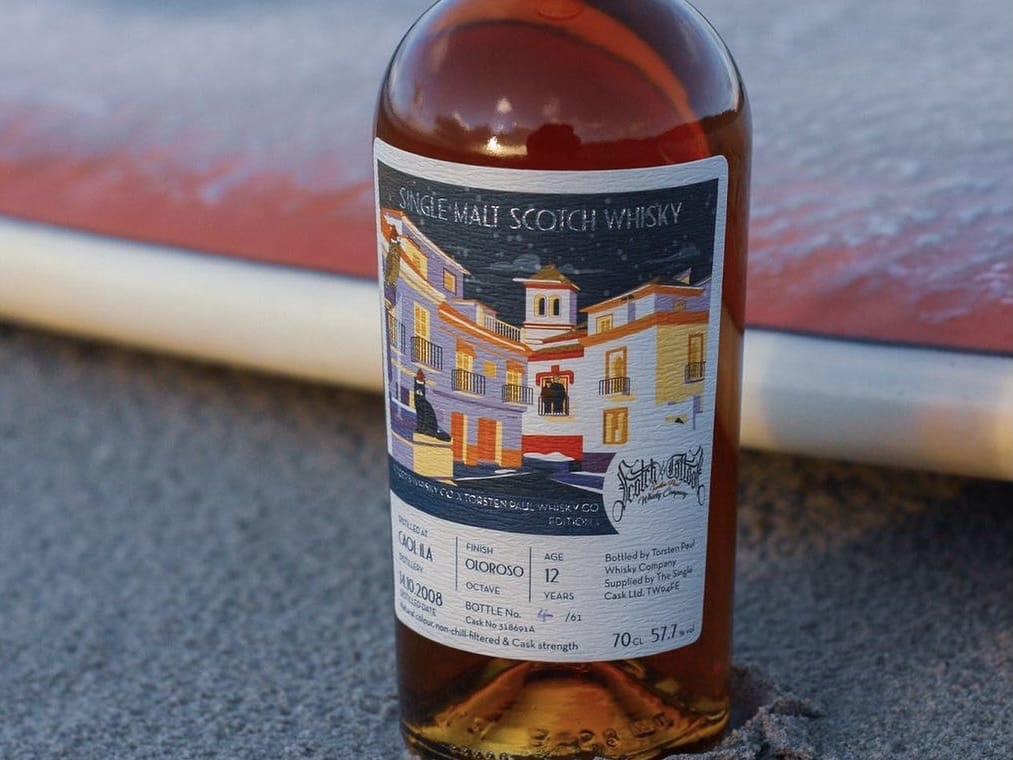 Review of Scotch & Tattoos Caol Ila 12 year old by Torsten Paul Whisky Co
Today we're going to take a look at one of my favourite emerging indies, an independent whisky bottler called Torsten Paul Whisky Co who releases single cask whiskies under his Scotch & Tattoos label. Founder Torsten Zimmerman, whom some of you may know as @thewhiskyowl on Instagram, has launched three whiskies to date. His first two releases were a pair: a 5 year old Dalmore and a 7 year old Dailuaine; these were then followed around a year later by a 13 year old Caol Ila. His latest release is a 12 year old Caol Ila, half of a collaboration with Roger's Whisky Company.
This 12 year old single malt scotch from Islay was distilled at Caol Ila on 14th October 2008, first matured on an ex bourbon barrel, and then given an additional finishing period in a 1st fill ex Fernando de Castilla oloroso octave (cask reference 318691A). The octave produced only 62 bottles when bottled on 20th October 2020, which Torsten kept at natural cask strength (in this case 57.7%), natural colour, and without chill filtration. 
Tasting notes
Colour: Natural; deep mahogany. Coats the glass thickly, with legs that slowly sink down the sides of my glencairn.
Nose: Big and complex. Fruity notes of orchard fruits and red berries. Balanced against the fruit are savoury notes of barbequed pork and spice. There's a leather note, like a vintage coat. And of course there's that Islay backbone, a combination of the peat smoke and a minerality like pebbles on the coast.
Palate: Like the nose, I get a dance between dark red fruit notes, stewed apples and pears, and honey-glazed barbecue pork cooked over a campfire. The high ABV adds a heat and spice to the palate, and the dram can take a few drops of water comfortably.
Finish: A long, satisfying finish with dark berries, spice and smoke. 
Review
A superb release from Scotch & Tattoos. Torsten is doing great work, and this is no exception. He is clearly developing a 'house style' centred on bold whiskies that deliver large flavours thanks to the well-considered use of sherried finishes and small casks. These bottles sold out fast, but the original listing is here if you'd like more detail on the release. At the time of writing, we do have a few bottles of a 9 year old Deanston whisky from Scotch & Tattoos available.
The fact that this is a collaboration with Roger's Whisky Company is also great to see. I'm a massive fan of the whisky community, and it's heart-warming to see these two friends partner up to release a pair of interesting sister casks. You can find more details of the 12 year old Caol Ila by Roger's Whisky Company here, and my review of that whisky here.
Have you tried this whisky? If so, I'd love to hear your thoughts so please do leave me a message in the comments section below.