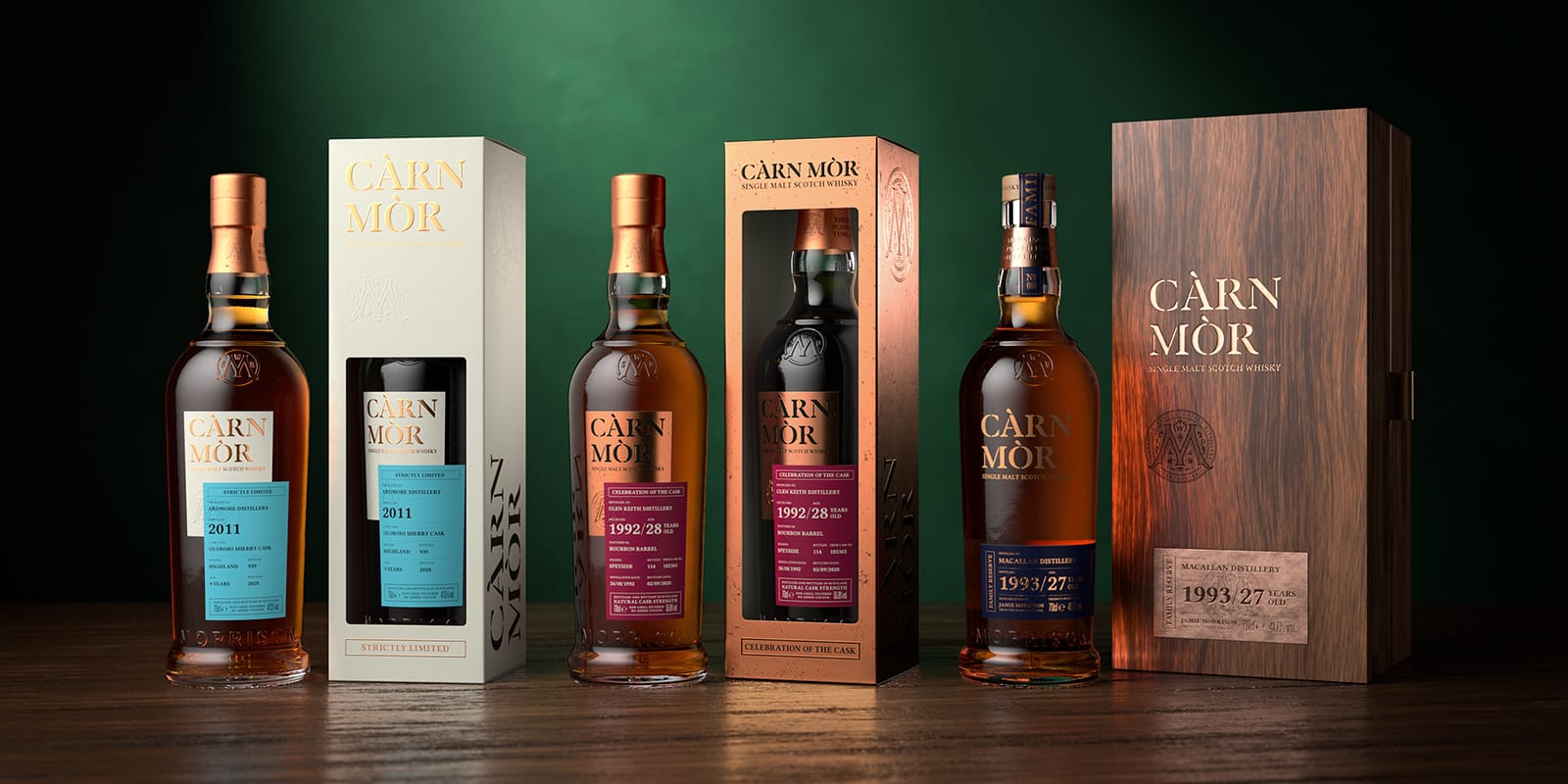 Review of Càrn Mòr Williamson 10 year old
Today we're going to review our first whisky from independent bottler Càrn Mòr, a 10 year old ex sherry Williamson. Càrn Mòr is the label used by Morrison Distillers for their limited edition independent releases.
Williamson may or may not be a name you recognise. It is, in fact, the name used when Laphroaig want to sell a cask of whisky to an independent bottler, without using the Laphroaig name. It's a nod to distillery manager and owner Bessie Williamson who was able to take Laphroaig to the US, before and after World War II, with great success. 
I'm rather intrigued to try this whisky. Being a Laphroaig in all but name, I wager we can expect that oceanic peat smoke. But in addition, this whisky has been aged in a small number of Oloroso sherry hogsheads for 10 years, which should bring a further dimension to the Islay spirit. This is a small batch whisky bottled at 47.5% and limited to 1,139 bottles.
Let's give it a go.
C

à

rn M

ò

r

Williamson 10 year old Tasting notes

Colour: Natural colour, amber; coats my glass with lots of slim legs making the way down the side of my copita.

Nose: Classic medicinal Islay peat and that characteristic bonfire nose. In addition to that medicinal note, there's a rocky minerality too. Dry roasted nuts and some spice.

Palate: Medium to full mouthfeel. The peat is there, and it is medicinal, but somehow its also has a sweetness to it; in the same way the smoked, caramalised edges of a ham might. The smoke is far gentler than on the nose, and the malt does come through. There's a soft red fruit side to it too, along with vanilla, which become more apparent the longer you hold the whisky on the palate.

Finish: On the medium to long finish the smoke reappears, along with oak and a little wood spice warmth.
Review of 
C

à

rn M

ò

r

Williamson 10 year old

A most enjoyable Islay whisky. I wager this would be a good expression for those curious to try Laphroaig's famous peat smoke, but perhaps looking for a more approachable angle - which the sherry cask provides. A great whisky from Càrn Mòr; I'm looking forward to trying more of their whiskies.

If you'd like to try any of Càrn Mòr's whiskies you can find their latest outturn here.

Thank you to Càrn Mòr for providing a sample dram for independent review.