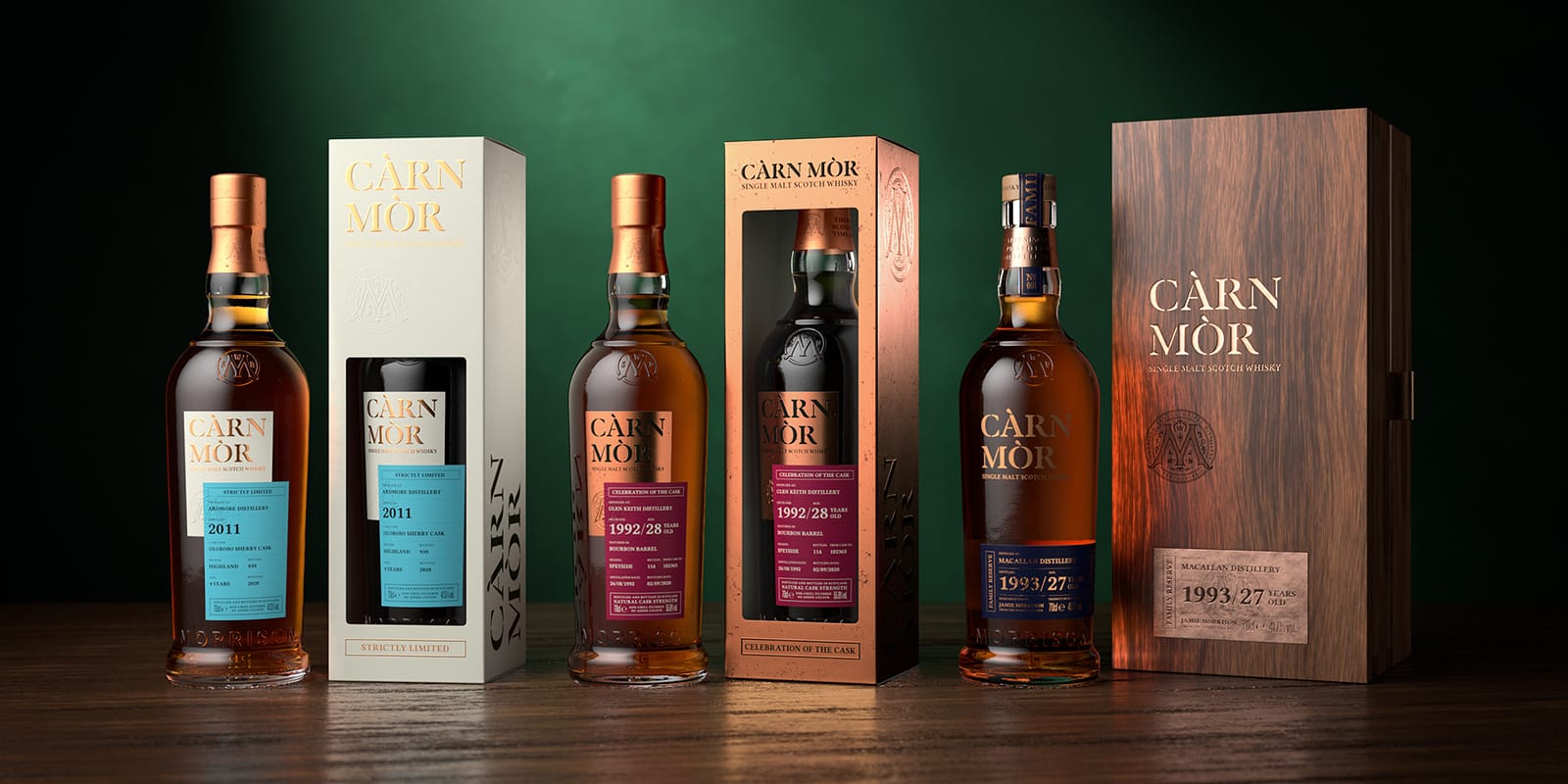 Review of Càrn Mòr Mannochmore 13 year old
Today I'm reviewing a small batch release from independent bottler Càrn Mòr. This single malt scotch is a Mannochmore distilled in Speyside in 2007, aged for 13 years in ex Pedro Ximenez sherry hogsheads, and bottled in 2020 at 47.5%. This small batch release is limited to 1,551 bottles.
Mannochmore is one of Diageo's workhorses, which much of its spirit destined for Diageo's big name blends. A single malt release is not common, and this expression with its PX maturation sounds rather intriguing, and indeed appealing, to me.
So, without further ado, let's give this Càrn Mòr whisky a try.
Càrn Mòr Mannochmore 13 year old tasting notes
Colour: Natural colour; deep russet, golden brown. Coats my copita, with legs that nimbly run down the side of my glass.
Nose: Deep red forest fruits - blackberries and raspberries. Russet apples in the autumn. Tucked away at the back, a gentle malt, even baked bread, note sits alongside oak. Well integrated alcohol on the nose; its a mid-range ABV, but suffice to say there is no burn.
Palate: Full of stewed fruits, again fruits of the forest blackberries and raspberries sit alongside russet apples and plums from the orchard. A good quality underlying spirit appears behind the PX cask maturation with a gentle malt note. The alcohol is well integrated, contributing to the body, but with no burn.
Finish: Medium to long finish, more red fruits together with milk chocolate; somewhat drying, ending with a little warmth like the last of the Autumn sun.
Càrn Mòr Mannochmore 13 year old review
I very much enjoyed this whisky. As you may have guessed from my tasting notes, this reminded me of Autumn, full of stewed fruits that at several points remind me of Autumnal puddings. Càrn Mòr Mannochmore has a retail around £56, which in my eyes represents good value.
If you enjoyed this article, check out Càrn Mòr's range here.
Thank you to Càrn Mòr for providing a sample for, independent, review.