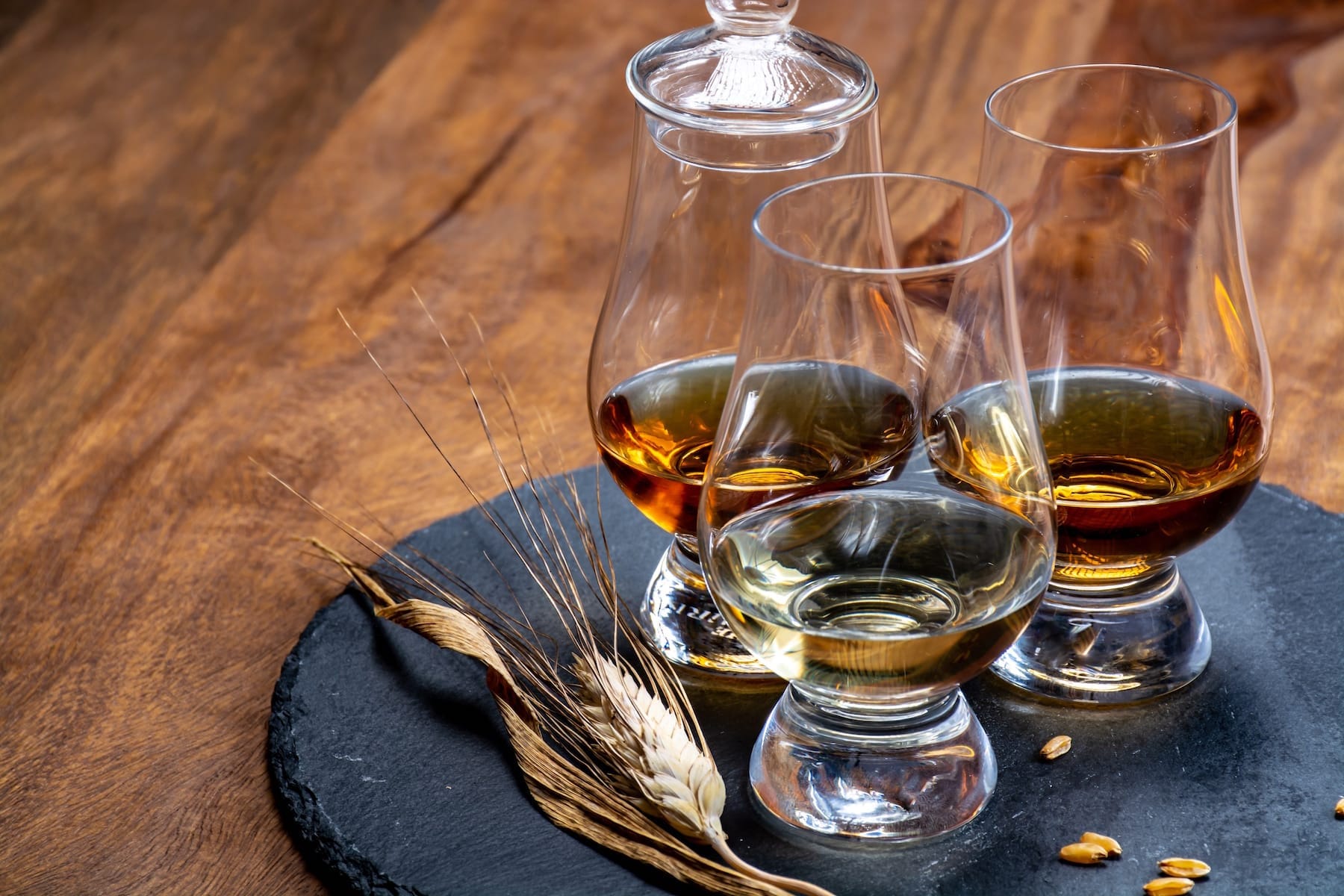 Glencadam vertical: 10, 15 and 21 year old whiskies reviewed
Last night I had the pleasure of joining Iain Forteath and Ben Fox, together with some fellow whisky lovers, for a few drams of Glencadam.
Glencadam is a small working distillery that you may, or may not, have heard of. Part of Angus Dundee Distillers, their whisky often finds its way into blended scotch. But the night focussed on three of their single malts: a vertical tasting of three age statements, all presented at 46% ABV natural colour and without chill filtration. 
The three whiskies share the same underlying character: a bright, tropical fruit influence. Somewhat unusually, Glencadam has two squat stills, which are not known for producing whisky with the fruity esters that typify Glencadam. But what amplifies Glencadam's estery style are the lyne arms which rise at 15 degrees - increasing copper contact, encouraging reflux, and focussing the esters.  
This light, bright fruity spirit lends itself well to an ex-bourbon maturation programme. While Glencadam do offer cask finishes on some of their releases, the three whiskies we're looking at here are all examples of that ex-bourbon approach.
So on to the whiskies themselves: Glencadam's 10, 15 and 21 year olds. Here are my tasting notes; well, a team effort really. Iain introduced the trio as being like a three-course meal; an analogy I liked, so food pairing suggestions included for good measure!
Glencadam 10 year old tasting notes
Nose: Bright tropical fruit, pineapple and bananas. Vanilla sponge cake. A slight minerality, as you may find in a crisp sauvignon blanc.
Palate: More fresh, bright tropical fruit: pineapple and bananas. Fresh and clean, with a light vanilla cream. Gentle warming spice.
Finish: Clean, bright fruit builds to warm spice, leaving the palate ready for another sip.
Pair with: A light IPA on a warm Summer's afternoon, or seafood of an evening.
Glencadam 15 year old tasting notes
Nose: Orchard fruits, particularly green apples and crisp pears. Lemon and lime add a zesty citrus note. A touch more wood and spice than Glencadam 10.
Palate: Medium to full mouthfeel. The fruit notes of apples and pears are joined by oats and syrup; perhaps reminiscent of apple flapjack. Some warming spice. A drop of water brings out more cream.
Finish: Fruit and creamy vanilla, with a gentle warming conclusion.
Pair with: Lemon and thyme chicken.
Glencadam 21 year old tasting notes
Nose: Light vanilla fudge. Lemon and orange thick cut marmalade. A bright note in the form of fresh leaf mint. Oak, but light and delicate - beguiling given its two decades in cask. 
Palate: Full mouthfeel. Still remarkably fresh with the tropical fruit notes of pineapple so characteristic of Glencadam. The oak is there, with warming wood spice.
Finish: Some cereal together with more fruit, ending on a bright note ready for another sip.
Pair with: A cheeseboard, particularly hard, nutty Gruyère and Manchego, or light blue creamy Gorgonzola and Danish Blue.
Three great drams, I enjoyed them all. Glencadam 15 is one that they're known for; a popular choice, and a previous 'Whisky Of The Year' for Ralfy. Glencadam 21 was a refined example of ex-bourbon maturation, which didn't mask the quality of the underlying spirit. And Glencadam 10 was a great value dram; it would suit summer time sipping well.
Thank you to Glencadam for providing the samples for independent review.