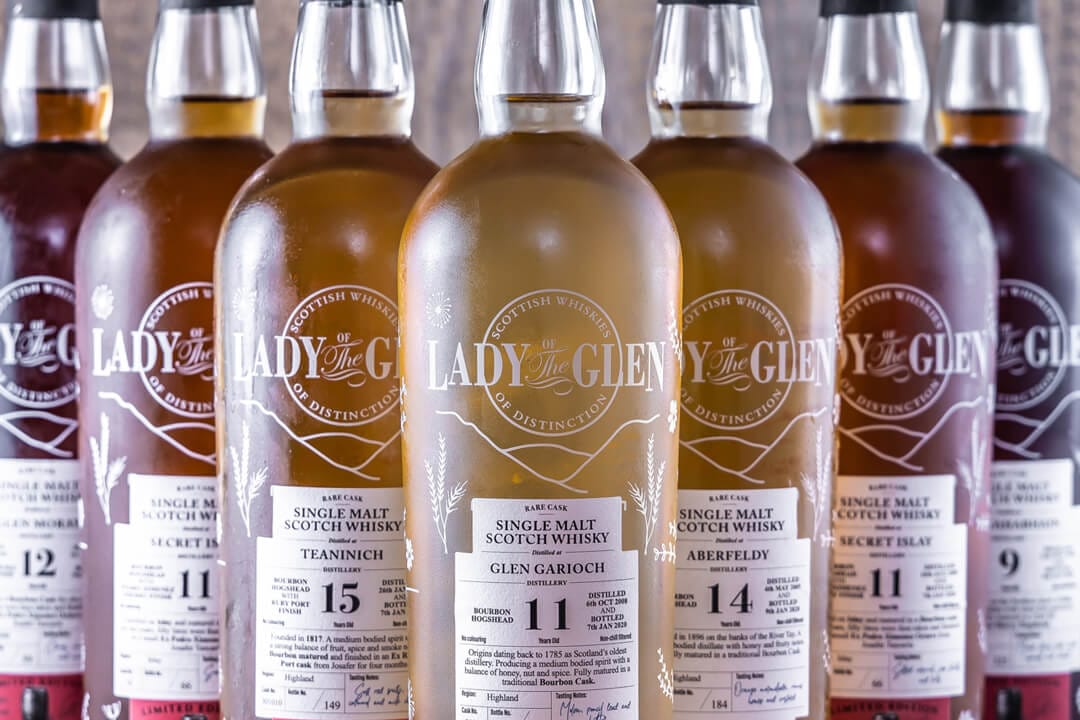 Lady of the Glen: Glen Grant 22 year old Refill Butt
One of my favourite whisky memories of 2019 was a happy day spent with Dennis Malcolm, the master distiller at Glen Grant. He had spent quite literally his whole life at the distillery, having been born in one of the cottages on the estate. Listening to him talk passionately about his whiskies, while at the same time reminiscing of years gone by, was very special indeed.
Today we have a single cask Glen Grant which would have been distilled around the middle of Dennis's career, on 28th January 1998. 22 years later this refill butt was bottled on 12th October 2020 at natural cask strength of 55.1% by independent bottler Lady of The Glen, without colourings or chill filtration. The cask yielded 444 bottles.
Tasting notes
Colour: Natural; medium straw, the colour of a Chardonnay. Coats the glass, with legs that slowly develop and sink down.
Nose: Light, floral and estery it almost reminds me of the orchard blossom in the beautiful grounds of Glen Grant distillery. Vanilla cream and clean straw.
Palate: Talk for more than three minutes with Dennis Malcolm and I bet you a large double dram that he uses the word "consistency". On the palate, this makes me think "a consistent Glen Grant." And a well aged one at that. Its medium body flows around the palate in a bright manner. It is creamy, with orchard fruit notes of apples and pears, perhaps joined by a touch of orange. The refilled cask leaves a gentle note of vanilla and wood spice, but the wood is restrained and lets the underlying quality of the spirit shine through. The high ABV is well integrated; it does add a little warmth but in a pleasant way that adds another layer of structure to the palate.
Finish: A bright, long finish; floral and creamy with more vanilla and a touch of wood spice.
Review
This is a sophisticated, self-assured whisky. It doesn't need bright lights or bold punches of flavour. It's content doing what it does; and doing that well. I think Lady of the Glen have done right keeping this well aged Glen Grant exactly as it is, and it's a great single cask. If you're a fan of GlenGrant, and you're looking for a well constructed, classic dram, then you'll enjoy this whisky - priced at around £170 a bottle.
My thanks to Lady of The Glen for providing a dram for review.