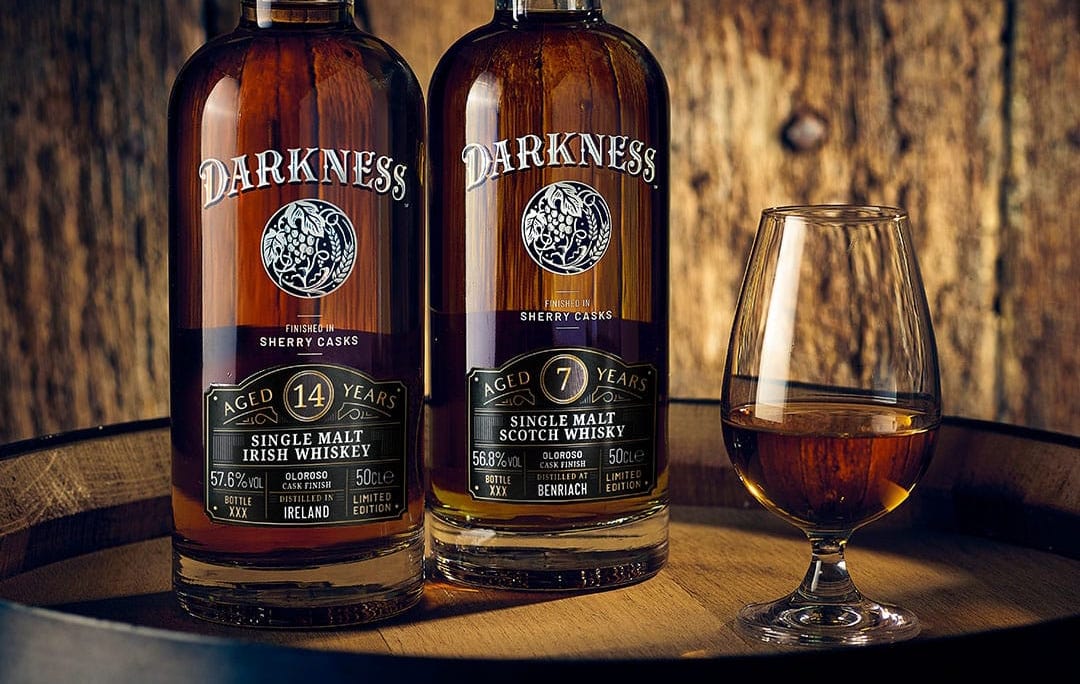 Darkness Irish 14 year old oloroso cask finish review and tasting notes
I recently reviewed the Darkness 8 year old, and a limited edition to the Darkness range, a Benriach 7 year old. Today I'm going to review a second limited edition in this oloroso octave series, a 14 year old Irish single malt at 57.6%.
I've had quite a few scotch whiskies that have been finish in oloroso octaves. In addition to the two Darkness expressions mentioned above, I reviewed a 5 year old Caol Ila from The Single Note and Deanston 9 year old from Scotch & Tattoos a while ago, both of which are oloroso octave finishes. But I'm not sure I've ever had an Irish single malt whisky finished in an oloroso octave, so this will be rather interesting. 
Darkness Irish 14 year old oloroso cask finish tasting notes 
Colour: Natural, medium to dark amber; the whisky coats my copita thickly, with legs that slowly run down the side of the glass.
Nose: Buttered malt loaf with plenty of raisins. Underneath the sherry notes there are lighter floral notes with vanilla, and perhaps a little mint chocolate ice cream. The alcohol is well integrated, with no burn on the nose despite the high ABV.
Palate: Medium to full bodied mouthfeel, which coats the palate nicely. Fruit, with red apples, plums and prunes. Walnuts and hazelnuts, with candied orange. Alcohol feels better integrated than the Benriach 7, though this dram has twice the age statement, contributing just a gentle warmth.
Finish: A long finish which leaves nice notes of red fruits, coffee, and spice on the palate minutes after sipping.
Darkness Irish 14 year old oloroso cask finish review
The nose was lighted and more delicate than the previous the Darkness 8 and The Darkness Benriach 7; still obviously sherried, but sitting the three side by side the nose on this dram felt more composed, less bold. That followed through on the palate, which was well constructed and deceptively drinkable - a little spice yes, but the high ABV is well integrated. And a great long finish, that remains well after the last sip. A most enjoyable dram.
If you'd like to try this dram it retails for around £100 for a 50cl bottle; but remember, its a limited edition with only 227 bottles available - so don't wait around.
Thank you to Atom Brands for supplying a sample dram for independent review.