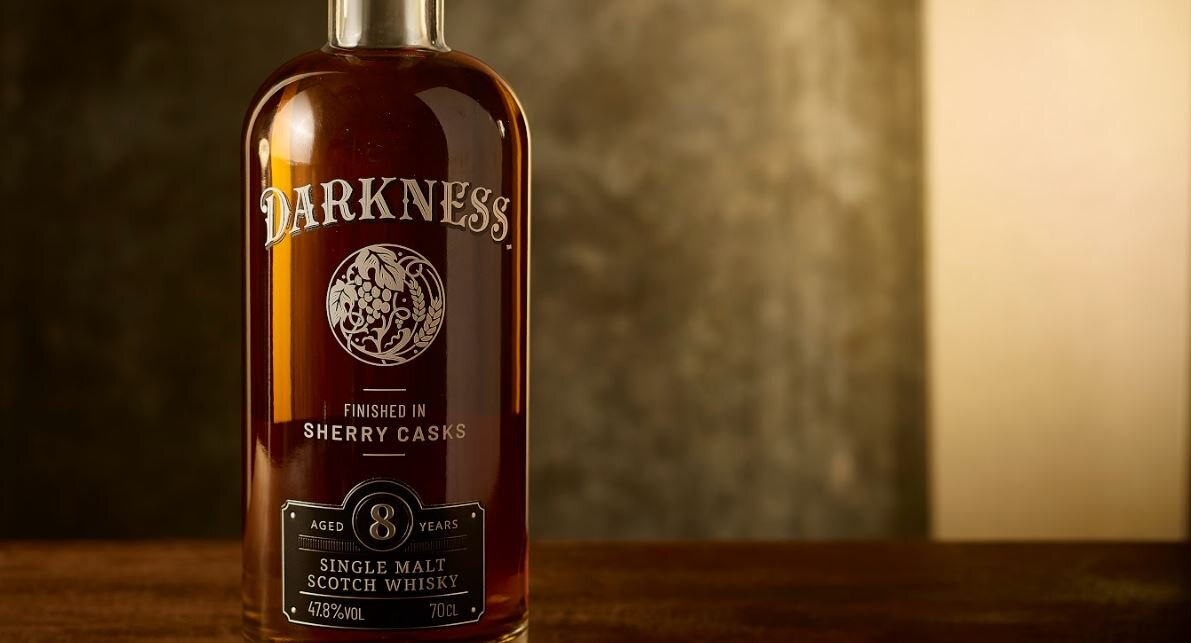 Darkness 8 year old review and tasting notes
In this article I'm going to review Darkness 8 year old. This is a single malt scotch whisky first matured in ex-bourbon barrels before being re-casked into custom-made oloroso sherry octaves for a finishing period of at least three months. 
The key here ought to be those oloroso octaves: not only will the sherry impart a lot of flavour, but also the small octaves increase the ration of wood to spirit - intensify the oak and, in a manner of speaking, ageing the whisky faster than it would in a full size cask. You can read more about cask sizes here.
So, let's try Darkness, which is bottled at 47.8% natural colour and without chill filtration.
Darkness 8 year old whisky tasting notes
Colour: Natural colour, dark amber; legs that develop slowly, and then fall down the sides of my copita.
Nose: Dark macerated fruits of the forest; blackberries, blackcurrants and plums stewed down in sugar syrup. Cinnamon and cloves add a little spice, and there's a hint of oak in the back. Alcohol is well integrated, with no burn.
Palate: Medium mouthfeel, with the whisky coating my mouth. Lots of fruit and spice. More of those stewed dark fruits, with raisins, plums and blackberries. The spice is perhaps stronger on the palate than on the nose, more cinnamon, cloves and peppers. There's a slight savoury note towards the back.
Finish: The savoury fruit note moves through unsweetened dark chocolate to end with a little spice and warmth.
Darkness 8 year old single malt review
This is a good sherried dram, which I think delivers against its name - I get those heavily sherried influences in the form of dark fruits, dark chocolate, and spice. While having a relatively younger age statement for scotch, those small octaves do have the effect of presenting a whisky where the flavours belie the age. This retails for around £50, which feels like a fair price for this good quality sherried whisky.
If you enjoyed reading this review, you may like to read my tasting notes for a limited edition release in the Darkness series: the Darkness Benriach 7 year old.
Thank you to Atom Brands for providing a sample for independent review.