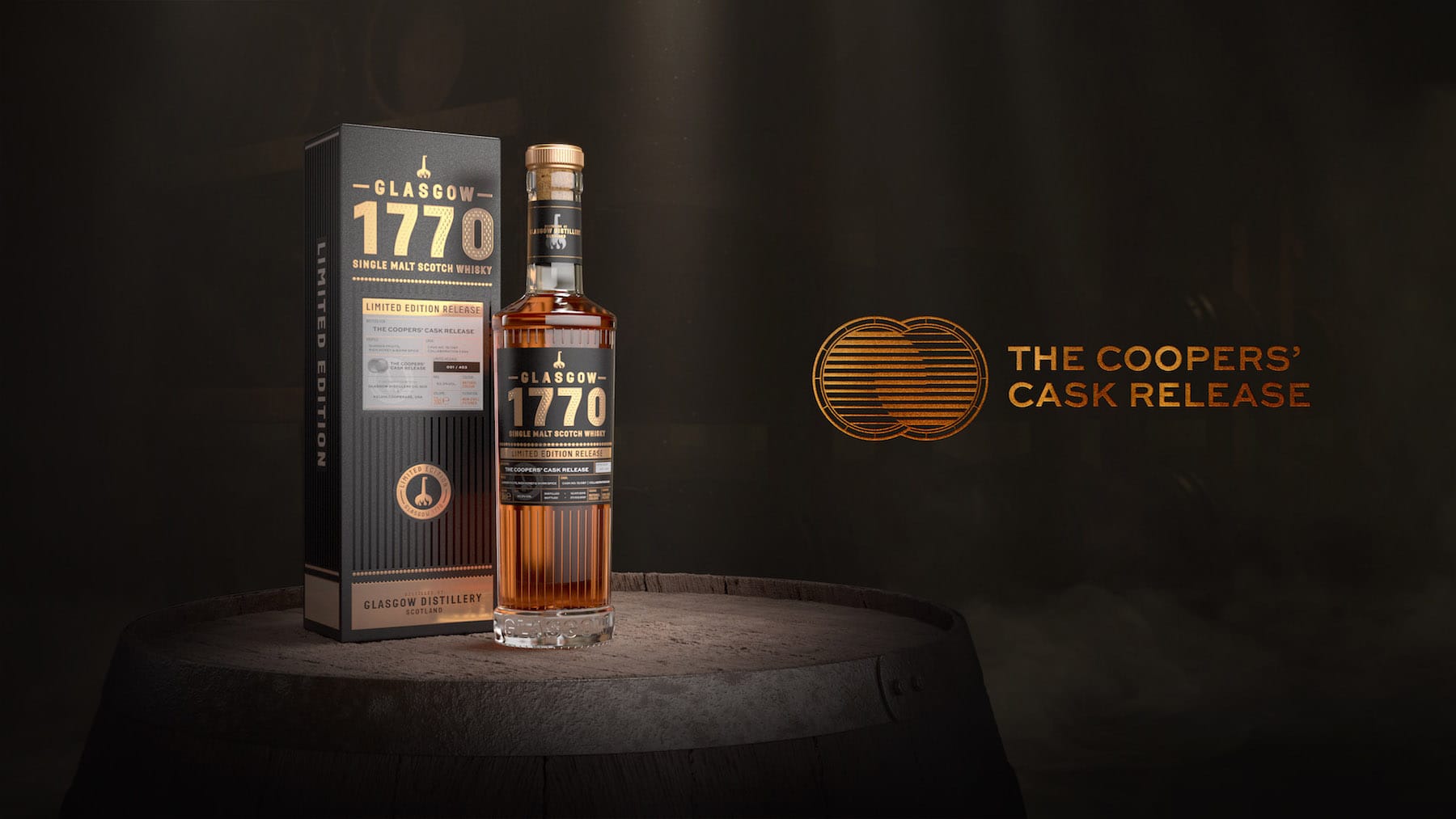 Glasgow 1770 The Coopers' Cask Release Review and Tasting Notes
Today I'm reviewing the first distillery exclusive single malt whisky from Glasgow Distillery, The Coppers' Cask Release. Limited to just 403 bottles, The Coopers' Cask Release is the result of a collaboration between The Glasgow Distillery and US based Kelvin Cooperage, and is a celebration of the art of coopering. 
The work of two master coopers, Hugh McMurray from The Glasgow Distillery and Kevin McLaughlin from Kelvin Cooperage, The Coopers' Cask Release re-racked unpeated whisky from an ex-port cask filled by the Glasgow Distillery in 2015, and aged it for a second term in a hand-built cask made from half heavily charred virgin oak staves from Kelvin Cooperage and half ex-Glasgow 1770 Single Malt cask staves from The Glasgow Distillery. The two sets of staves were combined to form one, new hogshead - Cask No. 15/87. You can read more background on Glasgow 1770 The Coopers' Cask Release here.
Let's try this single cask whisky, which is bottled natural colour and without chill filtration at 53.3% ABV.
Glasgow 1770 The Coopers' Cask Release Tasting Notes 
Colour: Natural colour; a wonderful deep copper that glows brightly. It coats my copita with oily legs that slowly slide down the side of the glass.
Nose: Vanilla and oak, cask forward notes that feel appropriate for this release. A nutty butter beurre noisette. Blackberries, red russet apples in the Autumn, and figs. Alcohol is well integrated despite the mid-50s ABV.
Palate: Full mouthfeel that generously coats the palate. Red toffee apples, ripe plums and a punnet of blackberries. Wild honey from a pine forest over wholegrain toast. Oak and wood spice with vanilla. Again, the well integrated alcohol brings body and warmth, but no burn.
Finish: A long finish starts with more toffee, goes through macerated red summer fruits, and ends with warming wood spice that leaves the palate ready for another sip.
Glasgow 1770 The Coopers' Cask Release Review
A superb whisky from Glasgow Distillery that really does showcase excellent maturation. This was released in 50cl bottles, priced at what I view to be a very fair £59. The small outturn went, unsurprisingly, fast; if you were lucky enough to pick one up, open it and enjoy it - it's excellent. If you weren't lucky enough, be nice to your whisky friends and ask for a cheeky sample.
Thank you to Glasgow Distillery for sending a sample for independent review.