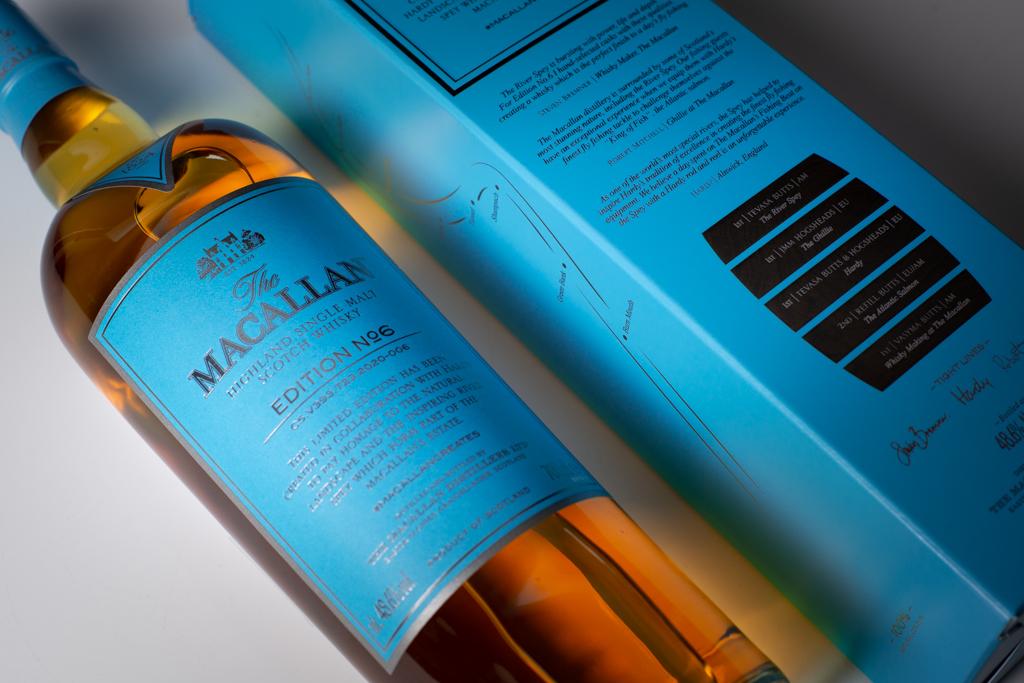 Macallan Edition No 6 Review and Tasting Notes
The Macallan Edition Series: whiskies for drinking?
Chances are, you've come across the Macallan Edition series. If you follow whisky accounts on Instagram you'll have, I'm certain, seen the rainbow colours of the Macallan Editions. Perhaps you've even got one or two of them.
But, have you tried them?
That seems like an odd question to ask. It's whisky. What's it for, if not to drink? But Macallan seems to be one of those brands revered, rightly or wrongly, as an investment; so while many bottles are papped on Instagram, touted on shelves, or sold at auction - perhaps not so many are actually opened and poured. I think this is likely particularly true of the 'limited edition' releases from Macallan, of which the Edition series are a prime example.
What is the Macallan Edition series?
The Macallan Edition series is a set of six single malt whiskies each representing a 'pillar' of whisky making at Macallan. The six whiskies have been released annually over the past few years, as limited editions. In each case, the whisky was made in collaboration with partners from other walks of life - from perfumuries to chefs.
The full line up of the six is:
Edition No.1: released in 2015 at 48.1% ABV, eight American and European oak casks were chosen by Master Whiskymaker Bob Dalgarno to celebrate Macallan's cask management policy.
Edition No.2: released in 2016 at 48.2% ABV, seven casks from four bodegas were chosen by Master Whiskymaker Bob Dalgarno together with the three Roca brothers (co-founders of world-renowned restaurant, El Celler de Can Roca) to celebrate Macallan's commitment to sourcing the best oak casks.
Edition No.3: released in 2017 at 48.3%, a collaboration between Bob Dalgarno and Master Perfumer Roja Dove to celebrate Macallan's approach to whisky making.
Edition No.4: released in 2018 at 48.4%, created by Master Distiller Nick Savage to celebrate Macallan's whisky making heritage.
Edition No.5: released in 2019 at 48.5% Master Whiskymaker Sarah Burgess in collaboration with the Pantone Color Institute to celebrate Macallan's natural colour.
Edition No.6: released in 2020 at 48.6%, five cask types were chosen by Whisky Maker Steven Bremner in collaboration with Hardy and The Macallan's Ghillie. Macallan No.6 is inspired by the river Spey and the natural surroundings at The Macallan Estate.
Macallan Edition No.6
The Macallan Edition No.6 takes its inspiration from the landscapes around the Macallan estate, particularly the River Spey. During the fishing season, Macallan's Ghillie, Robert Mitchell, will take a few lucky people out fishing for Atlantic salmon. So this particular expression is a collaboration between Macallan's whiskymaker Steven Bremner, Ghillie Robert Mitchell, and Hardy - a well renowned maker of fishing tackle.
The cask make up of this limited edition whisky is 26% hogsheads and 74% butts, all of which are sherry seasoned. The casks included 1st fill and 2nd fill, and both European and American oak; in detail, the cask make up is:
1st fill Tevasa butts in American oak
1st fill JMM Hogsheads in European oak
1st fill Teresa butts and Hogsheads in

 

European oak
2nd fill butts in both American and European oak
1st fill Vasyma butts in American oak
I'm rather lucky today, because I get to take a look at this whisky first hand: tasting and reviewing it. In this video on his YouTube channel, Mark Littler had the radical idea of... wait for it... actually opening and pouring a bottle. It's been round a few YouTubers and bloggers (links at the bottom of this article), and I'm up next.
Macallan Edition No 6 Tasting Notes
So, that's enough of the background - let's try Macallan Edition No 6! 
Colour: Natural colour; bronzed gold. Coats my copita with tears that slowly sink down the side of the glass.
Nose: Complex yet structured. Notes of toffee apples, plums, peaches in syrup, orchard blossom, oak and vanilla. The alcohol is well integrated.
Palate: Medium mouthfeel. Vanilla fudge and more toffee apples. Ripe plums, dried oranges, and good quality milk chocolate. Oak from the casks with a touch of gentle wood spice. Again, the alcohol in Macallan Edition No 6 is well integrated with no burn.
Finish: Medium to long finish through rich fruit and fudge to end with a little warming wood spice.
Macallan Edition 6 Review
I enjoyed the Macallan Edition 6. It's a nice whisky, and an easy drinker. As perhaps one might expect, it's carefully constructed with complimentary flavour notes and well integrated alcohol that adds body without heat.
Would I pay retail for Macallan Edition 6? I think I probably would, yes. I'd do so recognising I am paying for some branding, and that's okay. Would I pay significantly above retail at auction; no, I wouldn't - Macallan edition 6 is lovely, but there are lots of other lovely whiskies out there.
The great thing about Mark's idea of sharing the bottle around is that you can see what a range of whisky folk thought of this dram; here are some of the other reviews that are out, at the time of writing.
Thanks for the dram, Mark. You can find Mark Littler's website here, and you may enjoy reading his two guest blogs on TopWhiskies.com: The Macallan 25 Year Old Anniversary Malts: Everything You Need To Know; and, Everything You Need To Know About Macallan Private Eye. And, if you have a premium whisky you're wanting to sell (maybe to buy some great Indie whiskies on TopWhiskies?!), then you check out how to sell your whisky on Mark's site here.
If you'd like to try this whisky for yourself, the stocks are sold out in most places but you can currently find a bottle of Macallan Edition 6 here.
And I'd love to know what you think of The Macallan Edition No.6, or indeed any of the Macallan Edition series; so please do leave me a comment below.