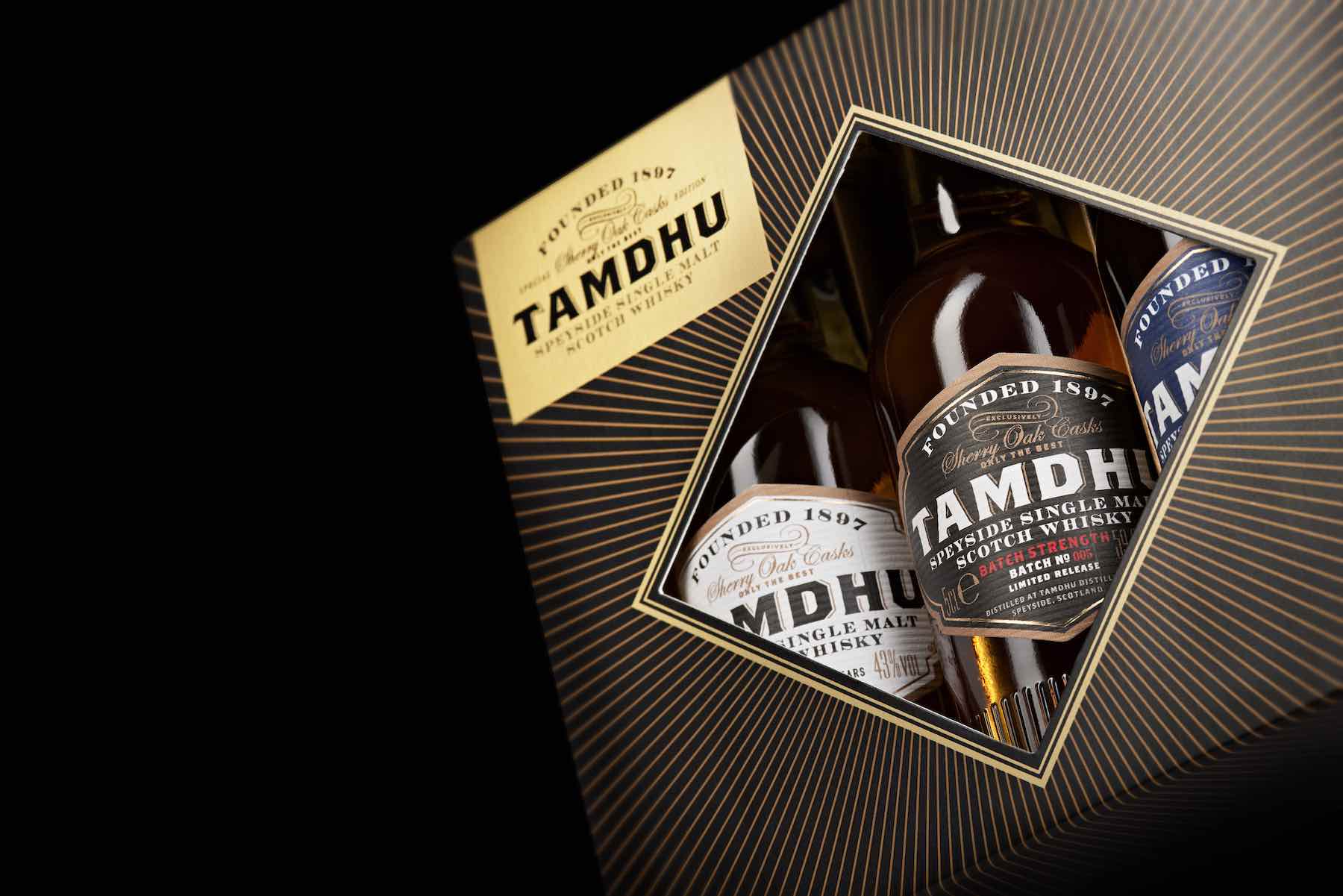 Tamdhu launch whisky tasting set
Tamdhu have launched a miniature tasting gift set. The whisky tasting set includes three Speyside single malts from Tamdhu's core range.
The three drams are Tamdhu 12 year old, 15 year old and Batch Strength No 005. All three are award winning whiskies, in Tamdhu's classic sherry matured house style. Each dram is 50ml, making it either an ideal tasting set - or a gift. The pack includes tasting note cards, so you can have a mini tasting of your own.
Tamdhu 12 year old at 43% ABV
Nose: Rich and enticing. Iced cinnamon rolls and orange boiled sweets. Fresh sweet oak with raisins. A faint hint of mint.

Palate: Silky texture that coats the mouth. Banana, berry jam, and malt biscuit. A classic sherry oak depth.

Finish: Long and balanced. Ground spice, dried fruit, and soft Scottish tablet. At the end, a wisp of peat smoke.
Tamdhu 15 year old at 46% ABV
Nose: Apple pastry with spiced currants and orange zest. Exotic notes of pineapple and fennel.

Palate: Juicy apricot and bright raspberry. Lemon tart and creamy almonds.

Finish: Long with warming malt biscuit, cream sherry and vanilla.
Tamdhu Batch Strength No 005 at 59.8% ABV
Nose: Delicate warm vanilla, cinnamon spice and roasted brazil nuts. 

Palate: Thick mouthfeel. Sharp summer berries cutting through rich double cream.

Finish: Long with warming spices and the crisp sweetness of clementine zest.
You can find Tamdhu's tasting set on their website for around £28. And, you can find our range of whisky tasting sets here.