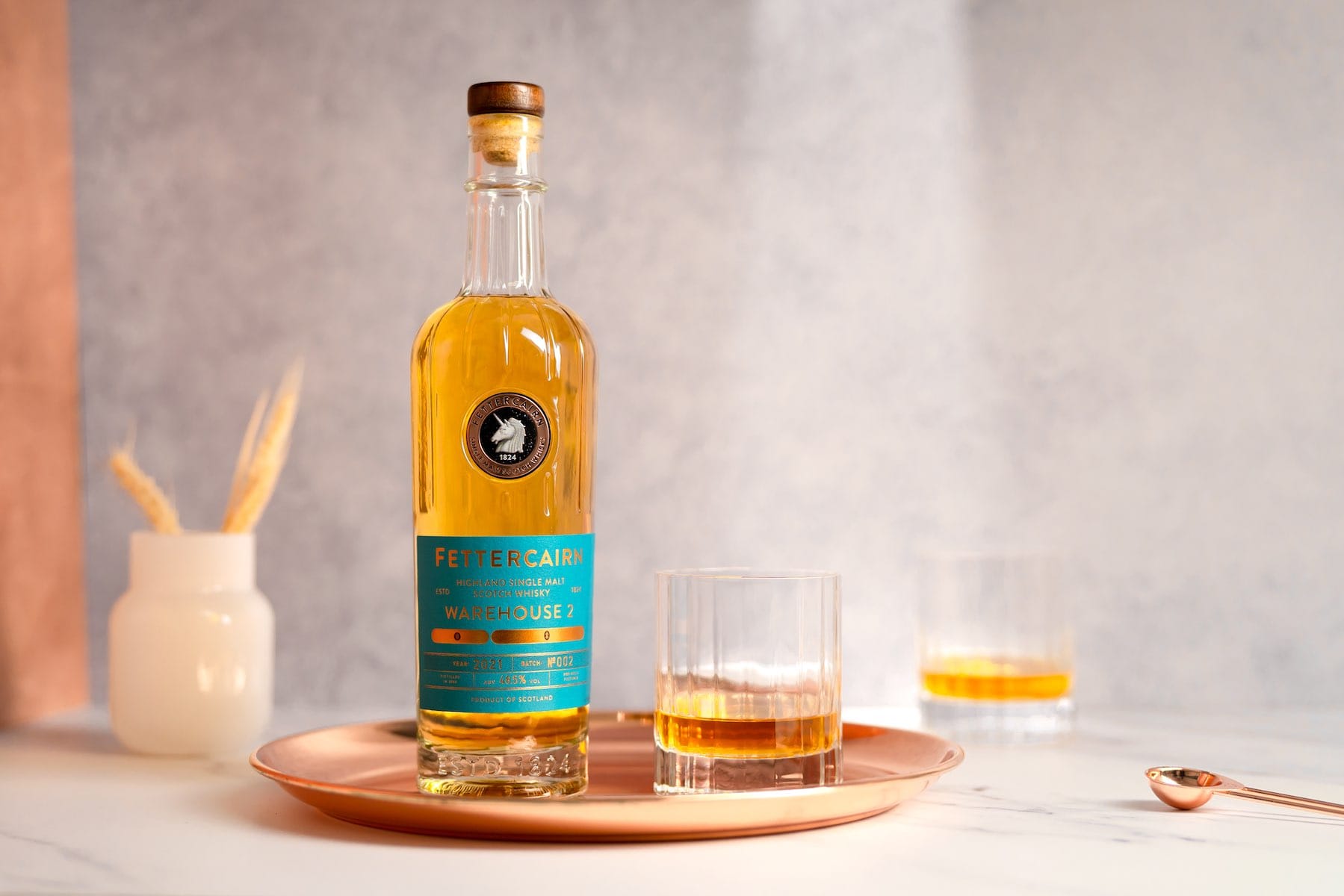 Fettercairn Warehouse 2 Batch No.002
Fettercairn Distillery has launched the second release in its Warehouse Collection. The Warehouse Collection is a series of small batch limited edition whiskies. The first release, Warehouse 1 Batch No.001, was very popular. Warehouse 2 Batch No.002 showcases the best casks from their 14 dunnage warehouses.
Warehouse 2 Batch No.002 is limited to 6,000 bottles. Distilled in 2009, the whisky aged in American Rye barrels and ex-Bourbon barrels. These 29 first-fill casks were hand selected to create this single malt. The casks all sat in Warehouse 2. The high humidity and cool, temperate environment in this warehouse has made it's mark.
Warehouse 2 Batch No.002 showcases the distillery's tropical style. This distinctive profile is achieve from Fettercairn's special copper cooling ring distillation process. It's bottled at 48.5% ABV, natural colour and without chill filtration. The single malt leads with sweetness and soft spice on the nose. There are layers of tropical and citrus fruits on the palate. It is sweet, warming and rich. The finish rounds off with cacao and coffee notes.
Fettercairn Warehouse 2 Batch No.002 Official Tasting Notes
Colour: Natural. Beautiful rays of warm golden barley.

Nose: Sweet honey, sugared almonds and soft spices. Tropical fruit notes and sweet vanilla.

Taste: A wonderful myriad of flavours dance on the palate. Layers of tropical and citrus fruits. Complex but harmonised notes of sweet cassia bark, moist ginger cake and maple syrup. Light cacao notes then emerge alongside roasted Arabica coffee beans.
Fettercairn's Warehouse Collection celebrates the talent, passion and commitment of the distillery team. It focuses on the Master Whisky Maker's choice of unusual and interesting casks. The collection invites drinkers and fans to explore the foundations of Fettercairn's ethos. Full details of the cask make-up appears on the bottle and pack of each release.
Gregg Glass is the whisky maker at Whyte and Mackay. He said: "We were overwhelmed by the response to our first small batch release. This release takes us on a deep dive into the unique Fettercairn flavour. We have bottled spirit matured in ex American Rye barrels. This allows us to show a more experimental side to our approach.
"I never stop being inspired by the diversity and quality of the amazing stock we have in our warehouses. This itself creates a brilliant canvas to work from. The more I discover, the more excited I get about what we can do as we continue to create exceptional whiskies. We want to offer something unexpected and different."
If you'd like to try Fettercairn Warehouse 2 Batch No.002 it will be around £55.