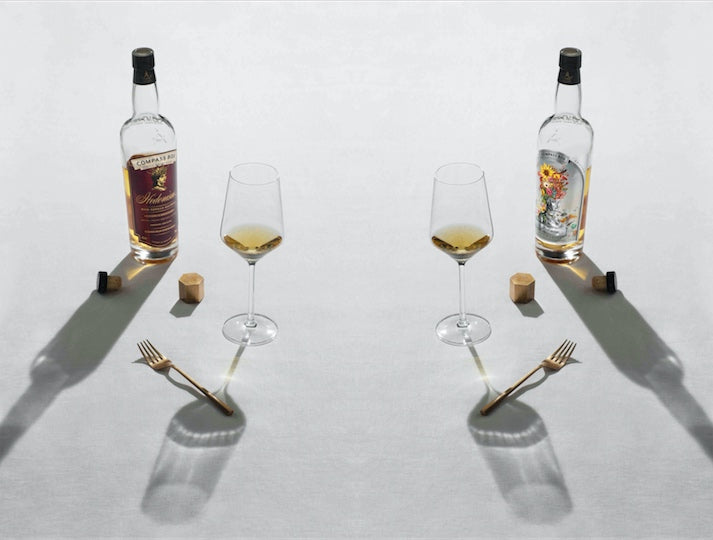 Compass Box Hedonism Felicitas
Over the course of the last 20 years, blending super force Compass Box have tried to make the world of Scotch whisky a more interesting place. Harking back to the golden age of blends, they've sought to prove that blended scotch can be as good as, if not better than, single malt whiskies. 
Compass Box launched on October 23rd 2000. Since then they've released more than 100 whiskies. Over the years, they used these whiskies proved that Scotch whisky can be more than the rules that traditionally define the spirit. They've looked to the world of wine for the inspiration for different uses of oak. They railed against the status quo, pushing for greater transparency in whisky through its 2016 Transparency Campaign. They've shown how whisky can be enjoyed in cocktails, as well as a neat dram, collaborating with world-renowned mixologist Ryan Chetiyawardana, and Chicago's iconic venue Delilah's.
To celebrate their 20th birthday, Compass Box is launching 'Hedonism Felicitas', a special limited edition blend that pays tribute to the whisky that originally launched the brand.
 John Glaser, the founder of Compass Box and their head whiskymaker said: "Launching our business with Hedonism was widely seen at the time as unusual, because so few Scotch whisky companies bottle 100% grain whiskies.  I am hopeful that over the years, we have shown people how delicious good quality Scotch grain whisky can be and as a result, Hedonism has become a signature whisky for us. For these reasons, we love to create special, limited edition Hedonism bottlings to commemorate important milestones and events."
In honour of Compass Box's 20th anniversary, Hedonism Felicitas draws together three grain whiskies, each distilled in a different decade. Led by Whiskymaker James Saxon, this expression is bottled at a higher strength 53% ABV to deliver a concentration of creamy textures and sweet flavours for which aged grain whisky is celebrated. A light 5-micron filter was used in the making of this expression limited to 2,226 bottles, and the whisky was kept un-chill-filtered and natural colour. "Hedonism Felicitas is intended to convey the good fortune, happiness and gratitude we feel having met and worked with so many remarkable people" said Saxon.
Tasting notes for Compass Box Hedonism Felicitas: Creamy coconut intertwines with notes of caramel, vanilla and almond. Apple and greengage add a delicious weight with a soft finish packed with creamy toffee. Enjoy in a wide-bowled wine glass. To reveal toastier aromas and subtle fruitiness, add a single ice cube.