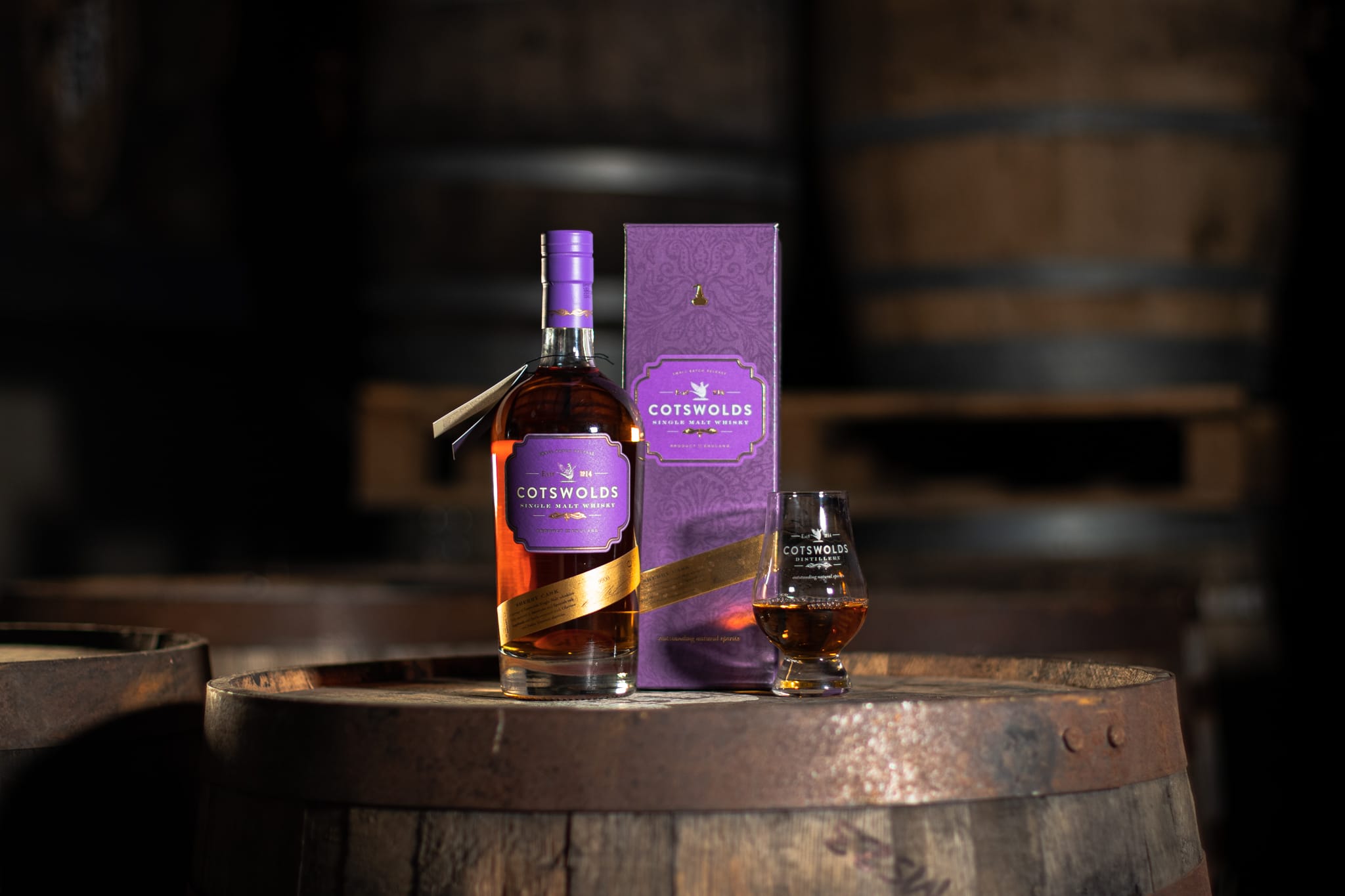 Cotswolds Distillery Sherry Cask Single Malt Whisky
Cotswolds Sherry Cask
The Cotswolds Distillery have launched a new expression, a Sherry Cask Single Malt Whisky. This bottling is a marriage of Cotswolds Single Malt whiskies fully matured in American and Spanish oak hogsheads and butts, seasoned with Oloroso and Pedro Ximenez sherries. 
They use 100% locally-grown barley from the Cotswolds, which is traditionally floor-malted by hand at Warminster, Britain's oldest working malting. The barley is mashed and fermented for over 90 hours before being distilled twice in their bespoke copper pot stills. The new make spirit is smooth, complex and fruity with only the purest 'heart' cut taken for cask maturation
Each yearly batch of Cotswolds Sherry Cask Single Malt Whisky will be unique, drawn from American and Spanish oak hogsheads and butts, some seasoned with dry Oloroso sherry and others seasoned with Pedro Ximenez. Every batch has been sherry-aged throughout their full maturation which allows the whisky to develop a full and deeper flavour. This year's release is non-chill filtered, with no added colouring and has an ABV of 57.4%. 
Nickolas Franchino, who is Head of Production at Cotswolds Distillery, said: "I love a sherry cask whisky as it is one of the truly iconic single malt whisky styles.  Good sherry casks give rich, fruity, spicy and nutty flavours that marry perfectly with the underlying malt character and are a joy to savour."
Official tasting notes for Cotswolds Sherry Cask Single Malt Whisky
Nose: Brown sugar and cherry pie with a touch of roasted coffee beans.
Palate: Viscous and rich. Full of dark stone fruits and a hint of roasted almonds.
Finish: Peppery oak spice accompanied by notes of dried fruit.
You can read my own tasting notes in this review here.
Buy Cotswolds Sherry Cask Single Malt Whisky
If you'd like to try this new whisky you can find it on Cotswolds Distillery website, priced at £64.95 (700ml bottle).