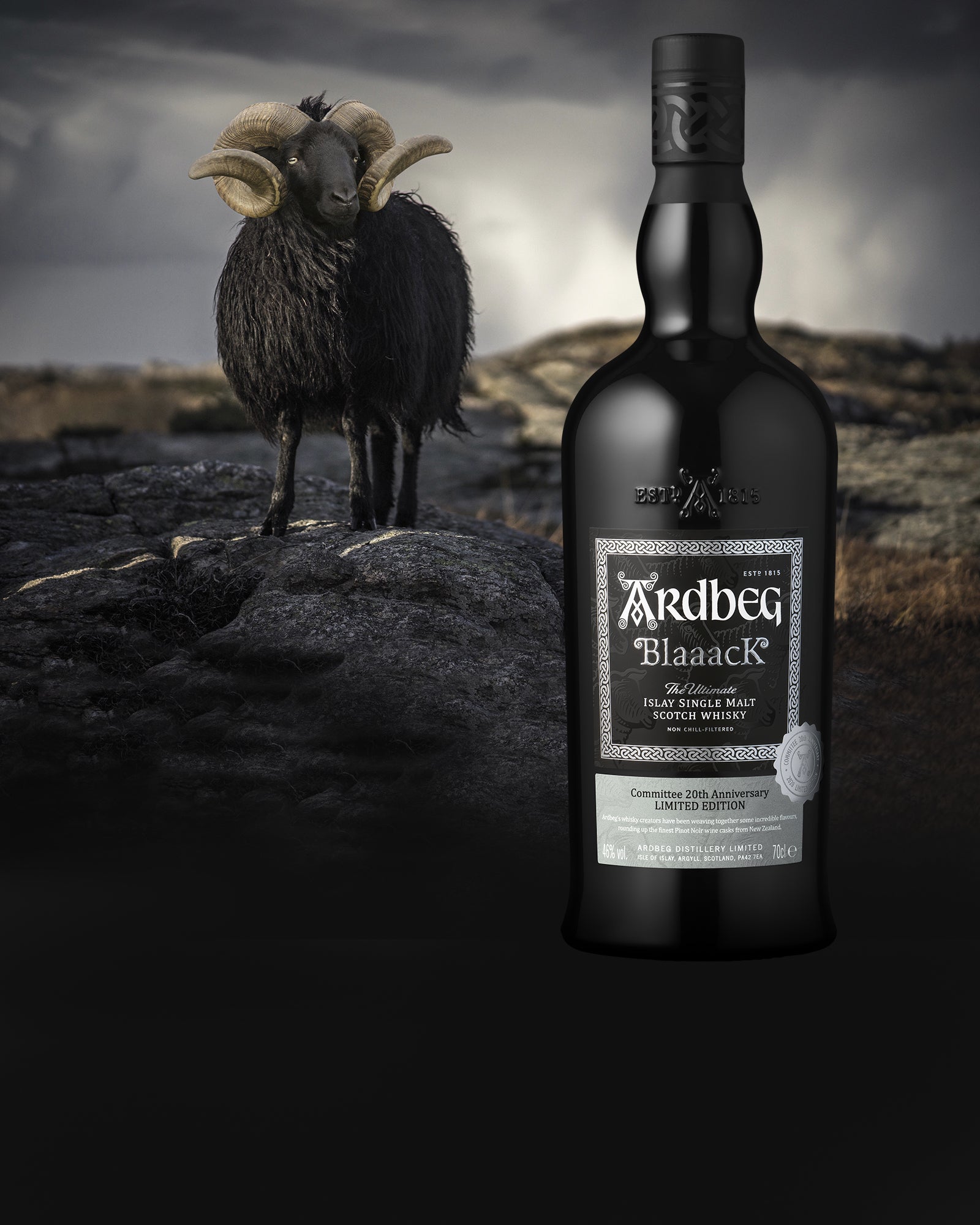 Ardbeg Blaaack Committee Bottling
20th Anniversary of the Ardbeg Committee
To celebrate the 20th Anniversary of the Ardbeg Committee, and its black sheep members known for their peaty passion and maverick attitude, Ardbeg Distillery will be releasing a limited edition whisky called "Ardbeg Blaaack" for this year's Ardbeg Day.
Ardbeg Day is a global, annual celebration of all things Ardbeg, held on the final Saturday of Islay's Festival of Music and Malt - Fèis Ìle. For 2020, the Distillery is inviting smoky malt whisky lovers everywhere to join them as they toast to two decades of the Ardbeg Committee on Ardbeg Day, 30th May 2020.
Ardbeg Blaaack is a limited edition Islay whisky bottled in celebration of the Ardbeg Committee's 20th Anniversary (founded in the year 2000). To mark the occasion, Ardbeg are using Pinot Noir casks from the country that lies the furthest distance from Islay – New Zealand, another remote island nation where sheep have been known to outnumber the locals by 7:1!
Dr Bill Lumsden, Ardbeg's Director of Whisky Creation, said: "Ardbeg Blaaack knits together velvety summer fruit pudding and bitter cherry, with a deeper edge of soot and Ardbeg's hallmark smoke. It's the perfect dram for toasting our legendary Committee."
Ardbeg Blaaack whisky tasting notes
Nose: Baked fruit pudding with cedar wood and a suggestion of cigars. Oak tannins and rich truffles then break away to reveal subtle notes of smoky jam tart, before leaving fragrant violet notes.
Taste: A velvety and furry mouthfeel palate. Aniseed, soot and summer fruits – such as cherries, strawberries, apricots and pears – give way to crumbly pastry, dark chocolate, coffee and almonds.
Finish: A long, lingering sooty finish.
Buy a bottle of Ardbeg Blaaack
If you'd like to buy a bottle of Ardbeg Blaaack then it will retail for £94 and will be available from Ardbeg Embassies, whisky specialists, online retailers and from the Distillery Visitor Centre if you can make it there.