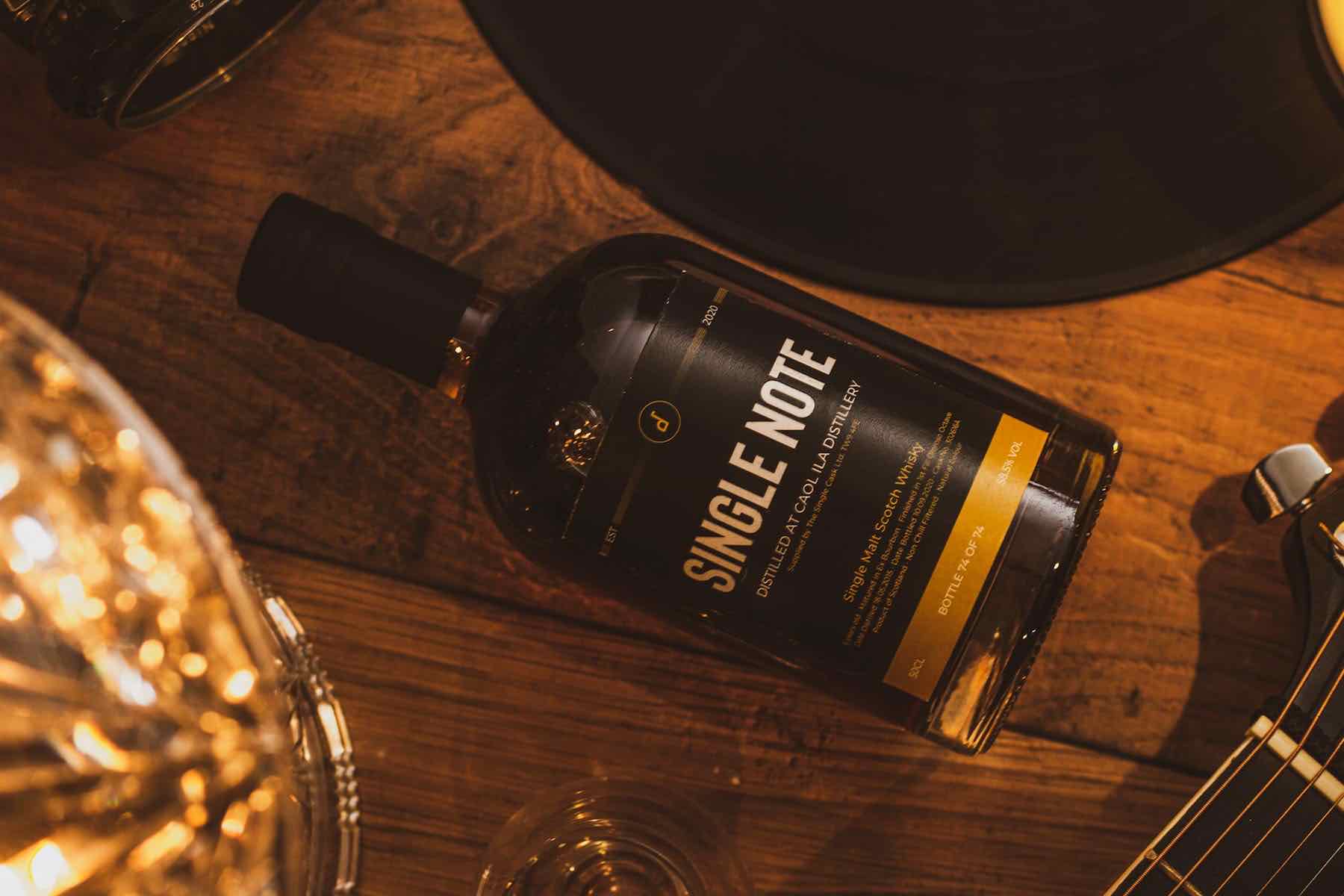 An interview with Rick van Diepen, founder of Single Note Whisky
Discovering new independent bottlers is one of my favourite parts of this job. It's not just the whiskies themselves, although it is true indies typically have great-quality releases. It's also the people behind the brands. The founders, and the passion they bring to everything they do.
So, I'm delighted to be joined, albeit virtual, by Rick van Diepen. Rick is the founder of Single Note Whisky. He's based in The Netherlands, so we had to share a virtual dram. But it was a real pleasure to get to know him more. Here are the questions I put to him, while trying his latest releases.
Ed: Rick, it's a pleasure to talk. Tell me a bit about yourself. Maybe about your time in Edinburgh, that's where you discovered a love for Scotch, right?
Rick: That's correct! Back in 2005, I did my Erasmus exchange program in Edinburgh. By joining the Napier University Whisky Society, I had a unique introduction to the world of Scotch Single Malt Whisky. Bi-weekly boardroom sessions with the finest whiskies around. What a great time to get into whisky as well, with Ardbeg Very Young being my go-to whisky at home or the many amazing releases from Bruichladdich.  I was also lucky to visit quite a few whisky distilleries (such as Springbank, Arran, Ardbeg, Bruichladdich and Bunnahabhain), accompanied by a great bunch of like-minded whisky enthusiasts (huge smile on my face thinking back about this experience). 
Oh, and my name is Rick van Diepen, a 38-year young freelance e-commerce & digital marketing consultant, living in Amsterdam with my lovely fiancé Lieke. 
Ed: What made you decide to start your own indie bottler?
Rick: I was looking more and more into opportunities to start a business for myself. After many conversations with awesome people within the industry many ideas came up. The idea that got stuck in my head was to start my own brand from scratch. And what do you want more than working on the two things you feel most passionate about? Whisky & Jazz. I got lucky to become friends with some great people in the industry like Torsten from Scotch & Tattoos. They taught me the entire process from cask to glass. 
Ed: The name Single Note is a nod to another of your loves in life, jazz. Do you see a connection between whisky and jazz?
Rick: Definitely. For a musician, every single note you play you want it to sound right, and it makes you wonder if it triggers that emotion. It's the connection between you and your audience. This is exactly how I approach my own whisky brand and bottle releases as well. Every time, I experiment and try something new, like Jazz which is all about freedom and improvisation as well. This results in my expressions, and I am hoping my audience will love them. In turn, they will interpret the dram in their own way. That's what I find fascinating about whisky, it's to a large extent very subjective but great stuff for get-togethers and conversations. What you smell and taste is not necessarily the same as I do. But sharing your individual tasting notes is, in a way, not different from talking about that concert you both just listened too. 
Ed: I believe Caol Ila is one of your favourite distilleries? Both your first and second releases are from Caol Ila. They're rather different though. A five year old sherry octave finish. And a 12 year old ex-bourbon, re-racked into first fill ex bourbon. What's your thought process?
Rick: Islay if my favourite whisky region and after finding out Caol Ila is Gaelic for "Sound of Islay" I found this impossible to ignore. My first distillery visits were on Islay as well. So, I thought my first release must have that epic sound of Islay. I found a very young Caol Ila (5 years) and started thinking how to make this my own. When I learned about octave casks things started to fall into the right place: playing a "C" (from Caol Ila in this case) and add an octave you will get another "C" only one bar higher in the musical charts. The result: a very young peated Caol Ila with a warm Oloroso sherry blanket on top!
Ed: Very cool. Your third release is rather different! An 11 year old Port Dundas finished in a first fill PX quarter cask. Tell me more about this?
Rick: This one crossed my path. I never thought I would try a single grain whisky this soon, but loved the story about Port Dundas, a demolished and non-producing distillery for over 10 years I believe. It was already in a PX quarter cask. I did not have any experience with either single grain nor PX quarter casks, but hey I love a good experiment and see how it turns out. I guess I was lucky it turned out very well. It gets highly rated in multiple whisky tastings where this dram was served. People are very surprised when tasting this one and nobody would guess where it's from when tasting blindly. 
Ed: What your first three whiskies do have in common is that they're all cask strength, natural colour and non chill filtered. Is this important to you, and if so why?
Rick: Yes, it is. I want you to have the freedom to experiment as well, until you hit that right note! Everybody has their own preferences and a whisky can be very delightful at different ABV levels, so I am all for "Variations on a Theme". Sometimes I am drinking cask strength whisky. But sometimes I am playing around with a few drops of water and see what I can discover more, or vary depending on the mood, or type of music. 
Ed: Your bottles are very classy; almost, restrained. Like the saxophonist who turns up to a gig in a black suit, white shirt, and black tie. What's your design inspiration?
Rick: I would rather say a trumpet player but you are right! This person will be all suited up in black and white, but for me this also reflects the setting of typical jazz club. A dark setting, lighting up the artist on stage. On my label this is my brand name taking centre stage.
Ed: Okay so I've got to ask, back to one of my earlier questions: what jazz music would you pair with each whisky?!
Rick: Haha, I get that question a lot nowadays. Personally, I would pair the Port Dundas with any concert of Wynton Marsalis and his Lincoln Jazz Orchestra or "ol' blue eyes", Frank Sinatra (accompanied by Count Basie's Orchestra). When having a dram of Caol Ila I would go for a bit more funk and enjoy some Gordon Goodwin's Big Phat Band or Louis Dowdeswell Big Band.  
Ed: Single Note has started strong with three great releases. What's next for you?
Rick: I would like to keep that a secret for now, but I am still playing around with them. I re-racked my fourth cask last year June into a Catoctin Creek Rye cask and the PX Quarter cask (1st fill) used for my Port Dundas. 
Ed: You love sharing your passion, and your whiskies themselves, with the community right? I believe you'd like to make an offer to TopWhiskies readers?
Rick: For me, whisky is all about its community and sharing a dram. So I am more than happy to provide a 10% discount on the Caol Ila 12 year old available in your online shop. Consider this a "virtual dram" on me!
Ed: Rick, thanks very much for talking with me. I have a feeling you'll be releasing many more top hits in the years to come. I can't wait.
Try Single Note Whisky for yourself
You can read my reviews of Rick's Caol Ila 12 Year Old here, and his Port Dundas here. If you'd like to try Rick's whiskies for yourself, you can find Single Note Caol Ila 12 year old here. Don't forget to use the discount code RICKSDRAM when you checkout to get 10% off.