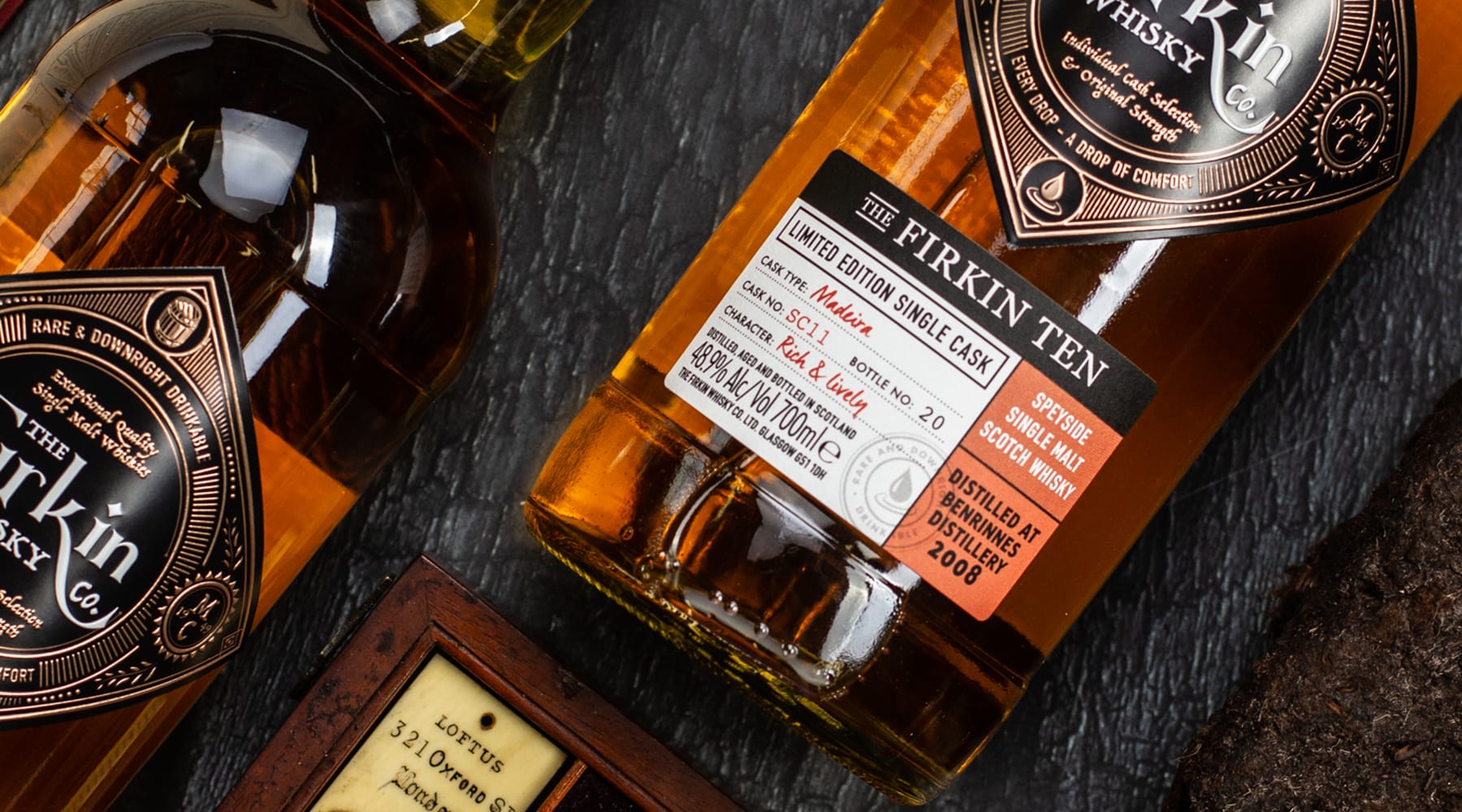 Firkin Ten, Some Awesome Speyside Whisky
Firkin Ten Benrinnes Speyside 2008 Madeira
We want to take you on a journey with this whisky. 
We've married scotch from the Benrinnes distillery in Speyside with the tangy and spicy richness of Portuguese Madeira wine. Sounds crazy, we know. But in our hand-built casks; it's crazy enough to work. 
Our custom casks use a combination of American first-fill Bourbon staves and new French Limousin oak staves with a custom char. The Double Oak cask, in combination with the spicy richness of Madeira, creates a unique flavour profile. What emerges is rich, lively and a tad spicy.
History of Benrinnes – What's the worst that could happen? 
Situated at the foot of the Ben Rinnes hill, Benrinnes distillery has had its fair share of ups and downs. Its survival is a story of tenacity and grit. And we're all the better for it because they make some cracking whisky. 
Peter Mckenzie Founded Bennrines in 1826, but it was only in its 3rd year of production when a megaflood destroyed it. A megaflood is like a regular flood, but wetter. 
Benrinnes had a good run until 1896 when it was destroyed again.
This time by fire. 
What next, you might be thinking? Locusts? Well, you're not far off. 
Bennrines was rebuilt and went bankrupt in 1935.
Not a great result. 
After the bankruptcy, Dewars company bought Bennrines. Dewars modernised the distillery, and was incorporated into the Distillers Company and then to its current owner Diageo. 
There aren't a lot of independent bottlings of Benrinnes as most of the malt goes into Diageo's blends. So this Firkin edition is something special.
What's a Firkin French Limousin oak stave? 
In France, there are five official forests where they cut oak to make barrels. Limousin is the of them. 
Coopers cut the oak into staves which dry for two years. After the staves are dried, they do a custom char for us. The char is a light toast that has sweet oak and a touch of mocha. Limousin oak is loose-grained, which helps the oak characteristics seep into our whisky. 
Why should you care about Madeira?
A few wineries produce Madeira on a small island in Portugal. The small island is, by a strange coincidence that's baffled cartographers for generations, called Madeira.
Because of its location off the west coast of Africa, the island was an important stopover for ships on their way to the East Indies or the Americas. They loaded the ships with wine and, to ensure it would keep, they added some grape spirit. The fortified wine was exposed to high heat and evaporation on the journey. The exposure led to accelerated ageing and oxidation.
Merchants discovered the effect when a ship returned with a few barrels on board.
The fortified wine transformed into a rich, concentrated and spicy wine. Today winemakers replicate this voyage with a unique process called estufa. It's cheaper than sending the wine to America and back on a sailboat. The process replicates the long ocean voyages. But with fewer pirates. Some pirates. But not as many. 
By adding Madeira to our custom cask, it imparts creamy, tangy & spicy notes to our whisky. It is Firkin amazing; rich and lively. 
Firkin Ten: Benrinnes 2008 tasting notes 
There's a time when you need a dram. Whether you have had a hell of a day, you want time for reflection or to get over the jet lag.
When you've had that kind of day, this is the firkin whisky you need. Firkin ten is bright and lively with a pantry full of kitchen spice.
This whisky will enliven and intrigue you, and it hangs around to remind you that life is so Firkin good.
Try Some Firkin Awesome Whisky
The Firkin Whisky Co. doesn't take itself too seriously. When your single malt is this good, you don't need to be pretentious about it.
The whisky speaks for itself.
You can try our Firkin Ten whisky here. 
Written by Mike Collings & Evan Hirsch
Mike Collings founded The Firkin Whisky Company. and Imperial Tribute. Over his 40 years in the whisky industry, he created Johnnie Walker Blue & Green Labels, The Classic Malts, Rare Malts, Distillers Edition, Flora & Fauna series, Cardhu and Royal Lochnagar.    
Evan co-founded TopWhiskies. TopWhiskies helps you find the best whisky from unique and independent brands. You're probably heard about it because it's the website you're on right now.