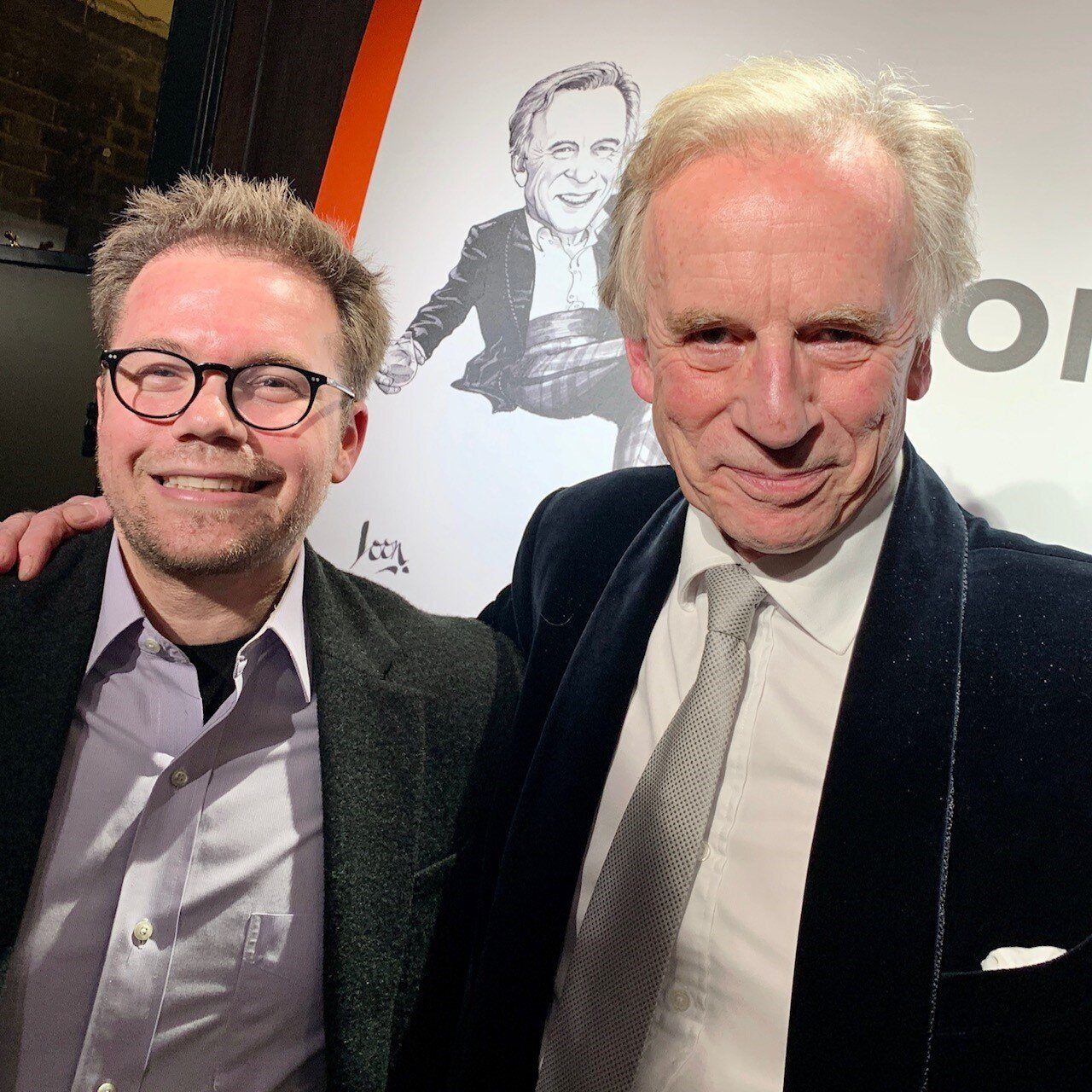 'Ronnie's Reserve' single cask whiskies
Secret agent / whisky agent
Who am I describing? 
An upstanding gentleman who speaks in the queen's English, but who was in fact born in Scotland. Frequents London to visit HQ, but has spent his life travelling the world on various missions – from Europe, to Asia, to South America. Is equally comfortable negotiating with heads of state, and with underground smugglers. Impeccably dressed, the definition of suave; but, will adopt whatever outfit the occasion demands in order to blend in with the locals. Remains calm under pressure, and doesn't flinch even when looking down the barrel of a gun.
You'd be forgiven answering 'Bond, James Bond'.
But in fact, the person I'm described is 'Cox, Ronnie Cox' of Berry Bros. & Rudd.
An introduction to Ronnie Cox
Ronnie is the Heritage Brands Director for Berry Bros. & Rudd and a legend of the whisky industry. He is the 7th generation of the Cumming family of whisky distillers (though two of these generations were arguably, producing Single Malt Spirit illegally!). His family owned Cardhu distillery in Moray, before it was sold by his great-great Grandmother to Johnnie Walker. Ronnie's career in whisky spans over 40 years. Always working on the export side of the industry, Ronnie has travelled the world promoting his passion for Scotch Whisky. He is a Master of the Quaich and a Member of the Worshipful Company of Distillers.
30 of Ronnie's 40 years in the industry has been spent working for Berry's. As he moves towards retirement, Berry's are launching a new range of limited-edition single malt whiskies curated by, and in tribute to, Ronnie.
Ronnie's Reserve
Bottled as a result of what Ronnie refers to as a 'collective investment' – funds from Berry Bros. & Rudd and Ronnie's skill and knowledge; a total of seven casks have been selected for the Ronnie's Reserve range. Six casks were released in November 2019 and the 7th cask will be released in June 2020. The distillery has not been disclosed, but it is one that Ronnie knows well and which is close to his heart.
We had the opportunity to sit with Ronnie, whom we are honoured to call a friend, to try his name-sake whiskies and hear from the man himself. He said: "Over the 30 years of working with this Speyside distillery I have the enviable task of nosing several hundred casks, and in my view, these seven casks stand alone as examples of supremacy. I didn't need the keys to the distillery, a bung remover and a nosing glass. I had had my eye on these casks for many years and I count myself as incredibly fortunate to be able to select these whiskies to bottle under my name."
So, lets take a look at the whiskies in question!
Ronnie's Reserve Tempus Fugit 1968 (51.6%), 65 bottles
Time flies - this Latin expression, represents a truism of the past 50 years of Ronnie's life. The early days were happy, carefree and, in many ways, reflect the craft of the distiller in the 1960s and '70s. The gentle, unrushed whisky-making process left perfection to Mother Nature and Father Time. All that Ronnie had to do is to stop the whisky slumbering and allow others to benefit. Cask number 13497 was a refill Sherry hogshead bottled in 2019.
Appearance: Amber, natural colour.
Nose: Distinguished, elegant, sophisticated, floral fruity and ethereal. This is one to take your time nosing.
Palate: Delivers the above with balance, complexity, and depth. At the back of the palate there's a long floating silkiness with cooked fruits and walnut, ending with a hint of sweetness.
Finish: Fades gracefully with fruit and liquorice.
Ronnie's Reserve Curriculum Vitae 1969 (46.3%), 122 bottles
Curriculum vitae translates literally into "the story of my life" and covers Ronnie's lifelong association with Scotch whisky. Cask No. 16202 was a refill hogshead bottled in 2019.
Appearance: Mid-amber, natural colour.
Nose: Mature with gentle wood polish, dunnage warehouses, fruit preserve, linseed oil, lemon marmalade wrapped in gentle wood resin.
Palate: Elegant in its weight it gently delivers the flavours of wood spices, nuts and fruits in harmony and balance.
Finish: Of great length the tannins and wood resins softly remind us of its years in cask. A slight hint of delicious bittersweet treacle heralds the end… and another sip.
Ronnie's Reserve 1975 (45.5%), 166 bottles
Bottled in 2019, this whisky comes from a re-fill hogshead, which tend to take longer to mature but preserve the character of the distillery better. Ronnie had been 'looking after' this particular cask, number 10619, for many years.
Appearance: Light gold, natural colour.
Nose: Elegant, uplifting and stimulating. Floral notes accompany, honey and liquorice initially, followed by well-integrated wood, vanilla and honey.
Palate: Soft, delicate beginnings develop on the palate to reveal the true distillery character with a background of chocolate biscuit and hints of fleeting exotic cooked fruits.
Finish: Mouth-coating and delicious the length is impressive – this fades gently leaving a floral sweetness.
Ronnie's Reserve 1979 (49.9%) 196 bottles
The 1979 was an extraordinary vintage and Ronnie says it was lucky that this cask hadn't reached its peak of maturity in earlier years, so that now - all these years later - we can enjoy the result. Cask number 5454 was a refill American oak sherry cask bottled in 2019.
Appearance: Mid-gold, polished brass, natural colour.
Nose: Elegant notes of orchard fruits, honey and spicy notes all in complex harmony.
Palate: Complexity wrapped firmly in a honey blanket. Unusual to see a sherry hogshead from that era it has just the vaguest suggestion of its sherry background whilst the American oak vanillas and honeys remain dominant.
Finish: Deliciously more-ish and perfect combination of American Oak sherry and this distillery's much-loved spirit.
Ronnie's Reserve 1989 (54.0%) 114 bottles
The 1980's heralded the varied application of computer technology and at the same time the functioning of a new still-house with an increased number of stills. Fermentation times were shortened; distillers yeast became the norm and experiments were being run with barley varieties. All this had the benefit of consistency and production efficiency and left little to chance. Generally, this distillery produced a different style of whisky then, still elegant but fruitier in style with stellar evidence of malted barley. The filling cask policy of those days was slightly haphazard and for the selection of single casks for single malt bottlings great care had to be taken. Cask number 10415, a refill bourbon barrel bottled in 2019, epitomises the best characteristics of this distillery in that decade, which is why Ronnie chose it.
Appearance: Amber, natural colour.
Nose: Rich and elegant, balanced and complex. Nougat and dark runny honey wrapped in light wood. 
Palate: Soft fruits and honey, full and malty it is the epitome of this distillery; the style of malt and the control of technology.
Finish: Exceptionally long, exceptionally elegant. 
Ronnie's Reserve 1992 (51.7%) 67 bottles
The 90's heralded some serious study of cask types for maturation. As a result, more sherry casks were put to the spirit of this distillery than had been the case before. What came from these casks at 11 or 12 years was loved in France and Germany (where spirits were largely consumed without the addition of water) but not quite so popular in established markets of Japan or the US. Ronnie realised that not only did this distillery take longer to mature spirit but that the Spanish Oak sherry cask tannins would dominate and American Oak casks - particularly refills - were those which combined sympathetically with the spirit. Bottled in 2019 at 27 years old this refill bourbon cask number 4597 is at its best and receives full marks as an outstanding example of its era.
Appearance: Mid golden, natural colour.
Nose: Give it time for the fruity and floral notes to fill the glass; then find their combination and harmony with wheat biscuits and prune skins. 
Palate: Soft and silky and typical of the fruity/spicy combination of this distillery. Fulfilling but not robust; elegantly spicy but never losing the delightful character of the spirit.
Finish: Long and fruity this fades gently to the side of spice and this in turn encourages the next sip.
Ronnie's Reserve 1995 (53.2%) 210 bottles
1995 was when Ronnie first started laying down casks to Berry's own specification. Knowing that first fill sherry casks' European oak would dominate the spirit, Berry's used many refill sherry casks of both European and American wood sources. The refill sherry hogshead has the great benefit of gently imbuing the spirit with some woodiness, but their major contribution lies in the softening and enhancing of the fruity characteristics of the distillery spirit. Ronnie chose cask number 12040 as being of readily recognisable characteristic of this distillery whilst delivering both in aroma and taste a total harmony of fruits and light spices and, of course, being the very best in its class when bottled in 2019.
Appearance: Light golden, natural colour.
Nose: Honey, digestive biscuits, ripe fruits, and honeydew melon.
Palate: Soft on entry the intensity of flavour meets the palate and then fills the mid-palate where shapes into distinguishable fruity and light woody and biscuit flavours.
Finish: Fulfilling and rewarding exuding exalted excellence. Dangerously moreish.
If you'd like to pick up a piece of this liquid history, the Ronnie's Reserve collection of is available to buy now, in-store and online from Berry Bros. & Rudd.
Ronnie, raising a dram to you - slainte mhath.