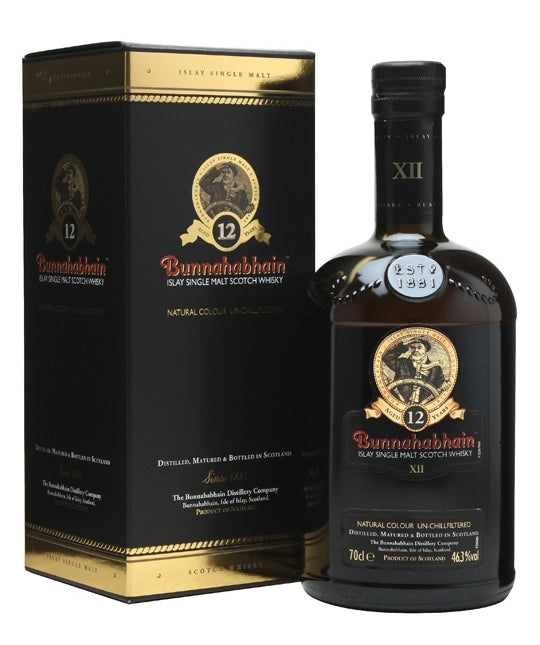 Bunnahabhain 12 year old review
You never forget the the way a bloodied cloth strip twists in the wind. When barbers were also surgeons, they hung their bloodied shirts outside their shops; it was how punters knew they were at the right place to have leeches suck at their veins and teeth pulled from their jaws. That, we were told, was why barbershops hung red striped poles outside their windows today. When we walked into the barbershop, we couldn't get the image of a stained shirt flying in the wind out of our minds.
Our friend was getting married in the afternoon and while his bride was drinking champagne and having her hair plaited, the men went to have a stranger slowly pull a razor across our necks. We brought a bottle of Bunnahabhain 12 year old. None of us had done this before.        
The woman had tattoos across the steady hands that chipped into the cream around our faces. She was like an art restorer, slowly removing layers of grime from a forgotten Renaissance painting. While some of our faces were more Rubenesque than Titian, she took her time and tilted our chins up when she passed the blade over our fleshy necks. What we'd expected to be mildly terrifying was sublimely relaxing. Bunnahabhain has bottled the same sense of surprise in its 12 year old.
Burn Stewart Distillers, who own Bunnahabhain on Islay as well as Deanston in Perthshire and Tobermory on Mull, replaced the previous edition of Bunnahabhain with this 12yo. The new Bunnahabhain 12yo has all the components of a boutique whisky: no chill-filtration, no added colouring and a high cask strength. It's the cask strength that's the pleasant surprise; the whisky increased from 40% to 46.3% without adding any raw alcohol or unrefined spirit taste. Bunnahabhain has a medium body, not heavy, but not light either. It's smooth like an impeccably shaved cheek
Nose: Fresh notes of seaweed and salt. It's leaning over the side of a fishing boat and splashing your face with the ocean water.  
Mouth: Sweet vanilla and sticky glacé cherry intermingle with peat, but it doesn't have the Islay blast of smoke. It's using a razor to sharpen a graphite pencil and letting the flakes fall to your whetstone.   
Throat: A faint echo of peat stays with you like the lingering intimacy of a stranger's fingers stroking your cheek.
TopWhiskies Score
It isn't quite an Islay. In a blind tasting you'd struggle to guess where it came from, but we merrily drank it while we wished our friend a long and happy life with his bride. Bunnahabhain was worthy of that honour. Like a cutthroat razor shave, this sherried Islay whisky is something everyone should try.
4/5 – Buy a bottle of it because alcohol can be a man's worst enemy and the bible says love your enemy.