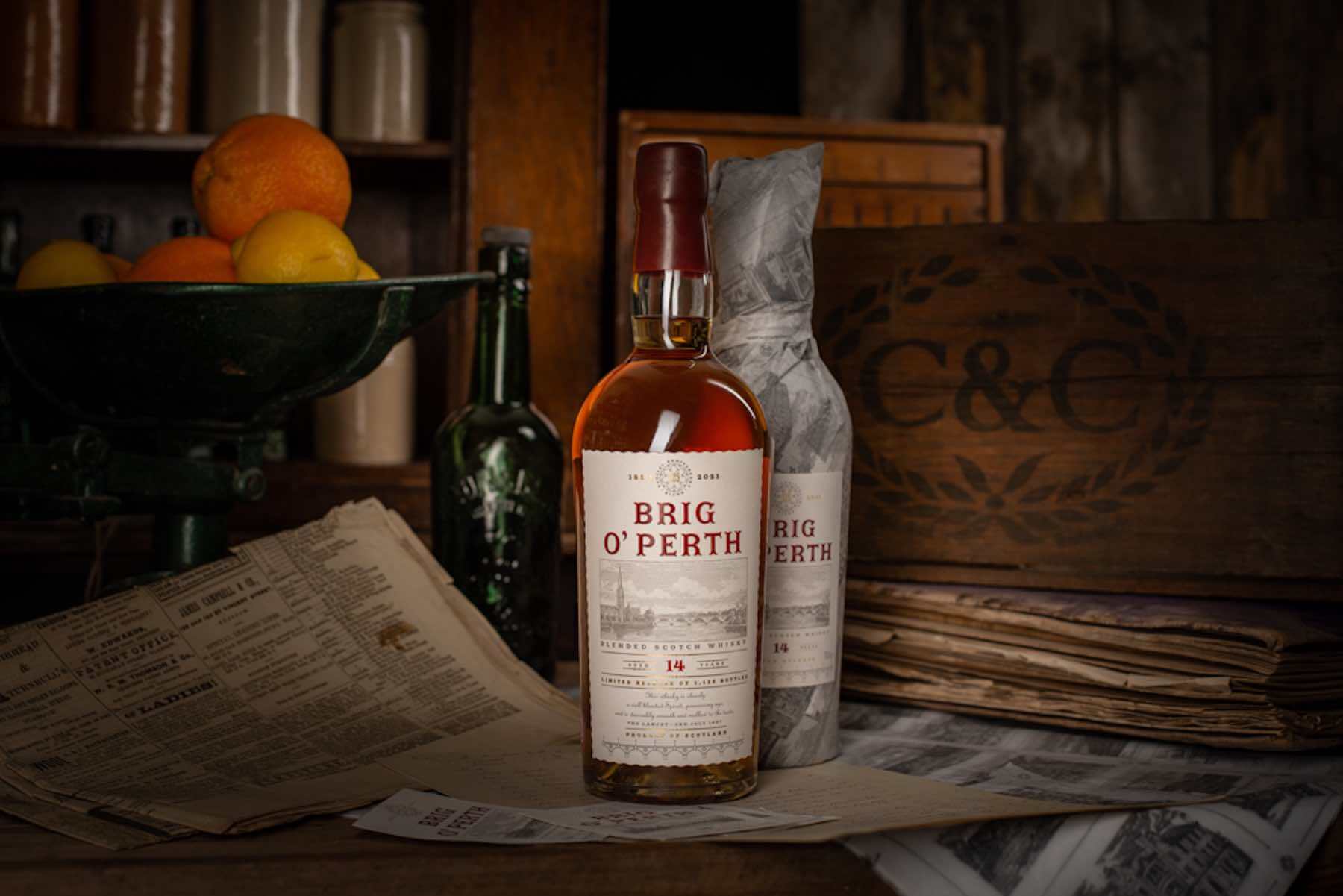 Brig O'Perth 125th Anniversary Release, Review and Tasting Notes
Today I'm reviewing a small batch artisan blend called Brig O'Perth. This is a historic brand reimagined by indie bottler The Whisky Cellar. 
About This 125th Anniversary Release
Brig O'Perth was first created by Perth wine merchant Matthew Gloag & Son. It was made at their shop in Atholl Street in 1896 as their "house blended Scotch". And, it did very well achieving both local and wider acclaim. It became the go-to whisky for family gatherings and society parties across Scotland.
Brig O'Perth has enjoyed only occasional bottlings over the last 50 years or so. But whisky entrepreneur Keith Bonnington bought the brand from Edrington Distillers. Keith spent 11 years working for Erdington, based at the now-closed Perth office.
Keith is now bringing Brig O'Perth out of retirement. When I spoke with Keith he said: "Sadly, the merchants, blenders, and bottlers that made Perth a hot-bed of Scotch whisky have left the Fair City. Without doubt, the names of Gloag, Bell, Dewar and Thomson contributed to the development of the city. But, while time and "progress" moves things on in one direction, memory and nostalgia moves them in another... I'll never restore the glory days single-handedly. But I would love to be able to contribute something to Perth with this historic relaunch. As a resident of Auchterarder, I have grown to love the county. It is great to be able to celebrate its huge contribution to our greatest liquid export." 
The 'Special Anniversary Blend' has been bottled by The Whisky Cellar as a classic 'Old Highland' style Blended Scotch. It has a high malt content, a good sign of quality. The malt whiskies were carefully sampled from a range of Highland distilleries. These were the same distilleries that Matthew Gloag would have drawn upon way back in 1896. The whisky carries a respectable 14 year age statement, matured in first fill ex-bourbon and sherry butts. Limited to 1,125 bottles, it is a healthy 46.7% ABV, natural colour and non-chill filtered. 
That's enough of the background, let's try this dram!
Brig O'Perth Tasting Notes
Colour: Natural colour, bright gold. Lots of parallel tears run quickly down the side of the glass.
Nose: Honey, and honeydew melon. Redcurrants and black currants. Soft malt and new untanned leather. Cedar wood and gentle cinnamon. 
Palate: Medium mouthfeel with a creamy texture. Lots of red fruits and berries, lightly dusted with soft brown cinnamon sugar. Fresh cream dotted with real vanilla. Milk chocolate orange. Well integrated alcohol adds body without burn.
Finish: Medium to long. Cream over red fruit and berries, a touch of savoury oak, ending with warming spice.
Brig O'Perth Review
This is a most enjoyable dram. The high malt content, good maturation, and careful blending has created a refined, elegant and flavoursome whisky. It made for a good tasting session when I sat down to review it, but would work equally well as a relaxing dram in front of a good film. It feels good value at £44.95, you're getting a lot of quality for that price.
If you'd like to try this whisky for yourself, you can buy Brig O'Perth 125th Anniversary Release here.