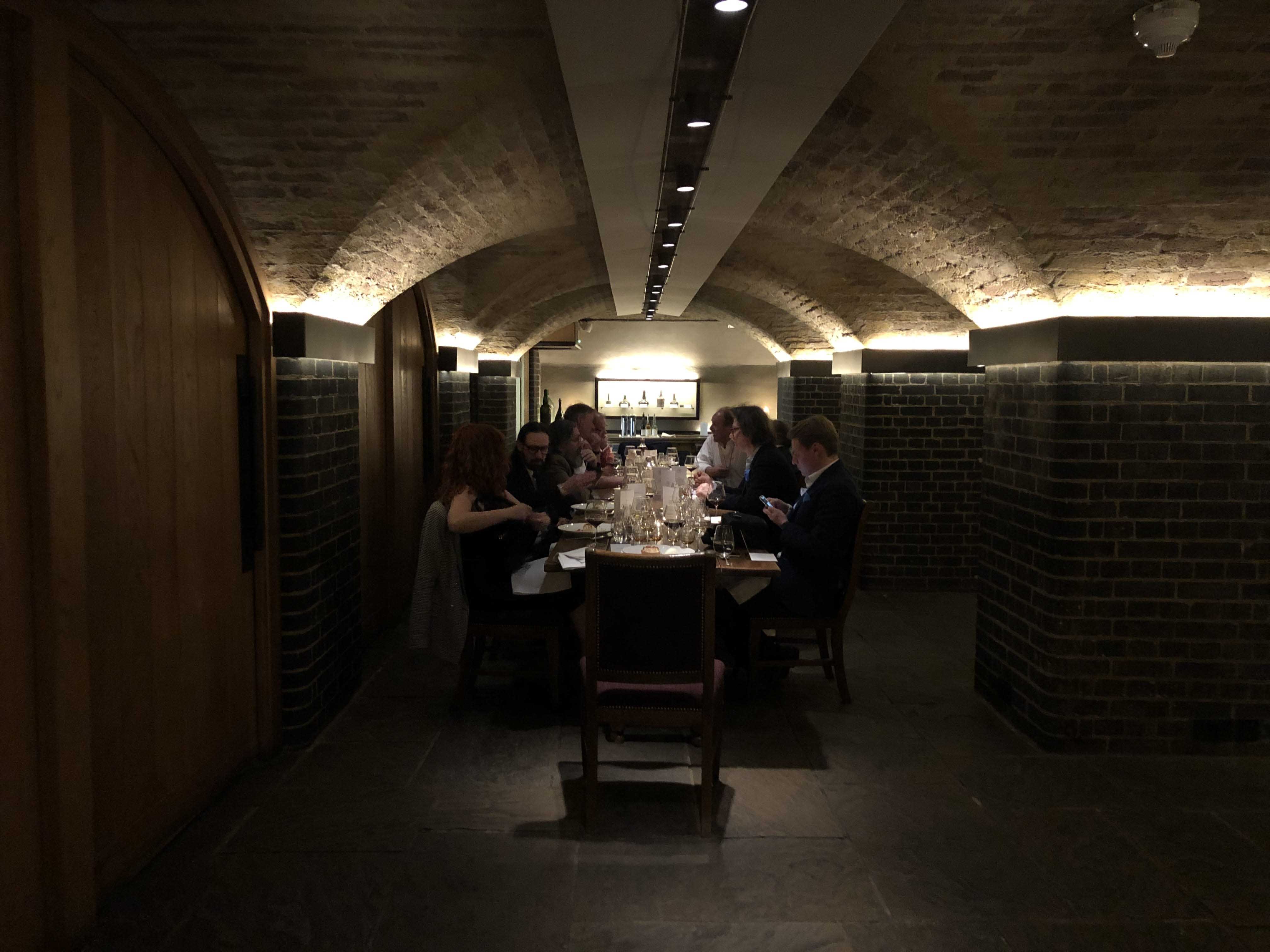 Isle of Raasay in the Cellars of Berry Bros. & Rudd
Of course, it's easy to get to Berry Bros. & Rudd. 63 Pall Mall, St. James's, London. It's across the road from St James Palace. You can't miss it.
But it's the cavernous wine cellars that are less easy to get to. Down deep stairs, underneath London's busy streets and shops, there is another world. Wine's holy sanctum. And that's where I got to try the Isle of Raasay.   
The Napoleon tasting room (named because Napoleon kept an office there) was the perfect place to try whisky from one of the most remote Scottish distilleries.
A tiny island in the Inner Hebrides was the perfect place for illicit distilling. The terrain was hospitable to bootleggers and inhospitable to the taxman. What more could you ask for?
Fast-forward to 2014. Alasdair Day knew it was the perfect place to start his distillery. Alasdair, who took us through his range, said: "there's a history of illicit distilling here on Raasay, reinforcing the island's whisky heritage. But to have a commercial distillery here would be something quite special.
And having been to the secret tasting room underneath Berry Bros., I can tell you I couldn't agree more.
Isle of Raasay Whisky is something quite special
While we had some fantastic single casks, I want to focus on Isle of Raasay, Batch R-02, Hebridean Single Malt Scotch Whisky. Rob Whitehead, Spirits Buyer, BBR Spirits, said
There is beautifully lifted smoke on the nose of this second-ever commercial release from the Isle of Raasay Distillery. This smoke carries gently through a palate that shines with seemingly alternating touches of dark fruit and spicy oak. The team here uses virgin casks coopered from (the unusual) Chinkapin oak, which nicely adds to the texture. I'll drink this with a cheeseboard – all the better if it includes some membrillo quince jelly.
Oh, how I wish that I could turn a phrase like Rob!
He makes it sound as evocative in words as I found it on the nose. I picked up red fruit (apples, cherries) wrapped in complex and well-balanced smoke layers. On the palate, I found crunchy digestive biscuits and buttered toast. But these fruity notes didn't disappear. It was beautiful, a great subtle and enjoyable whisky.
I'd love to thank Berry Bros. for inviting me into the inner sanctum to enjoy this whisky from an equally special place.
Explore the Isle of Raasay's spirits here