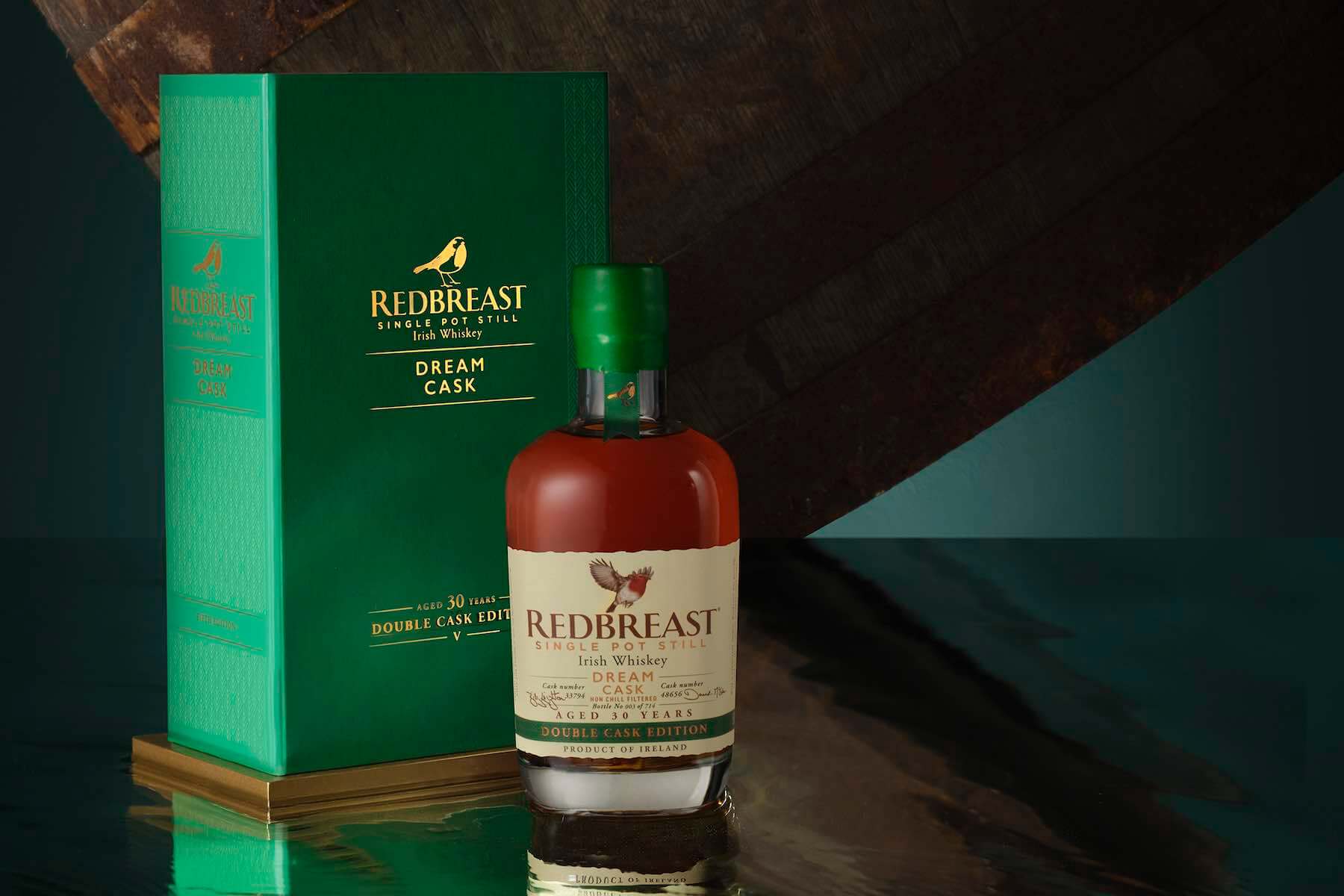 Redbreast Dream Cask Double Cask Edition, Review and Tasting Notes
Redbreast Irish Whiskey is launching the fifth edition in its Dream Cask series to mark World Whisky Day 2022. Redbreast Dream Cask Double Cask Edition is a 30 year old single pot still Irish whiskey. The fifth edition is an interesting addition to the series, marrying two dream casks. Both casks were hand-selected by Master Blender, Billy Leighton and Blender, Dave McCabe.
Billy and Dave each chose their favourite cask from Midleton's inventory. The first cask, chosen by Billy, was a lighter style distillate laid down in a first fill oloroso sherry butt in May 1990. The second, chosen by Dave, was a heavier style of distillate laid down in a first-fill bourbon barrel in November 1991. Each cask, representing the two distinct components of the Redbreast DNA, was chosen at peak maturity. They were then combined to showcase their unique character after 30 years of ageing.
I had the opportunity to speak with Billy and Dave, to hear more about this release. By pure coincidence, they were doing their zoom call from Jerez in Spain, where they source their sherry casks.
They explained: "For the 2022 edition, we wanted to create a single pot still whiskey that captured the qualities of its Dream Cask predecessors, but with a twist. Bottling these outstanding casks together at exactly the right moment has resulted in a complex Irish whiskey. It balances the vanilla sweetness and caramel creaminess from the bourbon barrel and the deep, dark fruitiness from the sherry butt. At cask strength with an ABV of 56.9%, the resulting liquid is rich in robust spice with wood-driven characteristics. There are notes of dark-roasted coffee, sweet liquorice, orange peel and smoked almonds amplified by the wine cask's influence."
Both of the casks were integral to this release. It is a meeting of two major components of Redbreast's style. And as such, they wanted to give equal prominence to each cask in the naming of this edition. Hence, the name Redbreast Dream Cask Double Cask.
But, that's enough of the context. Let's try this whiskey. Here are my personal tasting notes, with a little help from Billy and Dave on the zoom call.
Redbreast Dream Cask Double Cask Edition Tasting Notes
Colour: Natural colour. Very dark amber, long-stewed tea. Oily in the glass, with tears that remain clinging to the side of my copita.
Nose: Rich and complex. A medley of its components. The lighter distillate brings a herbal note. The heavier distillate adds a note reminiscent of a tobacco leather pouch. There is plenty of fruit, figs, and dates from the sherry cask. Followed by spices, cinnamon and cloves, from the American oak barrel. At 56.9%, the alcohol is well integrated.
Palate: Full mouthfeel. Plenty of macerated, almost syrupy, fruit - like apple and blackberry crumble with vanilla custard. There are other fruit notes including raisins, cherries, and blueberries. These are joined by liquorice and menthol from the sweets cupboard. All brightened with spices in an old oak cupboard. Again, at 56.9%, the alcohol is well integrated, adding body without any burn.
Finish: Long finish. Fruits continue, slowly fading into old polished oak and wood spice.
Buying a bottle of Redbreast Dream Cask Double Cask Edition
If you'd like to try Redbreast Dream Cask Double Cask Edition for yourself, then it launches on World Whisky Day, 21st May 2022. This is a limited edition, with just 714 bottles, priced at €550 each. It will be available through an online ballot on Redbreast's members' club The Birdhouse. 
Thank you to Redbreast for sending a sample for independent review.