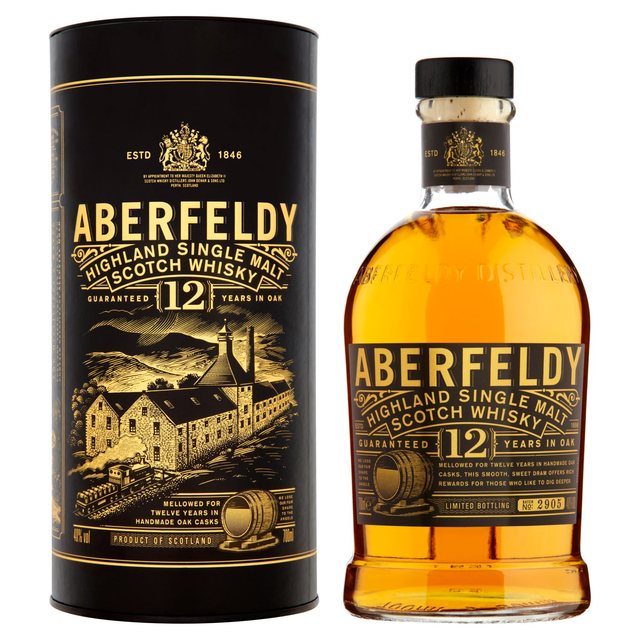 Aberfeldy 12 year old review
Plastic tables spilled onto the road and the air was peppered with Chinese and Indian words. We're not exactly sure how we ended up at an Indian restaurant in Singapore's Chinese district, but there we were looking at a faded poster of Sachin Tendulka. The waitress gave us the English menus and pointed to a chart that was peeling from the wall. A '0,' she said, was a nice spice-level for English people. A '5' was like sitting underneath an industrial strength hairdryer in the Gobi Desert.
If you ask any self-respecting Englishman to name his national dish is, he would not say fish & chips. Oh, no. The English National Dish is chicken tikka masala. We would not have our patriotism called into question, so we ordered our curries at a respectable 4 spice-level. After our first bite, we thought were fine, we were curry-eating rockstars. After the second bite, fine beads of sweat wept from our brows. After the third bite, we watched the waitress try to hide her smile while she poured water into bucket-sized glasses.
That's what Aberfeldy is like, you don't expect much for £30 and it takes you by surprise when it crawls down your throat like an army of ants that slowly chew their way out.    
If you haven't heard of Aberfeldy, you're not alone. Aberfeldy is an old distillery dating back to 1898 and was established for Dewar's.  It, along with approximately forty other single malts, is blended into the White Label.  Since 90% of Aberfeldy production is typically used for blending, the owners of the distillery haven't done much to  promote the single malt, which might be why they didn't start bottling Aberfeldy as a standalone blend until 1999.  
While Dewar's White Label doesn't do much for us, Aberfeldy is a nice little find that's available in most supermarkets. It's great if you're having a curry.   
Nose: Strong raisins and roasted nuts, like being on a hike and hyperventilating into bag of trail mix
Mouth: Like riding a pink tricycle up a steep hill, it doesn't go very far
Throat: Like breaking off the limb of a dying citrus tree, lighting the end and slowly smoking it
TopWhiskies Score
This would be a good 'out of the box' introductory whisky. We don't know anyone whose first dram was Aberfeldy, but it would have been a cool place to start. It has nice price point, isn't aggressive, and is lifted by a surprising and lingering smoky end.