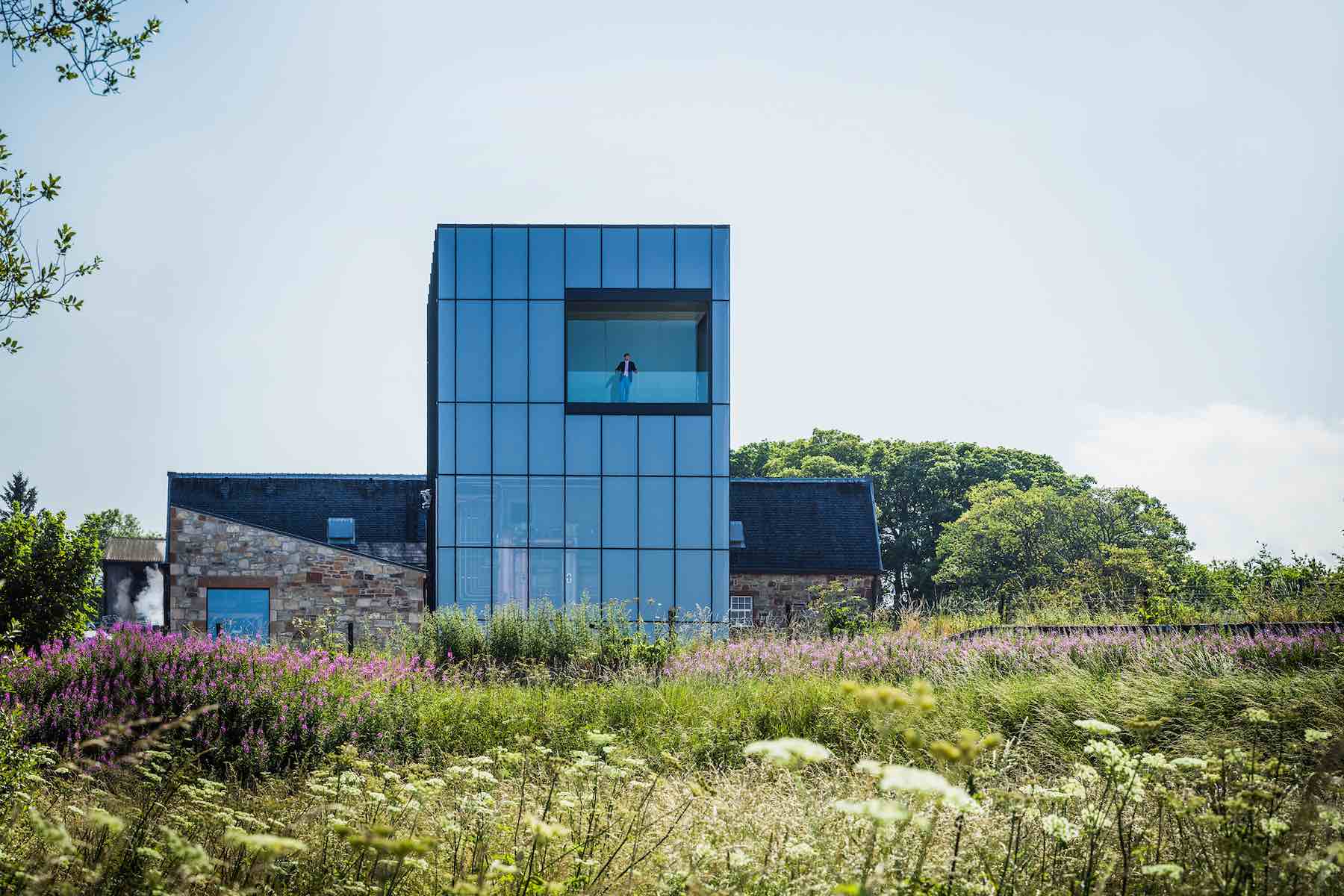 Glenmorangie's new innovation distillery, the Lighthouse
New Innovation Distillery

Glenmorangie has opened a new innovation distillery. It has been set up to develop new flavours, and new whiskies. At the heart of the Highland Distillery, whisky makers will develop new approaches.
Glenmorangie love experimenting. Director of Whisky Creation Dr Bill Lumsden is on a quest to dream up new delicious whiskies. He has a "what if" approach. That approach has inspired the Lighthouse. It is the first on-site innovation distillery dedicated to a single malt brand and created for experimentation.
The multi-million-pound Lighthouse is named for its landmark approach to whisky. Like an actual lighthouse, the 20m-high stillhouse is visible for miles around. It offers unique flexibility with ingredients and processes, focussing on flavour over yield. Key areas of innovation include:
Stillhouse: Equipped with two of the giraffe-high stills which create delicate, fruity spirit. These new stills have modifications which allow them to alter spirit character. They achieve this by acting as if they were shorter – or even taller. 
Brewhouse: Constructed in the traditional style of the main Distillery, stone. It allows experiments with barley, water and yeast during mashing and brewing.
Sensory laboratory: Sat above the stillhouse, with coastal views. The laboratory offers the chance to study raw spirit and play with the experiments. 
Dr Bill said: "Our Lighthouse is the new home of imagination. Here, we'll indulge our most fantastical ideas as we strive to create a whole array of different flavours. We will play with raw ingredients. We'll make small adjustments and big changes in ways never tried before. Nothing is off limits, as long as it's delicious."
Thomas Moradpour is President and CEO of The Glenmorangie Company. He said: "Global demand for Glenmorangie is growing. Our Lighthouse distillery is the keystone of our plans to continue innovating. By giving our talented team free rein, we'll welcome even more consumers to enjoy delicious whiskies."
Glenmorangie Lighthouse
To mark the Lighthouse opening, Glenmorangie is releasing a new limited edition whisky. Glenmorangie Lighthouse is created with bourbon and sherry casks. Fragments of these casks are now encased in the Lighthouse's walls themselves. Glenmorangie Lighthouse is 12 years old, 48% ABV, and non-chill filtered.
Tasting Notes

Colour: Bright sparkling gold

Nose: Fresh, bright, clean and perfumed. Soft velvety vanilla, fresh red apples, honeycomb and the merest whisper of oak. With water, a curious 'green' note like fresh pepper and olive.

Taste: A silky mouthfeel leads into honey, almond, milk chocolate, apricot and fudge. Hints of icing sugar, baked oranges, honeydew melon. And, very much in the background, soft, sweet resinous oak wood.

Finish: More orange, vanilla and oaky notes.
The release is limited to 3000 bottles available only at the Distillery for £85.