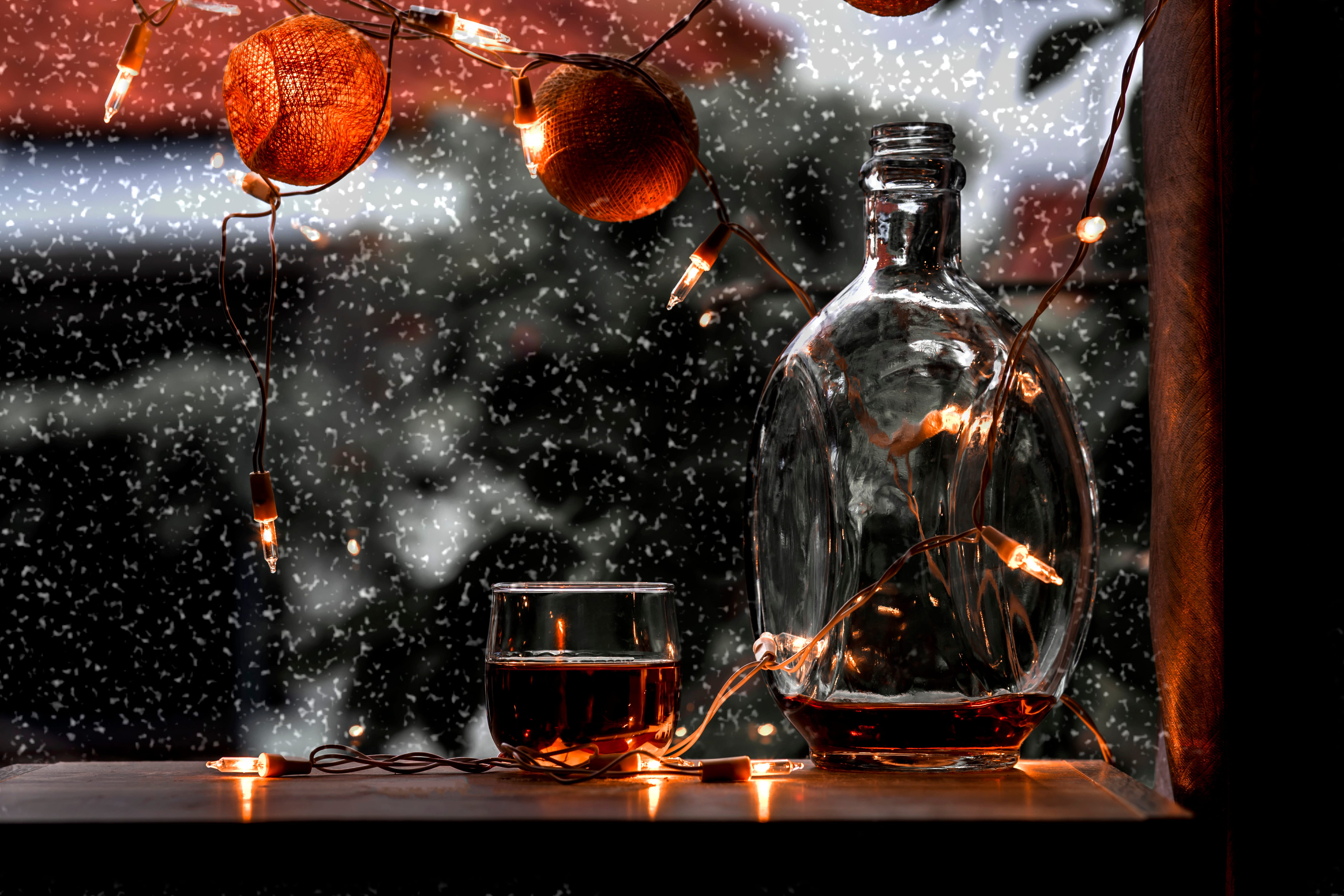 Top 10 best whiskey gift ideas under £50 for Christmas 2020 in the UK
Top 10 whiskey gift ideas under £50 for Christmas 2020
Our top 10 best whiskey gift ideas for under £50 have you covered whether you're planning for Christmas 2020 well in advance, or whether you've found yourself in need of fast inspiration! We have focussed our list on gifts available in the UK, but almost all of these are available internationally with worldwide shipping.
An obvious gift to buy any whisky lover is a bottle; and we can help you with that, here. But, is a bottle of whisky a little predictable? And, if they love whisky that much - what do you choose? It can be harder than it first seems. So in this list of our 10 best whiskey gift ideas we're going to look at Christmas presents that aren't a standard bottle of whisky. Something that'll make the whisky lover in your life think "wow, that's really thoughtful".
Our top 10 best whisky gift ideas for Christmas 2020, in alphabetical order, are:
1: Angels' Share Christmas Tree Whisky Baubles
Whisky baubles for your Christmas tree. You can't get more festive than that! Branded with the Distillery logo, these glass baubles are filled with 50ml of either: Deanston 12 year old Single Malt; Glen Moray Classic Single Malt; or, Arran Single Malt Whisky. The 55m diameter baubles are hand blown and have ribbon to hang them from the tree. And, like the best presents in life, these keep on giving as the cork which seals the whisky inside is removable, meaning the bauble can be refillable again and again. You can find Angel's Share Christmas Tree Whisky Baubles here for £20 each.
2: Cheaper By The Dram Rare Whisky Samples
One way to side-step the challenge of buying whisky for a keen whisky lover is to get them something that they are guaranteed to have never tried. Cheaper By The Dram bottle 30ml measures of rare, vintage, whiskies. It's an opportunity to try something really special. Each dram is beautifully presented in a classy presentation box, making it ideal for gifting at Christmas 2020. There is a wide selection to choose from, ranging from a Glenturret scotch from the 1980s for £12, to a Hillside 25 year old single malt from 1970 for £44. You can find the full Cheaper By The Dram range here.
3: Chocisky, Chocolates To Pair With Whisky
Whisky is perfect at Christmas. Chocolate is perfect at Christmas. And whisky and chocolate go perfectly together! Chocisky have a range of special chocolates which pair perfectly with whiskies from the 6 Scottish whisky regions as well as Japanese & Welsh whiskies. The chocolates come in a cool tin which contains around 50 to 60 tasting discs. You can find Chocisky tins here for £8 each.
4: The Dram Team Whisky Tasting Set
Another way to get around the challenge of buying whiskey for a keen whiskey drinker is to cheat, buy getting them a selection of six whiskies to try. The Dram Team have a fantastic whisky subscription service, we're big fans and have reviewed them previously. Each box includes five 25ml drams, plus a 'Sixth Dram' 10ml measure of something really special. I love these whisky tasting sets as they're always a great way to explore new drams, and find new favourites. TopWhiskies readers get 20% off their first box, making the first one £23.99, and then £29.99 for the monthly subscription thereafter. These prices include UK shipping. Find out more here.
5: Secret Spirits Scotch Whisky Tasting Sets
Secret Spirits have two terrific scotch whisky tastings sets that would be a fantastic gift set for whisky lovers. There are two versions, one which features six premium whisky samples, and another which features five ultra premium whiskies including one that is 30 years old! The samples are 50ml each, which is a large double dram; a generous measure to enjoy yourself, or enough to share between two people. The sets feature some of the best whiskies you can find, and a wide range of independent whisky bottlers. They're both priced at £49 each and you can find the Premium Whisky Tasting Set here and the Ultra Premium Whisky Tasting Set here.
6: Glencairn Whisky Glasses
These would be a particularly good idea if you're buying a Christmas gift for someone who is just getting into whisky and doesn't have any proper whisky glasses yet. Glencairn are the 'industry standard' in whisky glasses, designed to concentrate the aromas from the whisky in the neck of the glass and in so doing making it easier to nose (smell) the whisky. You can buy a set of two Glencairn whisky glasses for £12 here.
7: Malt Whisky Yearbook 2021
The Malt Whisky Yearbook by Ingvar Ronde is an annual tradition for whisky lovers, released every autumn. This 16th edition is packed with new and up-to-date information on more than 400 whisky distilleries from all over the world. There are feature pieces written by whisky experts, details of lots of great whisky shops, websites (including yours truly!) and new bottlings. There's a chapter dedicated to Independent Bottlers (which we're delighted to see here at TopWhiskies.com) and tasting notes on 250 whiskies. You can buy Malt Whisky Yearbook 2021 for £12 here.
8: Summerton Whisky Club Subscription
OK, I'm breaking my own rules here - technically this is a whisky bottle, and a half-year gift subscription costs £150. But hear me out. Summerton Whisky Club deliver a unique whisky bottle to your gift-receiver's door every other month. These aren't standard whiskies you might find on the supermarket shelves. These are really special, unique, whiskies. And, while it is a more expensive gift idea, each individual delivery works out as £50 (including UK delivery). So for £150, your loved one will receive three superb whiskies delivered over the course of 6 months. Summerton also deliver to mainland Europe for an extra £10 a bottle. You can find out more about Summerton Whisky Club here.
9: Uisge Source Regional Spring Water for Whisky
This is a perfect gift for anyone who regularly drinks cask strength whiskies. Uisge Source bottle spring water from private sources close to some of the popular distilleries in the three major scotch producing regions of Scotland: Highlands, Speyside, and Islay. These spring waters share the same makeup as the waters used to distill the whisky at the distilleries themselves. This makes them perfect for using with cask strength whiskies which the gift-receiver may want to reduce in strength, bringing out the best in their dram by reducing any alcohol prickle and unlocking new flavours and aromas. This set includes three regional waters. First, there's a hard, mineral-rich water for Highland whiskies. Second, a soft, low-mineral water for Speyside whiskies. And third, a water with higher natural acidity for Islay whiskies. The set also includes three pipettes for adding just the right amount of water to a dram, and a presentation board. You can find the Uisge Source Connoisseur set here for £35.
10: The Whisky Baron 'Infinite' Infinity Bottle
Chances are you know a whisky lover who, like me, may have a dozen empty bottles laying around. The Whisky Baron has come up with an amazing idea to make the most of these part-empty bottles, and turn them into something delicious, unique, and ever-lasting: an infinity whisky bottle. The Baron's beautifully presented "Infinite" bottle is designed to be continually topped up with any whisky your other half likes, and allows them to track what's gone into the bottle through an online database, meaning they can monitor their custom-made blend as it evolves over time. 
Other Christmas ideas
I hope this list of our top 10 best whiskey gift ideas is useful for Christmas 2020; if you need more inspiration you can read our top 30 best whisky gift ideas for under £30 and you can find our full range of gift options here. If you're after bottles of whisky, we can help with that too - check out our range of whiskies here. And, if you enjoyed reading this article at Christmas time you may also enjoy reading about our top 5 whisky advent calendars here.