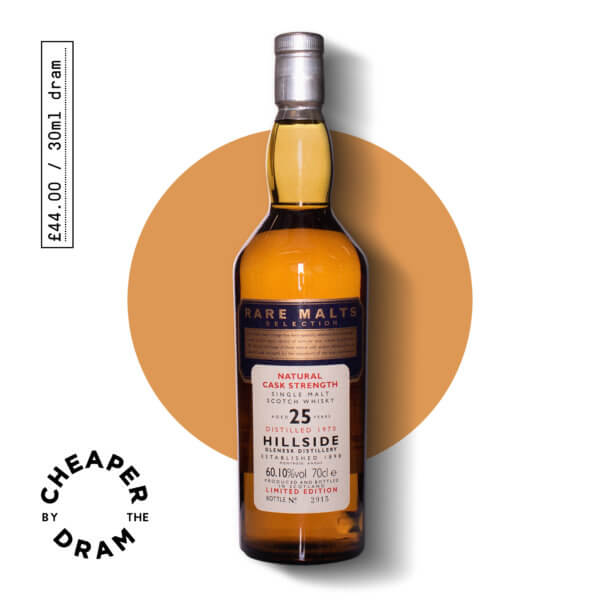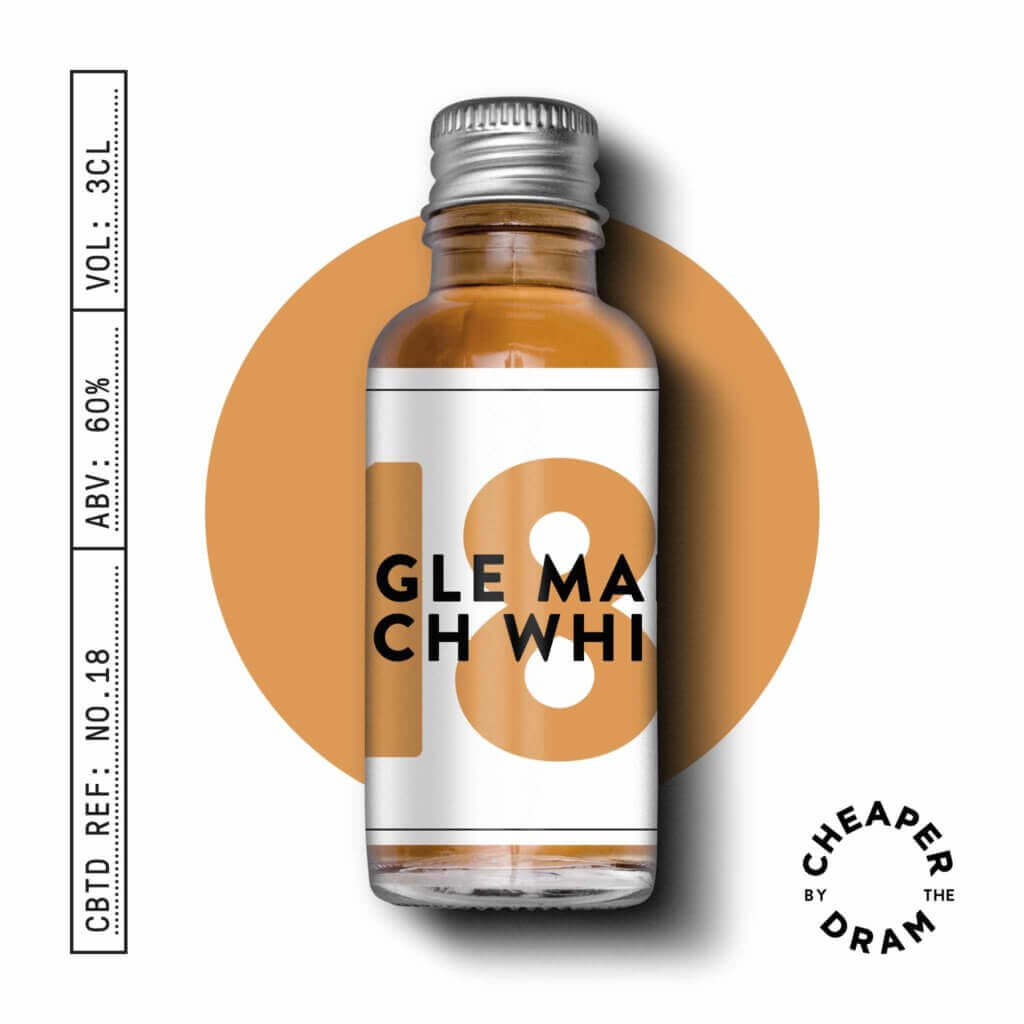 Hillside 25 year old Single Malt Scotch Whisky from 1970 (30ml)
---
Sale price

$58.00
Regular price

$0.00
(/)

About This Dram
Chapter By The Dram shares the cost of expensive whiskies between customers by splitting bottles into drams.
Dram NO.18 is a 25-year-old single malt whisky, distilled at Hillside Distillery in 1970 and bottled by Diageo as part of their Rare Malts Selection in 1995.
The current retail price of a 70cl bottle is £800.
About This Whisky
Distilled: Hillside Distillery
Region: Highlands
Bottled By: Diageo 
Type: Single Malt Scotch Whisky
Age: 25 Year Old
Vintage: 1970
Bottled: 1995
Dram Size: 30ml miniature
Alcohol by Volume: 60%
Series: Rare Malts Selection
Special: Bottle No. 2915
About this Hillside 25-Year-Old Single Malt Scotch Whisky
The 25-year-old whisky in CBTD REF NO.18 was distilled in 1970 at the Hillside distillery and was released as part of the iconic Rare Malts Selection. This single malt whisky was distilled in a year which saw the unexpected victory of Edward Heath's Conservative Party in the UK general election, the first Glastonbury festival, and the Beatles release their twelfth and final album, Let It Be.
About Hillside distillery
The Hillside distillery was established in 1897 at the site of a former flax mill by Dundee-based spirit merchant James Isles and was first named Highland Esk. The distillery is reputed to have had the most names of any Scottish distillery and has been known as North Esk, Montrose, Hillside, Glenesk and finally Glen Esk.
James Isles sold the distillery to his business partner Septimus Parsonage, who in turn sold it two years later to J.F. Caille Heddle after which it was renamed North Esk. Like the majority of stills, the distillery was silent during the First World War and also suffered fire damage. Upon reopening in 1919 the distillery operated solely as a grain malting, although malt whisky production would resume in 1938. North Esk was then acquired by Joseph Hobbs the owner of Ben Nevis distillery on behalf of Train & Macintyre, the UK subsidiary of the National Distillers of America.
The distillery was closed during World War Two, and in 1953 the National Distillers of America ended the increasingly unprofitable venture into Scotland in an ill-timed decision; just before American demand for Scotch whisky would enter overdrive. The as then named Montrose distillery was purchased by Distillers Company Limited who promptly changed the name to Hillside and intermittently ran the distillery as a grain distillery for a decade. The demand for malt whisky increased in the 1960s and the distillery was converted back into a malt plant in 1964. In 1968, large drums maltings were built at the site, which was further expanded in 1973. A final name change occurred in 1980, this time to Glenesk, although a few years later the spelling was amended to Glen Esk. The Glen Esk distillery's licence to distil was cancelled in 1992 however malting at Glen Esk continued and the site is one of the major Scottish malting sites.
About the Rare Malts Selection
This 25-year-old Hillside whisky was distilled in 1970 and selected for release as part of the Rare Malts Selection. The Rare Malts Selection was created as a celebration of mothballed distilleries, allowing whisky drinkers to sample antique whiskies from rare and valuable casks. All of the whiskies that were picked for the selection were done so because of their unique and individual character. Each of the bottlings came from some of thirty-six distilleries Scotland, all from different geographic locations, and all with different stories behind them. The selection, therefore, was the perfect opportunity to get a taste of Scotch whisky history.
The Rare Malts series was launched in 1995 by Diageo who were then known as United Distillers and Vinter Ltd. (Diageo as we know it now was formed in 1997 after Distillers Company Limited merged with Guinness PLC). In 2000 Diageo decided to focus on premium drinks, and since 2012 they have invested heavily in Scotch whisky – an investment of £1 billion so far.
Where can you ship?

We're based in the UK, but we can ship to many countries.

We deliver to Australia, Canada (Alberta), China, Denmark, Finland, Germany, Greece, Guernsey, Hong Kong, Ireland, Israel, Italy, Japan, Jersey, Lithuania, Luxembourg, Macao, Netherlands, New Zealand, Norway, Philippines, Singapore, South Africa, South Korea, Taiwan, UK, US (certain states*), and Vietnam.

*We can ship to the following US states duty-paid (so no further taxes for you): Alaska, California, Connecticut, Delaware, District of Columbia, Florida, Georgia, Illinois, Louisiana,Maine, Maryland, Massachusetts, Nebraska, New Jersey, New Mexico, New York, North Carolina, Oregon, Pennsylvania, Rhode Island, South Carolina, Texas, Vermont, Virginia, Washington, Wyoming.

How much is shipping?

Shipping charges are calculated during checkout, depending on where you live and how many bottles you're buying. Shipping within the UK is free on orders over £100.

What about taxes?

All alcoholic products sold by TopWhiskies are sold subject to UK alcohol tax, which is already included in the price.

UK sales are subject to VAT (currently 20%), which is included in the price. Sales outside of the UK are not subject to this tax, and international prices do not include it.

We use a specialist US shipper who sorts out US taxes. These costs are factored into the US shipping charges. So shipping may look pricey, but remember it covers your taxes as well.

For all other territories, including those in Europe, please note: your order could be subject to local sales taxes and duties upon arrival in the destination country. All additional charges are the responsibility of the recipient. As customs policies vary widely from country to country, TopWhiskies has no control over these charges, so you should contact your local customs office for further information. If you refuse to pay any import duties and taxes, this could result in the goods being destroyed by customs or being returned back to us - any refund offered would include a deduction of our costs.

Which couriers do you use?

In the UK we use Royal Mail, Parcelforce and APC. US orders are sent via UPS. International orders use FedEx and DHL.

Need help?

For help, or custom orders, please contact Ed on email ed@topwhiskies.com
Quality products, independent brands

All the brands I work with are independent. Many of them are small brands, run by one or two people with a whole load of passion. As a result, these unique products are top quality.

Personal support

Need help? Write to me at ed@topwhiskies.com. It's always me at the end of the email, and I'm always glad to help.

Five-star service

With happy whisky-loving customers all around the world, we're rated five stars for our service.

Secure checkout

We accept all major cards, along with PayPal and Apple Pay. Check out securely online, with the safety of SSL encryption. You can pay in a wide range of currencies, whatever is most convenient for you.
Choose options