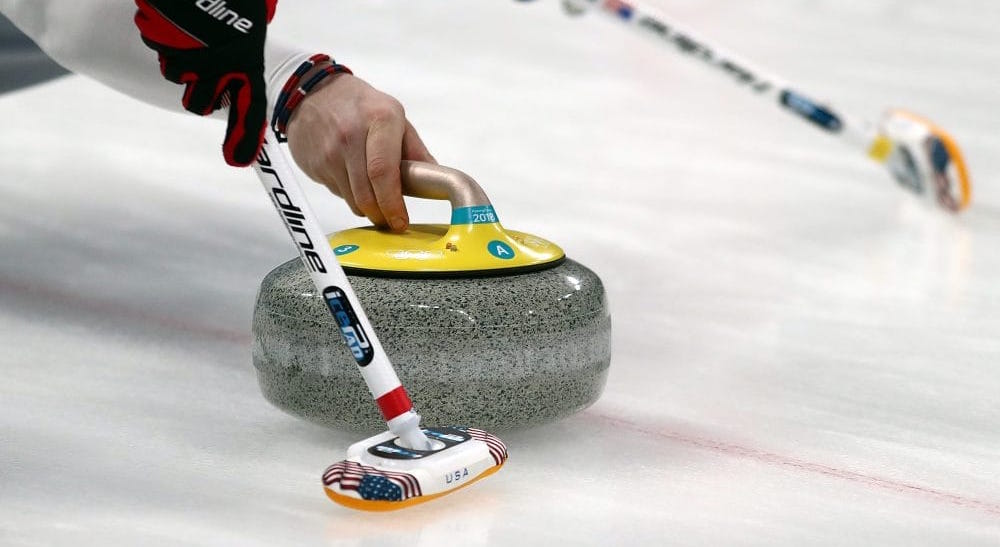 These stories reflect some of the bonhomie and inspired moments Mike Collings has enjoyed over the years with some very talented and amusing folk in the world of whisky. This particular story is about his introduction to curling.
Ever tried it on ice?
How do you respond to that? The cheeky question was from Willy Philips of Macallan and John Grant of Glenfarclas, who was, once again, winding me up. 
So welcome to my first experience of the ancient art, or is it a sport, of curling. The Aviemore ice rink in the Highlands was the venue, and at each end were bullseye targets painted on the ice.
The Real Whisky Stones
It's a bit like lawn bowls. But with one big difference, ice. The granite stones glide down the ice while one team member sweeps as required in front of the stone with a broom. They have got to be the cleanest ice rinks around! So, can you imagine running down the ice energetically sweeping in front of the advancing stone on the shouted advice of those that knew what they were doing… which certainly excludes yours truly. 
Curling Stones by Kays of Scotland, Aviemore Curling Sponsored by Glenfarclas
Glenfarclas 105, a mighty whisky
Respite was a bottle of Glenfarclas 105 which is a wonderful, if not very dangerous, whisky as it is virtually cask strength! Hey ho, I'm sort of getting the hang of sweeping but now my turn to glide the stones towards the target.
Swans and Ugly Ducklings
Looking at the others, curling was like watching a ballet in slow motion: launch, slide and glide. Well, that was for the swans. 
My first effort was more ugly duckling: launch the stones, then...  slam thunk as I face planted the ice. Ouch!
My second effort was pretty similar, but this time the face planting was more restrained, I needed some medication to provide inspiration.
Some improvement… Could do better
Well, the warmth of the drams was either improving my performance, or simply improving the perception of the performance. It's not that difficult to guess which one of these two descriptions was more accurate. Suffice to say, as "the game" progressed my launch technique became less painful as the 105 reached parts that other drams cannot reach.
Moral of this story
Ice is better in a drink than underfoot. Curling is a game best watched whilst enjoying great Speyside whiskies, from a safe (and warm) distance.
Yet another fork in the road in the whisky journey taken by the Firkin Founder Mike Collings.
Written by Mike Collings, Founder, Firkin Whisky Co