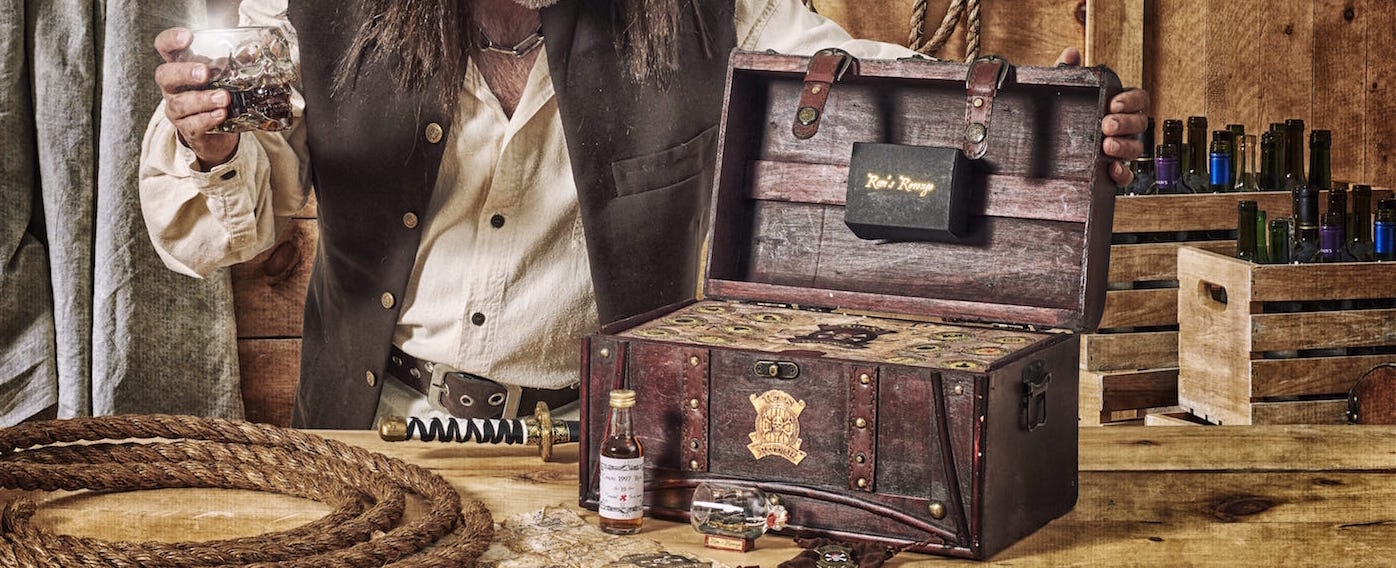 Secret Spirits Rum's Revenge tasting set review
I've figured out where all the rum has gone. Secret Spirits have rounded 12 premium rums into a unique pirate-themed tasting set called Rum's Revenge. In this review we're going to take a closer look at this premium rum tasting set. 
Presentation
This is a striking item. There's no doubting: it is a treasure chest! And I really like that. It's unique, exciting, and fun. It would have been so easy for Secret Spirits just to put the rums in a boring box, but they've gone to town (or perhaps "gone to the island" might be more appropriate?!) with the presentation. And the results are impressive, it has a premium, quality feel to it.
Included with Secret Spirits Rum's Revenge
Inside this treasure chest of rum you'll find several things beyond the rum itself. You'll find a skull themed glass, which put a smile on my face as I took it out the chest. There's a treasure map, which is a nice touch when exploring my way through the rums. There's a ship in a bottle (because every pirate captain needs a ship to call their own, obviously). And there's a piece of eight lapel pin. 
While the main event is, naturally, the rum itself, these extras are charming and add to the sense of fun around this unique item. For anyone looking for Christmas gifts, these definitely add an extra dimension - I can fully imagine the shouts of glee around the tree on Christmas Day.
Rum samples included in the tasting set
Secret Spirits have included 12 rum samples in this rum tasting set. Each sample is a generous 50ml measure, that's a double in my books. And it's something I really appreciate. It gives me choices. If I want to settle in for the evening with a large rum while I watch a Pirates of The Caribbean, then it's a great pour. If I'm feeling generous and decide I want to share with my mate Jack (if!), then 50ml is plenty to split between two. Or, if I want a single measure one night while saving another measure for a second night, then that's easy too.
The rums that Secret Spirits have picked for this rum tasting set are most definitely not standard rums you might find in a normal bar, or in your local shop. These are unique, premium and top quality rums. An exciting line up, whether you're new to the world of rum, or whether you're a rum lover looking for some premium pours.
Now, I'm not going to go into the precise details of the rums included in this tasting set because I don't want to spoil the fun of the surprise. But to give you a sense of what's included, there are both molasses and agricole style rums from a full range of the key rum producing regions including: Grenada, Canada, USA, Barbados, Trinidad, Martinique, Reunion, Fiji, Guatemala, Nicaragua, Belize, Guyana and Jamaica. And, they were delicious.
Review of Secret Spirits Rum's Revenge
Rum's Revenge is a lot of fun, and is full of delicious, rare rums. I'm newer to rum than I am to whisky, and I thoroughly enjoyed sipping my way through this pirate adventure. If you're looking for a treat: go for it - you deserve it, more so than ever this year. If you're looking for Christmas gift ideas: this is a great option, and is bound to surprise and delight the gift receiver. Buy yours here.
Secret Spirits also do a great range of whisky tasting sets which are well worth checking out too; find their full range here.