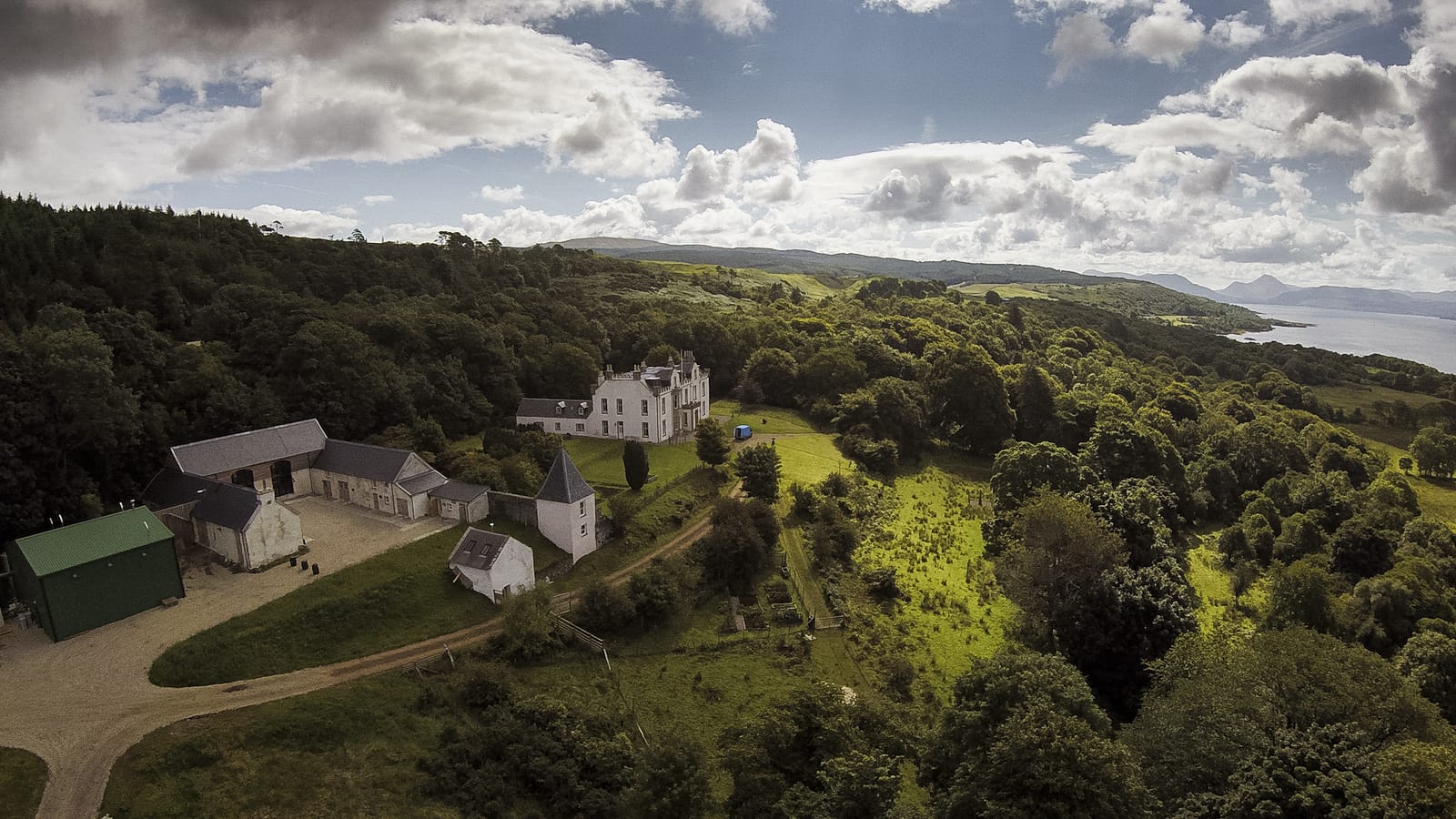 Review of Nc'nean Organic Single Malt Batch 1
Nc'nean: their past and their future
Going back to the past, to progress to the future. An oxymoron, but one that is equal parts enchanting and practical. In this article I'm going to take a closer look at a whisky distillery that is, in terms of whisky production in Scotland, brand new: Nc'nean. But before we do that, let's go back to the beginning.
Nc'nean's Founder: Annabel Thomas
Annabel Thomas, who would go on to found Nc'nean Distillery in 2013, grew up spending family holidays on the west coast of Scotland, north of where the Nc'nean whisky distillery can now be found. It's easy to imagine the childhood adventures Annabel may have had out in the hills, and amongst the forests. 
Fast forward to the early years of Annabel's career and you find a sharp contrast. We've moved from the rolling green woods of Scotland, to the forests of steel and glass in The City of London. Annabel spent nearly a decade in the City working for a prestigious management consultancy called Bain. Bain is very much about the future: more efficient ways of working, ideas which set companies apart, new cutting-edge technologies.
But perhaps part of Annabel had remained out in the Scottish Highlands. In 2013 she decided to leave Bain and pursue a dream I wager many of us have had, but never grasped: starting her own whisky distillery. And listening to her talk, I felt she leant on her time at Bain to inform how to realise her whisky dream.
Annabel started with what I think is the best form of research ever: time on Islay, visiting whisky distilleries. She approached this with a consultant's analytical mind. Noting what these distilleries did well, and remembering how some of the newer whisky distilleries on Islay had set themselves up for a fast start. But also spotting the gaps, and reflecting on how she may be able to do things differently or, dare I say, better.
In a very modern approach, Annabel spent the next three years raising funds - including through crowdfunding. Engaging whisky-lovers and inviting them to be part of the journey by owning a slice of the future of Nc'nean - however small or large. 
Nc'nean Distillery was built on her family's farm on the Morvern peninsula of Scotland's beautiful west coast. Morvern, or to use its historic spelling, Morven, is a 250 square mile corner of the Highlands, just south of Adrgour and Sunart. It's a green land surrounded by blue water with Loch Sunart lying to the north and Loch Linnhe to the south-east, and the Sound of Mull to the south-west. It's perhaps not surprising that 'Morven' is derived from the Gaelic 'A'Mhorbhairne' - "the Sea-Gap" in English. 
It's a part of the world that remains dedicated to nature. Particularly based on a farm, a place where one works with nature rather than against it. You could walk for hours without seeing another soul, with only 300-400 people living on the Morvern peninsula. Perhaps an echo of those childhood adventures?
Nc'nean Whisky Distillery
Going back to the past, to progress to the future. Nc'nean are doing things differently; and they're practicing these firmly-held principles with confidence. Indeed, their name, 'Nc'nean' is inspired by an ancient Gaelic goddess called Neachneohain, who was Queen of Spirits and a fierce protector of nature. 
I can see memories of childhood holidays out in the Scottish countryside reflected in Nc'nean's deep commitment to the environment. They use organic barley sourced locally in Scotland. They've made sure their impact on the local environment is minimised. The distillery itself is based on Annabel Thomas's family's farm, and has been rated as one of the top 10 whisky distilleries to visit in Scotland. Much thought has been given to how to minimise impact on the countryside, and maintain strong levels of biodiversity; chemicals are avoided, and natural solutions used instead. They recycle 99.97% of their waste. Think about that for a moment; think about all the different types of, and amount of, waste created by a fully operational distillery and visitor centre. Nigh-on 100% recycling is impressive.
I can see echoes of Bain and a focus on how technology can help all businesses work better. The Nc'nean distillery is entirely powered by renewable energy, with stills heated by a biomass boiler. Nc'nean's glass bottles are 100% recycled clear glass. In what is a first for Scotch whisky, using a 100% recycled clear glass bottle is harder than it sounds. Bottles with a high proportion of recycled glass is one thing, but 100% while maintaining a clear colour is no mean feat. And to become "certified organic", it's not just a case of using organic barley - its a case of managing the entire end-to-end value chain; perhaps that consultant's analytical eye for detail, again? 
And I can see a team informed by traditions of the past, but embracing new ways of thinking. With Annabel Thomas at the helm as CEO, the Nc'nean team is diverse and impressive. We should tip our cap to the memory of the late and great Dr Jim Swan who sadly passed away in 2017. Dr Jim helped Nc'nean he helped with everything from the design of the distillery, through the new make recipe, to the sourcing of the casks. But we should also note the new-guard. A distiller who trained as a chef and keeps bees. A head of marketing who is as comfortable on a farm as she is in a boardroom. A brand ambassador with a background in London's best whisky bars. Overall its a team with a shared passion in the great outdoors, good food, and top whisky.
Tasting notes for Nc'nean Organic Single Malt, Batch 1
Having looked at the background to Nc'nean, we should probably try their whisky, right? Their very first inaugural release of 1,320 bottles was called Ainnir at 60.3%. We're reviewing the outturn they did after Ainnir, Nc'nean's Organic Single Malt Batch 1. This is a small batch (5,040 bottles) from 65% red wine barriques and 35% ex-bourbon barrels bottled at 46%, natural colour and without chill filtration. 
Nose: Gentle, with sweet notes in the form of honey and caramel. Fruit notes of peaches, oranges and bananas. I get some sweet malt, and a gentle vanilla note, perhaps from the ex-bourbon casks. The alcohol is well integrated with no prickle.
Palate: A nice, creamy mouthfeel, with well-integrated alcohol. More sweet malt with plenty of fruit - peaches, apricots and bananas. And a few extra citrus notes, lemon and lime. There's a nice wood spice, perhaps this time from the red wine barriques.
Finish: A medium finish with that fruit from the palate continuing onto the finish, together with a touch of warming spice.
Review of Nc'nean Organic Single Malt Batch 1
This is an exciting start from a vibrant whisky distillery with a clear set of principles. If you get a chance to try this whisky I'd definitely recommend it. That Boutique-y Whisky Company have also recently launched the first Nc'nean release by an independent bottler; you can read more about that here, and my review of the Boutique-y Release here.
I hope you've enjoyed reading about Nc'nean's past, as I've enjoyed learning about it. And I'm certainly looking forward to seeing what Annabel Thomas and the Nc'nean Distillery team do in what I feel is a bright future for them; you can keep up to date with Nc'nean here.
If you've tried Nc'nean's Organic Single Malt Batch 1 whisky, or indeed Nc'nean's Ainnir inaugural release, I'd love to know what you thought. Please do leave me a comment with your views.
If you haven't tried Nc'nean's whiskies yet, they you can pick up a bottle of Nc'nean Organic Single Malt Whisky here.