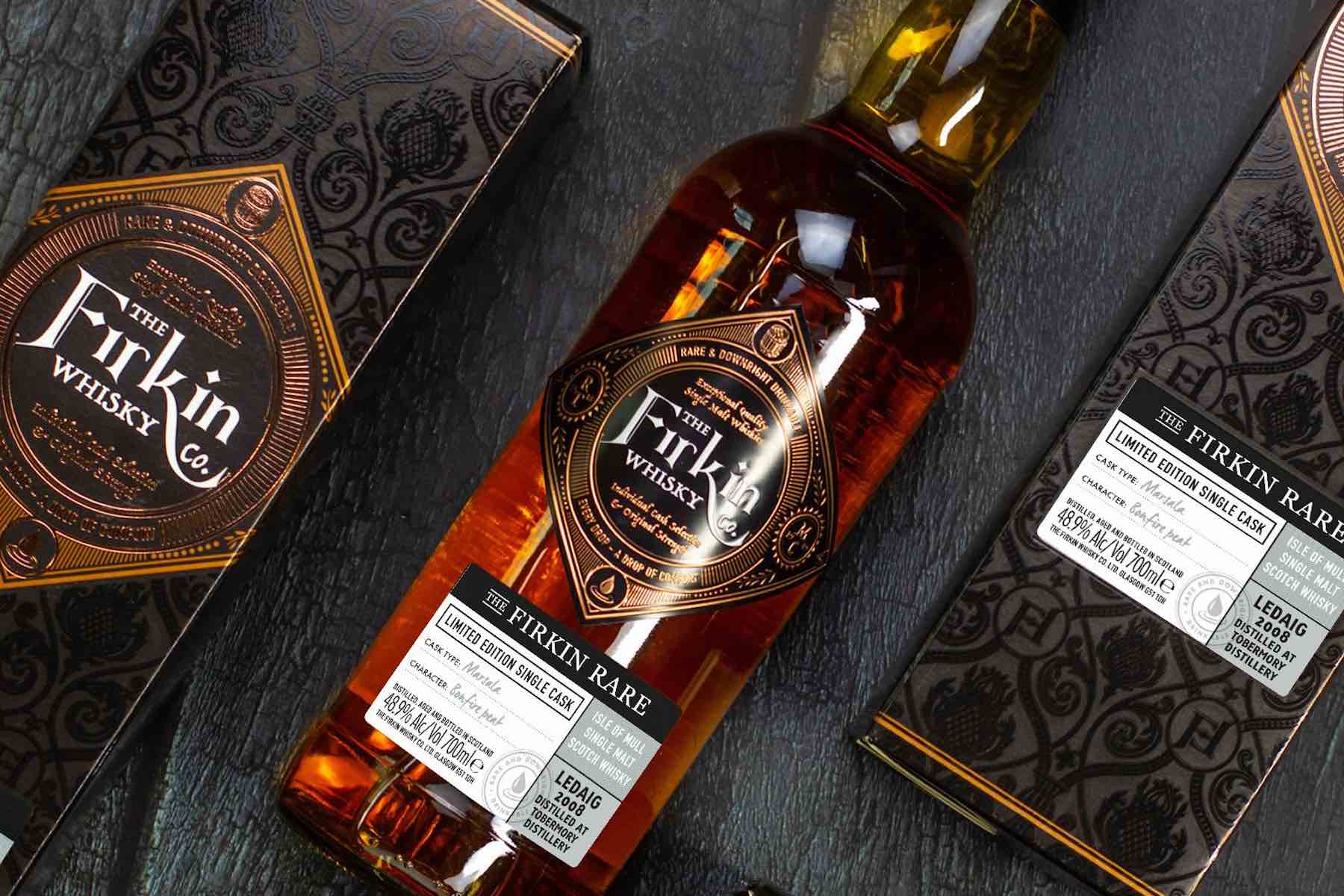 Firkin Rare Ledaig 2008 Double Wood Marsala Cask
Today I'm reviewing a dram from one of my favourite independent bottler, Firkin Whisky Co. This is their latest release, a 2008 Ledaig under their 'Rare' label.
As with all their whiskies, Firkin Rare Ledaig 2008 has had a very special maturation. It's been aged in a custom made double wood cask. Firkin take two casks, one American Oak, one European Oak. They ask a professional cooper to break these two casks down. The cooper then takes staves from each, and combines them into one new cask. This unique approach makes a 'double wood', 'single cask'.
But, Firkin's magic doesn't stop there. They season this cask with a fortified wine. Seasoning is where a cask is filled with a particular liquid, so that the cask takes on extra flavours. For this release, Firkin have paired the 2008 Ledaig with Marsala wine. Marsala is a sweet fortified wine from Sicily.
Firkin have bottled this single cask at their signature strength of 48.9%. As with all their whiskies, they've kept it natural colour and non chill filtered.
Firkin Rare Ledaig Ex Marsala Tasting Notes
Colour: Natural colour: medium amber. Coats my copita with oily legs running down the side of the glass.
Nose: Soft, sweet smoke mingles with tropical notes. Like snacking on mango next to a fire on some beach far, far away. Or, closer to home, barbecuing sticky pineapple nears the woods on an Autumn evening. A definite meaty note, like glazed pork ribs or honey roast gammon. And that meat is seasoned with chilli, pepper, and cloves.
Palate: Medium to full mouthfeel. That meaty Ledaig spirit works so well with the sweet Marsala wine. As on the nose, glazed pork ribs over the BBQ, where smoke acts as a seasoning - complimenting, not overpowering. Sweetness with tropical fruits like mango and pineapple, as if you have a cocktail to go with those ribs. Or a taco, crammed with juicy pork, lime, and pineapple. The alcohol is well integrated, adding body and a gentle spice - with no burn.
Finish: Medium length finish. Sticky glazed pork which melts in your mouth, leaving a balance of sweetness and spice.
Firkin Ledaig 2008 Review
This is a lovely whisky. I could sit and nose this for hours - let alone drink it. A great example of a high quality spirit brought to a new level by excellent maturation. If you're into your peat and Ledaig, you'll love this. If you don't normally like smokey whiskies, I'd definitely suggest giving this a go. The smoke is gentle, it's like an extra note to food - rather than being (too) big and bold.
You can find out more about Firkin Whisky Co here. You can read Firkin's blog here. And you can buy Firkin Rare Ledaig 2008 here.
And, if you'd like another opinion: why not watch Vin from No Nonsense Whisky review this dram in his YouTube video here: