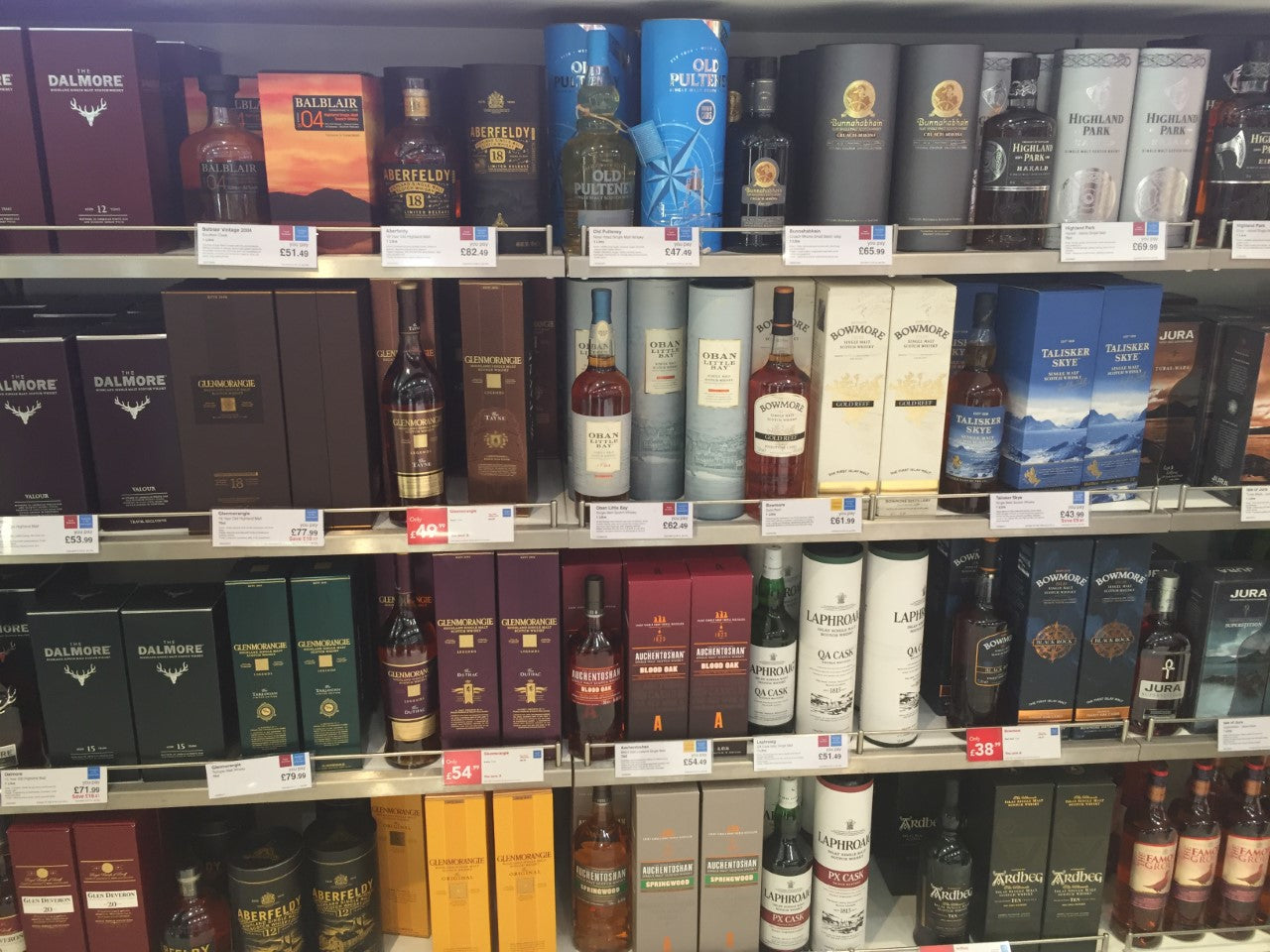 Don't blend ignorance with whisky
Johnnie Walker nearly ended our friendship. In 2012, after the Johnnie Walker brand owner Diageo discontinued Green Label, we fought over who got to suck the last drops out of the cork. It wasn't our proudest moment.
You can imagine our unmitigated joy when Dr Nick Morgan, who is head of whisky outreach at Diageo and has the coolest job title of all time, announced they were bringing Green Label back into their core range. Green Label combines four single malts: Talisker from Skye, Speysiders Linkwood and Cragganmore and Caol Ila from Islay. The formula was unchanged since it was taken off the shelves in 2012 and we lost a tiny bit of our dignity. We still have our last empty bottle on our shelf, although we ran the cork through the dishwasher.    
So it was with a fair degree of jubilance that we strode confidently through the airport and into Duty Free to pick up a bottle of the first release of Green Label.
TopWhiskies Tip
Always check prices online before you buy from Duty Free. You don't get much of a deal if the whisky is something you could pick up from the High Street, sometimes you pay more and have to carry it around on your holiday for the privilege. Duty Free is usually best when you can get an airport exclusive, or pick up a 1 litre bottle where you'd normally only get 70cl for your money.   
Our friends Alex and George weren't working at the Duty Free that day and we were met by a woman looked like a lizard. Not like a cool iguana, we mean the little lizards who detach their tails to distract predators when they run away. She scowled at us when we walked over to the sample table.
'Do you have any open bottles of Johnnie Walker Green,' we asked hoping for a cheeky sample.
She looked at us like we'd walked into the American Bar at the Savoy and ordered a bucket of pond scum.          
'No. We don't.'
We were disappointed, it had been nearly four years since we'd last had Green Label and we hadn't darned dream we'd get a second chance. We walked over to the massive Green display, pick up a bottle each and walked back to the lizard lady.
'It's fantastic they brought this back,' we said, 'do you like it?'
She paused, stared at us with her squinty bulbous eyes and said, 'I don't drink blended malts.'     
You can imagine our righteous indignation. We are talking about a £40+ vatted malt with a 15-year-old age statement that Jim Murray awarded 95 points in his 2010 Whisky Bible. It isn't exactly a bottle of Bells. Someone with a better palate than us, and dare we say better than the crone who works at the Duty Free, created that flavour. It's outrageous to look down on a whisky because it isn't a single malt.
We are sure you, beloved reader, are more enlightened than most whisky drinkers; but, if you're just starting out, don't let people like the curmudgeon in Duty Free tell you that some whiskies aren't worth your time.  It's exactly the kind of narrow thinking that ends friendships.