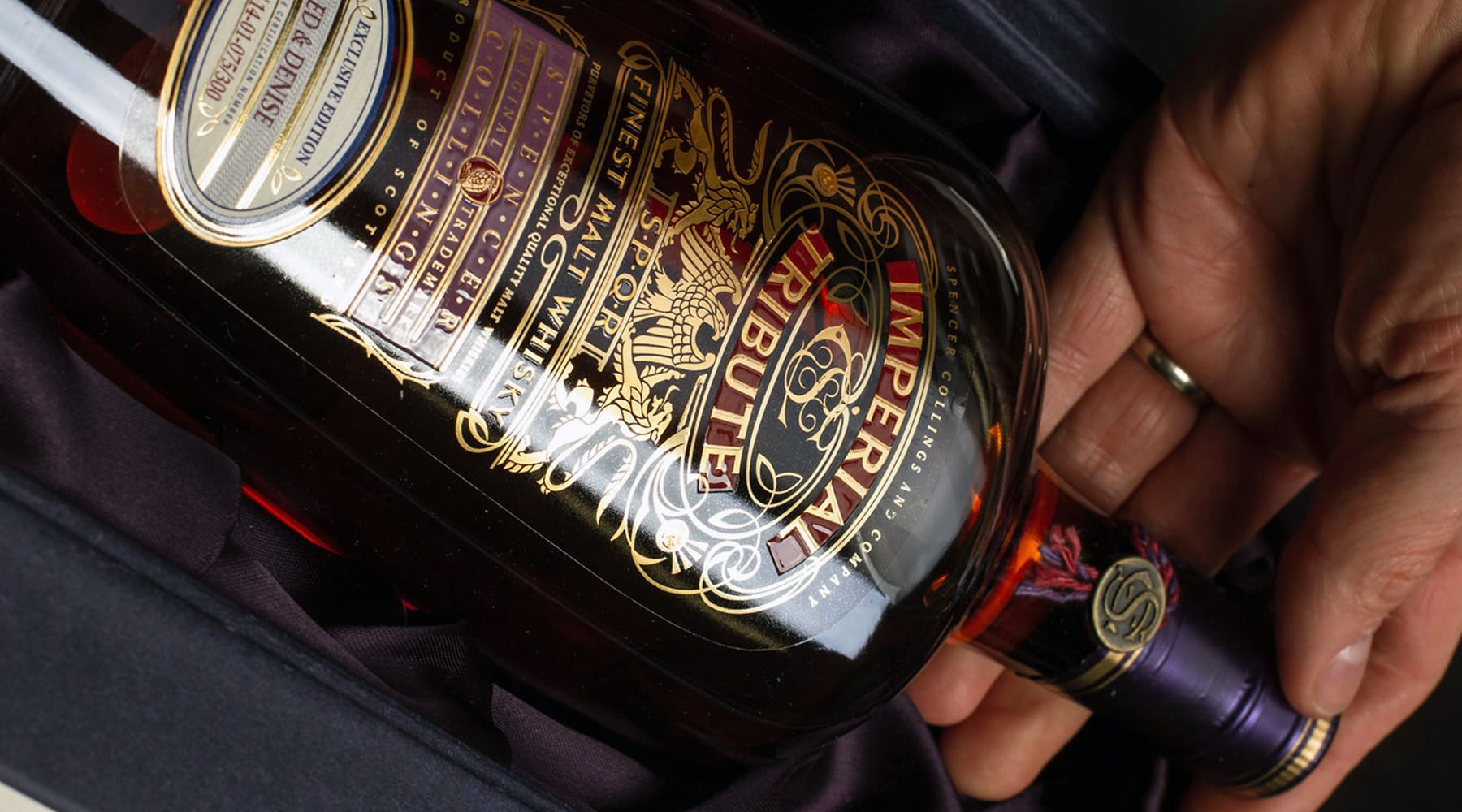 Do you need to give the perfect whisky gift in 2023?
Giving a whisky gift isn't easy—first, different people like different kinds of whisky. So, finding the right one is tough. Second, when you give a gift, you want it to be personal. I developed Imperial Tribute for people who need to give the perfect whisky gift. 
Imperial Tribute appeals to lots of whisky fans. I've created dozens of whiskies, including Johnnie Walker Blue Label. So I know a thing or two about what whisky drinkers like. 
You can personalise Imperial Tribute. We'll print recipient's name on the bottle, the certificate and we'll also make a card with your message. It makes giving a whisky gift in 2022 easy.
The inspiration behind Imperial Tribute
Imperial Tribute started when I was developing some super-premium whiskies for Glenmorangie. I looked out the window and thought: 'why don't I design a whisky this for myself?'
So, I asked Glenmorangie to pay me in whisky casks for my work. I wanted to use the casks to make the perfect whisky gift. That's what set me down the road of starting my own boutique malt whisky company.
My goal was to crate a brilliant scotch by blending malt whiskies. Johnnie Walker Green Label, which I designed, showed the depth of flavour you get by blending and layering different malt whiskies. A lot of people didn't think it would work. But it did. And it was terrific. 
I thought I could take the concept behind Johnnie Walker Green Label to the next level. 
The next step on my journey came when I tasted a vintage Glenfarclas matured in a port pipe. The whisky blew me away (thanks John Grant for the personal tour of the Glenfarclas warehouse). I loved the soft, creamy, almost velvet notes in this whisky. 
I started to wonder: what would happen if I matured a whisky in a Madeira barrique?
My early days in the wine trade had made me a massive fan of Madeira wine.  
Madeira is the famous wine from the Portuguese island of Madeira. Madeira wine is rich with intense raisin spicy flavour. It's a bit like condensed Christmas pudding. Superb! 
And, since it was my company, there wasn't anyone to tell me not to!
John Glaser of Compass Box was helpful and put me in touch with the late Jim Swann. He selected some great Madeira barriques for me. I had master coopers tweak and remake the casks with some new French oak. I wanted to produce an individual oak and spicy Madeira profile.
How did you go about creating your whisky?
I wanted to create a voluptuous taste with the depth of an old cognac. I came up with a four-three-three profile. It's a blend of special single malts from: 
Four decades 
Three regions  
Three different wood types
The component single malt whiskies were Highland, Speyside and Islay. I used 10-year-old whisky as the foundation age from each region. The Highland was in bourbon second fill. The Islay was in in an Oloroso sherry butt. And the Speyside was in a mix of Pedro Ximénez and other sherry hogsheads. 
I recasked all the Highland and Speyside whisky into our custom Madeira barriques for two to three years. 
The older whiskies are ones that I've acquired over the years. They're all whiskies that other people would think are a bit extravagant for a blend. 
But this was my dream whisky and I got to do what I wanted! 
The result is an exceptional whisky. It's very complicated. It's a marriage of richness, spice, dried fruit, leathery oak and some honeycomb sweetness.
The Hallmark of any great whisky is the finish. This finish this lingers. It's all Christmas pudding, mocha oak and a hint of dark chocolate.
Delicious; if I do say so myself.
Imperial Tribute's name and look
The Spey valley was the site of an epic defeat of the Roman Army 2000 years ago. The Caledonian tribes crushed the 9th Legion, which led to the Romans retreat and building Hadrian's wall. The Romans never ventured into the Highlands again.
The whisky is a tribute to this heroic moment in Scottish history.
The bottle is shaped like a Roman amphora. An amphora is a jar the Romans used to storage and transport wine. The jars have become important survivors in the archaeological record. 
The label portrays the Caledonian tribes capturing Roman eagle. The Scottish lions rampant are on both sides of the captured Legion's standard.
Putting gold foil embossing on a clear label took pioneering technology. But it was important to me. I wanted the label to have raised lettering, like have you get with old steel engraved labels. It's one beautiful whisky gift! 
Artisans hand-make the lead seals and apply them to each cork top. 
I sourced the finest materials and built them into a luxury hand-crafted presentation box.
Each gift box is covered with handwoven Italian blue weave paper and finished with dye stamped gold embossed labels. 
Everything about Imperial Tribute, from the presentation to the whisky itself, is quality. 
What makes Imperial Tribute the perfect whisky gift?
Each bottle is numbered and personalised to order. You can write a name on the bottle's label and the certificate of ownership. 
The icing on the cake is to gift wrap. We wrap each bottle and gift box with handmade paper from Nepal. It's wrapped with embossed ribbon along. You can also write a message that we'll print on a dye stamped gift card.
We only release 300 bottles per year worldwide. So, if you get a bottle, someone must think the world of you. 
If it's a big birthday, momentous occasion, wedding, or to say: 'Because you're worth it', Imperial Tribute is the perfect gift.
Charles Maclean, Scotland's preeminent whisky writer, summed it up. He said Imperial Tribute is 'Highly sophisticated, venerably aged, as smooth and rounded as a Henry Moore sculpture. Delectable, and a truly distinguished gift.'
Praise from one of the legends in the world of whisky!
Buy Imperial Tribute Today
You can buy Imperial Tribute here.
Remember, there are only 300 bottles available each year, so get your gift before it's gone!
Written by Mike Collings
Mike founded The Firkin Whisky Co. and Imperial Tribute. Over his 40 years in the whisky industry, he created Johnnie Walker Blue & Green Labels, The Classic Malts, Rare Malts, Distillers Edition, Flora & Fauna series, Cardhu and Royal Lochnagar.