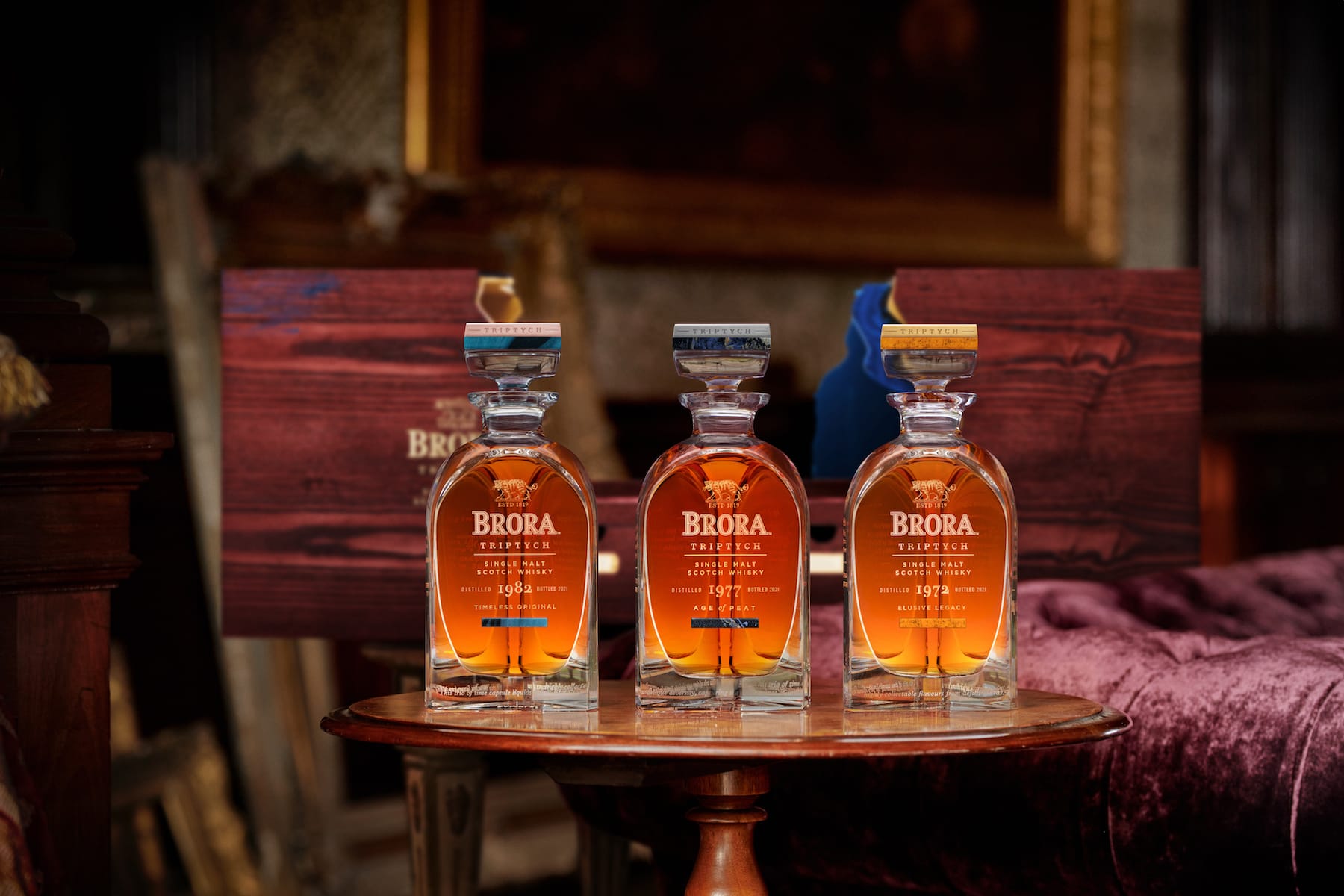 The Brora Triptych, Three Historic Single Malt Scotch Whiskies
Brora have launched a special release of three rare single malt whiskies, each representing a distinct style of Brora's proud heritage. The Brora Triptych will be available from mid-May, after the completion of the restoration of Brora distillery, and in celebration of its return.
In 1983, a small Highlands distillery fell silent and the doors of the stillhouse locked. The distillery workers that had crafted spirit within it put down their tools and walked away, for what they thought would be for good. A distillery suspended in time for thirty-eight years, Brora will soon open its gates once again, after three years of meticulous brick by brick restoration. 
Each collectible set of the Brora Triptych will be accompanied by a personal invitation from Brora's Master Distiller Stewart Bowman to visit and experience Brora first-hand. Born in the town of Brora and with a long family connection to the distillery, Bowman worked alongside a host of artisans, whisky-makers and archivists in the restoration of the distillery buildings and its whisky and will carefully oversee the creation of new Brora spirit upon its return.
Stewart Bowman said: 'The stories of Brora are woven into my own history and I am honoured to soon be able to share these stories with others. My father was an 'old hand' at the distillery, and I grew up in the village with the top of the distillery's bell-tower visible from our kitchen window. In the years after Brora's closure, I remember my father showing me the old cask ledgers and the records of those final casks distilled in 1983 and asking if Brora would return one day. It fills me with great pride that thirty-eight years after the doors of Brora closed, more casks will now be filled, and we will be able to welcome people once again to this special place. It is our commitment that we will do justice to the Brora of old and hope to welcome visitors to our restored home as soon as that is possible. In the Brora Triptych, we aimed to celebrate the great whisky styles of the past for which Brora is known.'
A three-piece whisky set, intended to be appreciated together, this Brora Triptych is a showcase of the distillery's most famous three styles. Master Blender Dr. Craig Wilson has selected the vintage Single Malt whiskies in the Triptych, and comments, 'These are some of our very last precious relics from a Brora of bygone age. Each one represents a moment in time at the distillery and tasting these superb whiskies is to be part of a special moment in history. When selecting the casks for these rare whiskies, we wanted to celebrate those distinct characteristics that define Brora, and those that we seek to uphold as we begin a new chapter in its story.' 
Brora Elusive Legacy
The first in the Brora Triptych, Elusive Legacy, is a 48-Year-Old and the oldest ever public release from the distillery. A very rare style from casks of 1972, this whisky represents an earthy expression of Brora, much sought after as it was only created in short periods throughout the distillery's history. Bottled at 42.8%, tasting notes by Dave Broom for this Brora Elusive Legacy are:
Colour: Full gold, shading to amber.
Nose: There's an immediate aroma of green apple, giving a freshness that's surprising in a whisky of this age. This is surrounded by a salty, ozonic element - sea breezes - and a sweet note of creamy lemon posset. This is a whisky which evolves slowly. Given time, the signature old-style Brora oils start to build. There's lanolin and smoke wreathing around a base of persimmon and overripe fruit - pineapple, pear, peach, medlar, and quince. It's now miles away from that fresh opening: this is heavy, and oily, with the oxidised notes you only get from super-old mature whiskies. It's weirdly reminiscent of the smell of an artist's studio: oil paints, primed canvas, old books; then comes lilac, and a smoored peat fire mixed with salted/smoked fish, a slight meatiness, then some camphor. Bold, complex, all-enveloping and incredibly long-lasting. Highly complex.
Palate: A rich and oily mouthfeel. This develops in three interlinked acts. First, light, drying woodsmoke kicks things off, giving the tip of the tongue a slightly ashy quality along with a tiny flaring of heat, as if from hot embers. As this shifts to one side, you begin to pick out pot pourri, dried fruits, some vanilla, and dried lemon peel. By the middle of the tongue, however, you're overwhelmed by the roiling, palate-coating mass of oils, which carry the fruits (ripe banana, stewed peach) along, smoothing out the tannins. It is huge and long-lasting, brimming with unguents and waxes, and flavours which are unfamiliar in whisky - and therefore very Brora. This exotic, savoury, quality with umami/meaty elements is reluctant to give way, but finally, with a suggestion of fresh orange pulp, you are into the third act, and back on the shore again: salt, halibut oil, smoke, then a touch of pine, and green olive.     
Finish: Ripe fruits, a peppery citric catch, some salted liquorice, clove, and a farewell puff of coal smoke.
Brora Age of Peat
The second of the Brora Triptych, Age of Peat, is a 43-Year-Old heavily peated expression drawn from casks of 1977. This is a classic Brora style from the late 70's, and one of the only examples of a highly-peated Highland whisky from that era. The few casks that were left from this phase matured remarkably well and the whisky is multi-layered and complex. Bottled at 48.6%, tasting notes for Brora Age of Peat are:
Colour: Light gold
Nose: This starts quite closed, and seems light, a little prickly, lightly spiced, and with a tighter focus than the '72. Then the weight of maturity becomes more apparent. Slowly, stealthily, the fruits make their way forward, giving it a greater solidity and robustness. There's also a sense of compression. Fruits ripened in early autumn sun emerge. This is Brora from the 70s, so there's oils, but here they are more on the rancio side: beeswax, old leather, and a suggestion of tropical fruit: guava, mango, pineapple, a little peach, melon and quince. All of this sits within Brora's rugged seashore setting. Wax candles glimmer on a polished table. In time, there's some damp earth/warehouse and a bready element. It flickers between the fruit, light smoke, and an almost starchy crispness.
Palate: Medium weight, oily mouthfeel. A soft, sweet and rounded opening. There's rich, honeyed elements, and more of a noticeable liveliness from the spirit strength. The fruits now lean towards apricot, and there are also some lively acids keeping the taste buds tingling. By the time it reaches the mid-palate, the juicy fruits have taken charge, alongside the oils which further plumps and fattens the overall effect. There's this fascinating, and seemingly contradictory mix of ripe mango and peach with salty, mildly meaty, umami-rich flavours. Fruity, yes but not conventionally so. There's a light drying grip - cedar like - and the effect becomes firmer and slightly drier with an added spiced element (allspice, white pepper), some preserved lemon, and light woodsmoke. Things start gentle and soft, but end up retrained and more structured. An enigma.
Finish: Lightly oily, slightly acidic, with smoked salt.
Brora Timeless Original
The last of the Brora Triptych is Timeless Original, a 38-Year-Old, from limited stocks of 1982 and represents the distinct waxiness that made Brora famous. This more modern and refined style returns to lower peating levels, reflective of Brora whisky before the Age of Peat. Bottled at 47.5%, tasting notes for Brora Timeless Original are:
Colour: Light gold
Nose: Bright and slightly lean to start which is typical of these later Broras. A spray of grapefruit oils on a cool day, and a slightly powdery quality. There seems to be a little more cask coming into play here - touches of vanilla, white chocolate, but even then it's still a light touch. It takes time for those more familiar Brora qualities to emerge, though this time there's a dairy fat element rather than oiliness - clotted cream, buttermilk. In time, waxiness (old lipstick) and then sheep fleece. More estery aromas come out - green apple, sour plum, ginger juice, bamboo shoots, acetone, and ripe pineapple. Then there's another wave of waxiness, now accompanied by cafe au lait, and ripe apricot.
Palate: Light to medium, waxy mouthfeel. Soft, thick, unctuous and waxy to start. As with the nose this is accompanied by a bright energy. No real smokiness. A new era. The scented aromatics now come across as rosewater as well as a slight soapiness. By the middle of the tongue things are becoming waxy. A peppery, unripe pear quality brings agave to mind. Now is the time for the acidity to set in - pink grapefruit, blood orange - and as it does so the dram seems to tense up, then release a crystalline saltiness.
Finish: Dusty tannins, the merest hint of smoke, then waxed lemon.
The three Single Malt whiskies are presented in one beautiful presentation case, inspired by Brora's surrounding coastlines. Each crystal bottle is completed with Glencairn crystal stoppers, and the cabinet, built from ash wood all sourced in the UK, was crafted by Master Cabinetmaker and Royal Warrant Holder N. E. J. Stevenson.
Never before have three styles of Brora been released in one collector's set and the Brora Triptych is an unparalleled capsule of the original and historic Brora stocks. Released at the same time as the distillery reopens, this once-in-a-generation collector's set will be available globally for purchase directly from the distillery and Brora.com from mid-May 2021. If you'd like to bag this trio, you will need your cheque book; the Recommended Retail Selling Price for the Triptych (3 x 50cl) is £30,000.